Activia Review

- 14 Things You Need to Know
Activia is a yogurt brand that will supposedly help regulate your digestive system. Dannon, the company behind Activia, claim that they use all-natural ingredients to resolve minor digestive discomforts, which isn't a lie. However, if you're looking for weight loss, that's not what you'll find in the majority of cases.
We chose to set our research team on this popular brand to check out the science and find out if Activia is any different from other probiotic-based products.
Activia can be purchased through their Official Site.
Overview
What is Activia?
Activia is a yogurt brand advertised by the Dannon Company as clinically tested yogurt that has the natural ability to regulate the digestive system. It is classed as a nutraceutical, otherwise known as a functional food – a class of food that has medicinal benefits and contains health-enhancing additives.
Activia is especially useful to consumers who have diarrhea, Irritable Bowel Syndrome, or those who experience slow intestinal actions.
It is available in variants of mixed berry, black cherry, peach, strawberry, mango, strawberry/raspberry, pineapple coconut and more.
Activia Competitors
How Did Activia Start?
In the early 1980s, Dannon researchers got curious about the bifidobacteria and decided to develop a particular strain of the probiotic that could thrive well in yogurt in spite of the acidic medium of yogurt.
The researchers reached a consensus to add the Bifidus Actiregularis strain to the common yogurt bacteria. This birthed one of their widely-known yogurt products called Activia today.
When all was said and done, Activia was introduced into France by Groupe Danone (The Dannon Company in America) in 1987. By 2013, Activia had gained entrance into five continents and over 70 countries all around the world.
Scroll below for one of the best products we've seen over the last year.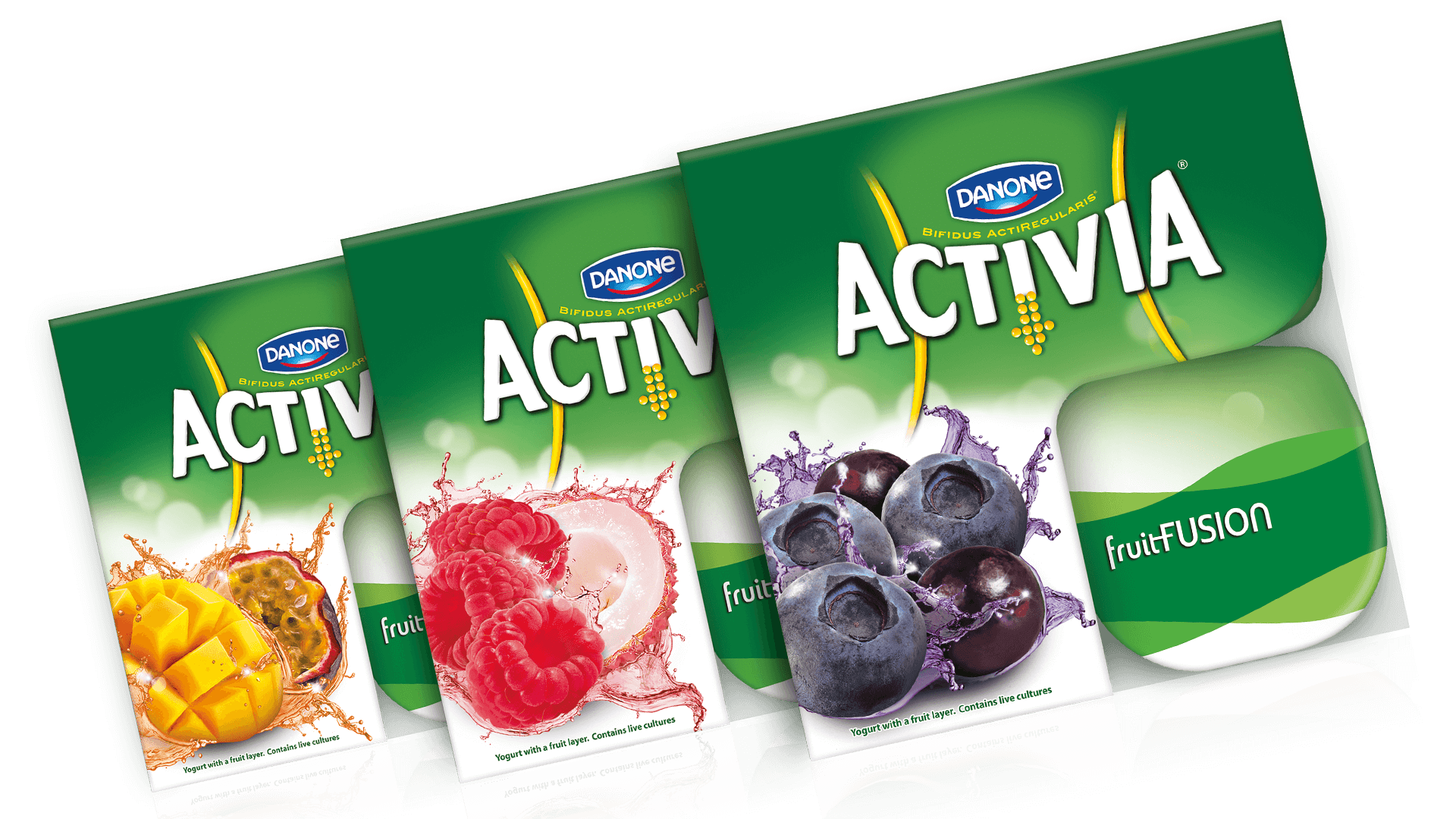 Claims
Activia Claims
Dannon once made claims that there's no yogurt anywhere in the whole world that contains the 'good bacteria' Bifidus Regularis.
Well, this claim, in itself, is true because Bifidus Regularis is a trademarked name that no other company has the power to use.
In September 2009, Activia settled a lawsuit claiming the company deceptively used advertising to convince consumers Activia would help regulate gut health. The company was forced to pay $35 million in damages, according to the GI Society.
What's more? December 2010 saw Dannon having to make a considerable settlement of $21 million with the Federal Trade Commission for exaggerated claims that Activia could deal with digestive irregularity and slow intestinal movements.
Ingredients
Activia Ingredients
So what does Activia contain?
Ingredients:
Activia contains cultured reduced-fat milk, water, sugar, fruit sugar or fructose, food starch (modified), >1% milk protein concentrate, kosher gelatin, cornstarch (modified), guar gum, agar, lactic acid, vitamin D3, sodium citrate and calcium lactate.
The natural vanilla taste may also be found in any flavor of the Activia Yogurt; whereas Activia Fibre in addition to the other ingredients contains red wheat bran, inulin, rolled white wheat flakes, and rolled oats.
Activia Light, on the other hand, includes sucralose and aspartame instead of regular sugar.
Probiotics
Apart from the traditional bacteria found in most yogurts, Activia contains a probiotic strain known as Bifidus Actiregularis.
Hence, the Activia yogurt contains Bifidobacterium animalis DN 17,010 which is a proprietary probiotic strain of the Bifidobacterium marketed under names like, Bifidobacterium Actiregularis, Bifidobacterium Regularis, Bifidobacterium Lactis, and Bifidobacterium Digestivum.
Does Activia Work?
There are more significant reasons to agree that Activia works than otherwise, although it's considered to be part of a probiotic fad.
Activia products are referred to as foods that are enriched with numerous probiotics that offer optimum health benefits when consumers take them in adequate amounts. However, it is often said that the positive results of consuming this kind of food, known as functional foods, depending on the strains and their doses.
This is why Dannon boasts its unique selection of probiotic strain; which can thrive in yogurts like Activia. This strain, according to Dannon, has been proven from studies to go through the entire gastrointestinal tract without issues.
More so, placebo-controlled studies also reveal that when included in a balanced diet and a healthy lifestyle, consumers may also enjoy a reduction in how frequent they experience digestive discomfort. The caveat, though, is that it has to be consumed twice a day for two weeks.
On the flip side, there may be cases of minor discomfort like gas, bloating, and rumbling.
Benefits Results
Activia Benefits and Results
"Activia may help reduce the frequency of minor digestive discomfort," says Dannon. We can also tell you that including yogurt in your diet is a nutritious and effective way to get the amount of protein and calcium that your body needs.
Moreover, Activia yogurts, irrespective of flavor or variant, contain the good bacteria known as probiotics that are required for the digestive system. Dannon Activia also can provide the body with minerals, vitamins, and sugar.
HESCA also lists probiotic power, health to bones, and good protein content as some of the benefits of Activia. The proprietary strain of probiotic bacteria is what distinguishes Activia from all other probiotic strains.
Although it is said that there are probiotic yogurts that have good bugs that are equally as beneficial as Activia's. Nonetheless, Activia says it helps to keep gastrointestinal issues away. There have also been a few testimonials of being relieved of diarrhea when Activia was taken.
Activia may also provide health to the bones of the body because it contains a good amount of Vitamin D and calcium.
Activia's protein content may also provide the body with the necessary repair of body tissues. These proteins may also help to create the right environment to fight off illnesses and diseases.
Activia and Weight Loss
From reviews and comments on public forums, we can say Activia, because of its probiotics and nutrients, is very useful in regulating the digestive tract. However, in our search on Activia, we didn't see any clinical or scientific proofs on its ingredients and whether or not it helps with weight loss.
In any case, bearing in mind that what affects weight loss depends on your caloric intake, introducing Activia to your diet may be an excellent way to get started on a weight-loss plan.
Here are a few suggested ways that could happen:
Calories
The caloric content in Activia Yogurts varies with the type you decide to opt for. You can get as low as 60 calories from the Activity Light variant and 110 calories from the vanilla variant of the Activia yogurt. The Greek Vanilla Yogurt which comes in larger containers than the other options provides 150 calories.
So if you are thinking of reducing your calorie intake as a weight-loss strategy, going for the low calorie-content Activity Light will be an excellent way to make that happen.
ON a very simple level, if you reduce your daily intake of calories by say 500 to 1,000, you'll be able to shed 1 to 2 pounds every week.
Then again, if you are all about something more effective for weight loss, then it's best you go for supplements that have been clinically proven to do the job without hassles.
Directions
How to Take Activia
For the best results, Dannon advises consumers to include Activia in a regular balanced diet by consuming it two times every day for two weeks.
According to Livestrong, one serving of the cherry variant of the Activia yogurt has 2 grams of fat (where 1 gram of that fat is saturated) and 120 calories. The serving also contains 4 grams of protein; which is equivalent to 9% of the total amount of protein women need in their diet and 7% of what men need.
Other flavors of the Dannon Activia Yogurt like the prune, banana, peach, strawberry, vanilla, and peach have the same calorie, protein and fat content, whereas the blueberry variant has 120 calories.
Activia can be incorporated into your diet in various ways. You can choose to have it for breakfast as a stand-alone meal when combined with fruits or grains. You could also want to have it as a smoothie. And of course, you can decide to have it on the side when you have your regular meals.
Oh yeah! Familiar with Mediterranean dishes? These dishes make good combinations with yogurt and Activia is known to do the job well.
Side Effects
Potential Activia Side Effects
Dannon says consumers may experience a few minor issues with consumption. These problems may include one or a combination of the following:
Abdominal discomfort
Rumbling
Gas
Bloating
It is almost no longer news that probiotic bacteria commonly found in good yogurts are very useful in fighting unwanted and harmful bugs in the intestinal tracts like fungi, yeast, and parasites. However, one cannot overlook the anecdotal reports of side effects that may occur with the consumption of the Activia Yogurt.
Here are a few:
Digestive Problems
There have been a few complaints from some consumers of some digestive problems that occur from taking Activia. These issues include acute abdominal cramps, nausea, diarrhea, acid reflux, bloating and irregularity.
Worsening Symptoms of Lactose Intolerance
Some consumers also complained on public forums of how symptoms of their lactose intolerance worsened as a result of eating Activia.
Diabetic Issues
It is important to note that certain flavors of Activia has high sugar content, and this may be the reason diabetic patients who have consumed this yogurt have experienced challenges with the level of their blood sugar.
Other Issues
Even though these effects, which are related to the body systems, have not been stated on the Dannon website, they have been discussed on public forums, and they include muscle pains, increased rate of metabolism, sleeping problems, anxiety, and headaches.
Warnings
Activia Product Warnings
Dannon has advertised Activia as yogurt with a good amount of the good bug known as Bifidus Regularis. This bug, among many others, is known to be a good replacement for the good bugs that are removed from the flora of the bowels by antibiotics.
However, because it also contains lactobacillus, there are a few things to note about taking Activia:
Although the bacteria found in Activia called lactobacillus is meant to grow to get its job done in the consumer's system, it can grow out of proportion. This bacteria may even cause diseases in the body; which is a red flag for those have weakened immune systems Such patients are required to contact a physician first.
Antibiotics, when taken, help to reduce the number of harmful bacteria in the body. However, the effectiveness of an antibiotic may be reduced when antibiotics are taken alongside foods like Activia that contain Lactobacillus. Then again, taking immunosuppressant drugs aimed at reducing the function of the immune system can also increase the chances of becoming sick.
Chemotherapy patients and patients who take immunosuppressant drugs for organ transplants may develop severe infections in the blood. Thus, those who have low immune systems of this sort are advised to avoid foods that contain lactobacillus like Activia.
Lawsuits
Lawsuits on Activia?
As a manufacturer of health-related products, except if you have sufficient evidence to back your health claims, it is always safe to leave it out of your ads. It is very likely Dannon would have saved its neck if it paid attention to this detail.
In 2008, Dannon was slammed with a 21 million dollar charge for alleged false representations about DanActive and Activia Yogurt. And this stemmed from some of the adverts aired by Dannon, the New York Times reports.
In one of the adverts, the narrator is known to have said that "With the natural culture Bifidus Regularis, Activia eaten every day is clinically proven to help regulate your digestive system in two weeks."
Of course, this didn't sit well with the Federal Trade Commission who raised brows at this and the fact that the company claimed to have clinical evidence that a serving of the Activia Yogurt could relieve temporary irregularities and help slow transit time in the intestine.
To address Dannon's substantiation, FTC zeroed in on a link featured on Dannon's website with the label For Health Care Professional. Oh well, as this label implied, it is for those who know the nitty-gritty of health care.
It's only a digression. Stay with us.
Through this link the FTC explains as "a detailed scientific resource that will provide in-depth information about Bifidus Regularis and its effect on slow intestinal transit," it mentioned a couple of clinical studies carried out by Meance along with some others. FTC complained that Dannon's submission on this studies was misleading as some vital information about these studies were withheld.
The hidden information thus concealed the fact that the difference in intestinal transit time between studies on those who took the Activia and those in the placebo group was statistically insignificant.
Dannon eventually agreed to the settlement which stated the following:
Except the claim is approved by the Food and Drug Administration, Dannon is not allowed to claim any yogurt, probiotic drink or food can reduce the chances of getting the flu or a cold.
Dannon is not allowed to lay claims on the fact that Activia will relieve consumers of temporary irregularity or even produce faster intestinal movements. If it must be mentioned in an ad, it mustn't be misleading information, and it must also be backed by clinical evidence involving two humans that at least three servings are required to get these benefits stating the veracity of the claim.
Dannon is also not allowed to lay claims on the fact that some other yogurt, probiotic drink or food, or dairy drink will relieve consumers of temporary irregularity or even produce faster intestinal movements. If it must be mentioned in an ad, it mustn't be misleading information, and it must also be backed by clinical evidence involving two humans that at least three servings are required to get these benefits stating the veracity of the claim.
Dannon is also not allowed to misrepresent results from any studies or tests. And except, its claim has competent backing and strong scientific proof, it may not make other claims on the performance, efficacy, and health benefits of any dairy drink, yogurt, or probiotic drink or food.
Activia Alternatives
Other probiotic yogurts provide essential health benefits. One of them is the Yoplait Original; which, according to the manufacturer, has clinically tested and proven cultures and contains Vitamin A, Vitamin D, and Calcium.
Yoplait Original has gained wide acceptance and is the most used probiotic yogurt. It contains the 'good bug' that helps to fight bacteria and pathogens that can cause illness and is also said to improve lactose intolerance, prevent diarrhea, and deal with inflammatory bowel problems. Yoplait Original comes in 20 flavors, and each serving provides 170 calories.
What Users Are Saying
"Big fan of Activia – I eat all types of yogurt: Greek, regular, soy but I particularly like the probiotics in Activia. My doctor said I should be eating probiotics so I'll be ordering more soon."
"Artificial sweetener – The taste was "yuck." The ingredients did not clearly say that it contained sucralose, an artificial sweetener. As a result, the taste was cloyingly sweet and slightly disgusting."
"Very mild flavor. Not anything special in my opinion. I prefer oikos to this. But this one is definitely more affordable."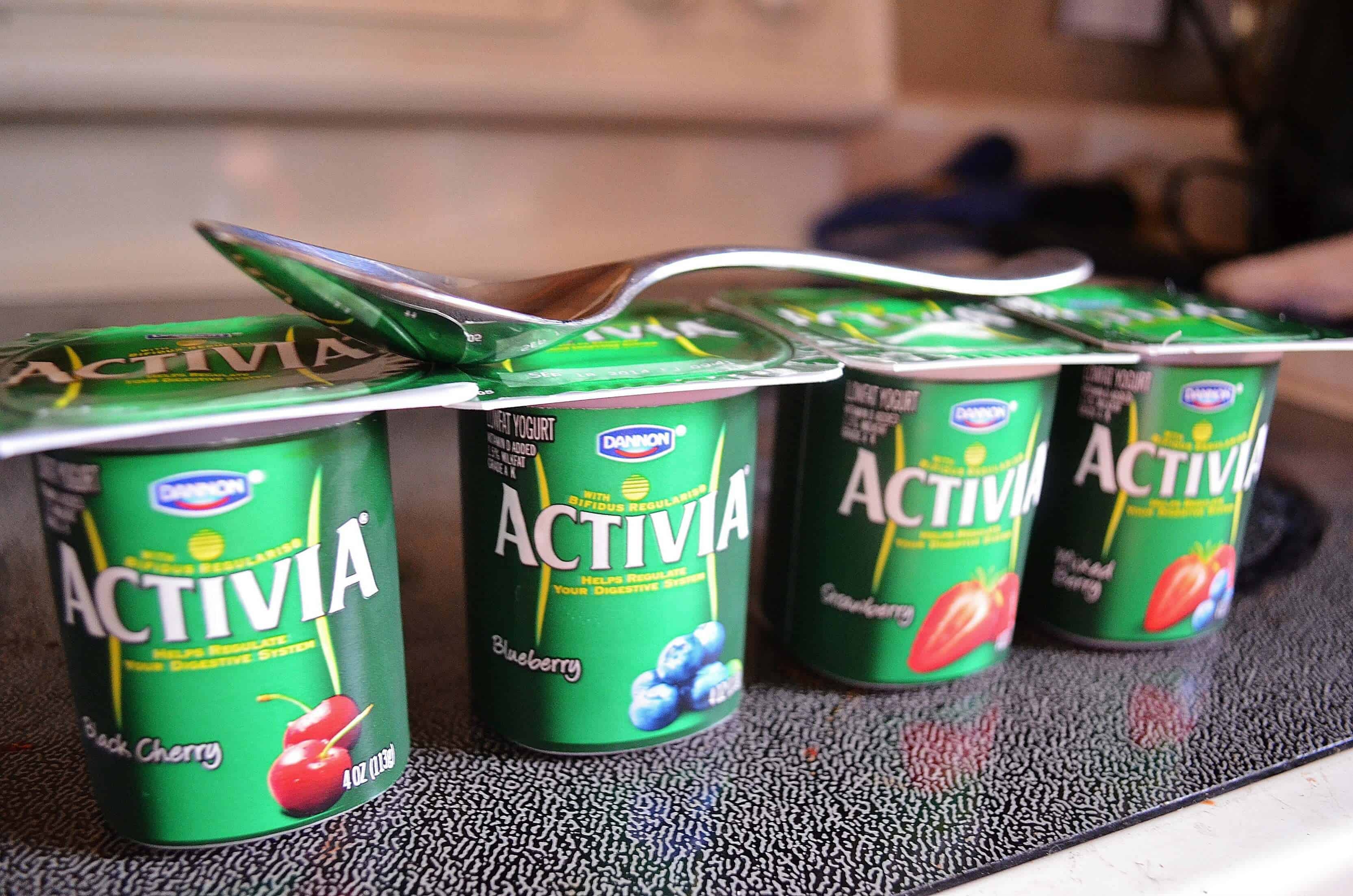 Bottom Line
The Bottom Line on Activia
Before you race through the grocery store to the dairy aisle, let's take one more look at this one. We like that Activia contains some natural ingredients and that the price seems reasonable, but we have concerns about this one because the research doesn't point toward weight-loss. We're also a bit hesitant due to customer talking about negative side effects and ingredients not working.
If you want to lose those extra pounds, we suggest going with a weight-loss program that's clinically proven so you lose weight and keep it off.
Among the best products we've seen this year is one called Noom. This weight-loss app is unlike any other with its personalized menus, human coaching, doctor-written articles and nutritionist support. Plus, user reviews posted on the web indicate people are seeing excellent results.
We find it shows great confidence that the makers of Noom are offering a free trial, which is a good sign.
Learn More About Noom »