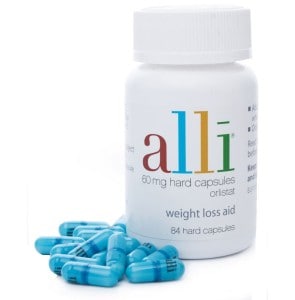 This last week, I decided that now was the time to find out more about Alli. We dug through the ingredients, side effects, customer service reports and even clinical studies. Then, we looked around the web for reviews on the product. Finally, we refined and condensed to give you the bottom line.
What is Alli?
First off, Alli is an over-the-counter weight-loss supplement. The active ingredient is orlistat. If you take one pill with each meal, it supposedly reduces the amount of fat absorbed and blocks about 25% of the fat you eat. That equates to about 100 calories a day. The bottle is small and there is an easy carry container in some starter kits.
Alli is made by GlaxoSmithKline, which was founded in 2000. You can purchase supplement at local grocery stores and through trusted retailers. We like that the product is FDA-approved and there are reports of weight-loss, but read on…
Side Effects – "Worth It?"
The first negative relating to Alli side effects was the intensity. "If you take the medication regularly you can expect less fat to be absorbed, but there's a catch," said our Research Editor. "If you eat too much fat, you may have to deal with some potentially embarrassing adverse reactions."
"I have experienced one accident with a BM," one user said. "I really have to watch what I eat or I will pay for it later."
Another offered, "I have had a rough time with not being able to be too far from a rest room."
Not all users had the same problems. Some, as a matter of fact, ate high fat meals and experienced no side effects. "I decided I would eat a fatty meal to test the effectiveness so I got a fast food combo, came home, took a pill, then ate. Nothing happened. No side effects, nothing," according to one user.
Scroll below for one of the best products we've seen over the last year.
Cost – "A Bit High"
Another issue we found dieters did not like about Alli ingredients was the cost. "This has absolutely no effect on me whatsoever and I have the most sensitive stomach of all the people I know. Waste of $60," said a customer.
"Not as much weight as I'd like to have lost for a $150 cost, at this point, four months in," was one experience.
There are some dieters who felt the money was well spent, "You will see faster results if you include exercise and vitamins. Worth the price."
We've found that over the years there's been a consistent connection between small things, like side effects, and a lesser chance of long-term results. If Alli causes adverse reactions, that could be enough to scare dieters away.
The Science – "Any Clinical Proof?"
Unlike many other weight-loss solutions on the market, Alli is clinically proven to work. However, at the maximum amount of fat grams you will reduce calories by about 100. The real key is eating a healthy diet and exercising, which you can do without the risk of side effects. At DietSpotlight, we think science should do more than prove you have to cut fat or suffer the consequences.
The Bottom Line – Does Alli Work?
Are we running out to the store right this minute for Alli? Well, we certainly like the fact that the FDA has approved the medication and there's no doubt it can block up to 100 calories a day, but we're hesitant about recommending it because of the risk of side effects. Bowel leakage is an extremely embarrassing situation and we're not sure it's worth it when there are clinically proven options with no adverse reactions.
If you want to get off that extra fat, we suggest going with a product that's been tested and proven to help you reach your goals without risking the embarrassment of some gastrointestinal side effects.
Among the best products we've seen in 2016 is one called Leptigen. This supplement is made of four ingredients and all have been clinically tested and proven to help spark metabolism and fat loss. We found no mention of side effects, but we did find users reporting some amazing results.
Plus, we noticed the makers of Leptigen are confident enough in the formula to offer a Special Trial Offer, nice touch.