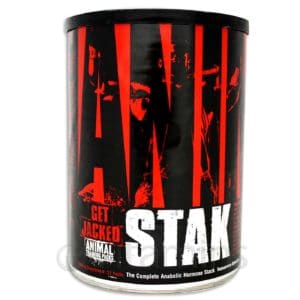 I'm here to cut through the noise and get you the bottom line on Animal Stak. We took our time to create this comprehensive review, focusing closely on the ingredients, side effects, customer-service quality, and scientific studies. We also carefully scrutinized consumer comments from all over the internet. Finally, we narrowed down all the data we gathered to give you the facts you need to make an informed decision.
EDITOR'S TIP:
Click here
to substitute Animal Stak with a proven testosterone booster such as Pronabolin for better results.
What is Animal Stak?
Firstly, Animal Stak is a program designed to support testosterone levels and enhance strength and performance. The company recommends three weeks on and one week off. The cost for a one-month supply is about $35. There are numerous supplements included in each daily pack. The combined ingredients in Animal Stak are extensive. They include tribulus terretris extract, longjack extract complex, fenugreek seed, stinging nettle root, maca extract, mucuna pruiens seed, polygonum cuspidatum root, diindolymethane, l-carnitine fumarate, milk thistle extract, astragalus root, and ashwagandha extract.
Animal Stak is made by Universal Nutrition. The company was founded in 1977 and is located in New Jersey. They specialize in supplements for bodybuilders and professional athletes, but read on…
Niche Market– "Bodybuilders"
Our first interest is the very narrow market this program is designed for.
The ingredients in the product are centered around increasing testosterone and muscle mass. According to our Research Editor, "This product has many ingredients that would be beneficial to those who are at an optimal weight and focused on bulking up through weight lifting. It has virtually none that would facilitate weight-loss."
One client noted, "I want more muscle, that's why I'm trying so hard to lose weight but this didn't do anything for me."
Which is something this man also expressed, "I've started lifting weights and a lot of the guys that use this are ripped. After a month I haven't seen a difference."
Those that are part of the target market had better things to say.
A satisfied bodybuilder exclaimed, "I take this off and one when I really need to kill it."
While another reported, "This is one of my go-to tricks for maxing out."
Scroll below for one of the best products we've seen over the last year.
Fat Loss – "Not Really"
Some dieters assume if a product will help them build muscle that it must also facilitate fat loss. But this isn't necessarily true.
This unhappy reviewer worried, "I didn't lose any weight at all with this."
And a commenter mentioned, "I thought there would be more pronounced results. I barely lost anything."
Some people had a more positive experience.
This satisfied customer said, "It kicked up my workouts and I actually lost a few pounds and look better than ever."
Which was echoed by another who offered, "I have been breaking my own records since I started this program."
According to our research, multivitamins are necessary for some extreme athletes, but they won't support weight-loss. If Animal Stak doesn't offer any metabolism boosters or appetite suppressants, that's not ideal.
The Science – "Promising"
At DietSpotlight, we get excited by companies that are able to prove the efficacy of their products. Animal Stak has a lot of great ingredients for individuals who want to boost their testosterone to achieve more substantial muscle mass. But there's no direct connection to weight-loss.
The Bottom Line – Does Animal Stak Work?
Should I race out for a bottle of Animal Stak? If you are at your goal weight and are a bodybuilder, then this might be a good choice. If your goal is to lose weight, there are better products available which is why we are hesitant to give it an endorsement as a diet formula.
If you want to boost testosterone levels, improve energy and fight the signs of aging, we suggest a product with proven ingredients and strong customer support.
Among the best products we've seen in 2016 is one called Pronabolin. The formula contains a combination of nine active ingredients that have been shown in clinical research to help promote fat loss, support testosterone production and boost energy. We didn't pinpoint any negative consumer reviews but we did not many positive comments about achieving excellent results.
The makers of Pronabolin are so sure of their product that they have begun offering a multiple-bottle discount and 120-day money-back guarantee, which our readers have been taking advantage of.