Updated: 09/22/2015 - Sponsored by Leptigen
Benefiber Review – Does This Fiber Supplement Work?
Are price and poor customer service deal breakers?
PUBLISHED: 09/11/2015 | BY: SUMMER BANKS, SENIOR REVIEWER
Editor
's Review:
2.8
/ 5.0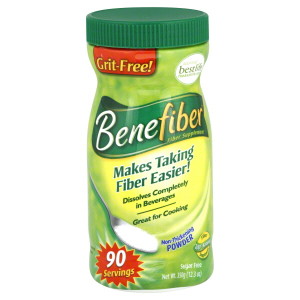 There's a lot of interest in fiber supplements like Benefiber, so we dug deep for a review into the ingredients, customer service and clinical research to see what all the hype was about. With the statements of hundreds of users we summarized the information and presented the results in a clear, concise manner.
EDITOR'S TIP:
Combine Benefiber with a proven fat burner such as
Leptigen
for better results.
What You Need to Know
Benefiber is a supplement company with a Healthy Shape option. According to the product claims, the brand, derived from wheat dextrin, can curb cravings with just two servings per day. The fiber mixes completely into water, juice or milk allowing the dieter to take it on the run.
The company behind Benefiber, Novartis, has been around since 1996. All natural ingredients are used in the formula – a good choice. You can purchase Benefiber at pharmacies and many grocery stores. It seems Benefiber is no stranger to poor customer service and litigious action. However, we like the lastingness of the company and the professional headquarters, but read on…
Price – "A Bit Too Much!"
Benefiber is made up of fiber, just like many other supplements on the market. The ingredient is widely available for a fraction of the cost. "Fiber is a good option for overall health, but Benefiber does not offer evidence that this product is better than others," claims our Research Editor. "Why pay more than twice the cost of other similar supplements?"
"I had seen commercials for Benefiber and thought I would give it a try – bye bye $20," says a user.
Another buyer claims, "The American consumer is too stupid to notice that the unit cost per oz. is way higher than competitors."
Move down to see one of the best supplements we've found in 2015.
Poor Customer Service – "An Issue?"
If there are questions or comments about a company, it is important to have the option of reaching a customer service representative. We called Benefiber only to find we experienced a long wait and a less than friendly agent. Benefiber users report the same results.
"When I called, they had me complete a lengthy questionnaire on the phone…when I insisted that I speak to a supervisor, after a lengthy hold, they agreed to send me [a] coupon," offers a buyer.
"Their customer service sucks. They are not kind," according to a customer.
We've found in our research that product issues, like poor customer service, are enough to hinder the long-term success of the supplement. If Benefiber is not there to support the buyer, this could be questionable.
The Science
Benefiber claims the Healthy Shape option is "clinically proven", but we found no research studies listed to support this statement. We read information supporting the use of fiber for mild appetite suppression, but there's no reason to believe a branded supplement is more effective than a generic one.
The Bottom Line
We're interested in reviewing products like Benefiber. We like the long run in the supplement industry and all-natural source of fiber, but we don't feel comfortable suggesting it because of the higher price and poor customer service support. We're also a bit concerned with the "F" BBB rating.
If you're ready to make those extra pounds disappear, we recommend a product with strong customer service support and an affordable price. You should also look for a formula comprised of proven ingredients.
We've discovered Leptigen is one of the finest products in 2015. The compound consists of four ingredients in a proprietary blend with published research for support. The supplement can help raise metabolism and speed up fat loss. We found no reports of negative side effects and customer feedback on results is favorable.
The producers of Leptigen are so convinced the product will work, they are offering a Special Trial Offer.
(Feel free to scroll below for our previously published full-length reviews of Benefiber)
Previous Benefiber Review (Updated March 18, 2014):
What You Should Know
Click Here To See Our Highest Rated Review
The Food Nutrition Board has recommended that Americans consume at least 38 grams of dietary fiber each day for men and 25 grams for women. However, it is said that Americans only consume about half of the recommended daily amounts of fiber. Most of the fiber in our diets comes from plant sources and has been proven to play an important role in normal bowel function. Desirable sources of soluble fiber include oats, fruits, vegetables, dried peas, and beans as well as legumes. Insoluble fiber does not get digested by the intestines and increases the rapid transit of food out of the body which promotes regularity and softens stools. It has been reported that many people take fiber additives to aid in weight loss. Diets that are high in fiber have been said to improve the body's ability to rid the body of waste thus shortening the length of time that food remains in the body thus possibly promoting weight loss.
List of Ingredients
The active ingredient found in Benefiber is Wheat Dextrin. Wheat Dextrin is a natural soluble fiber which is marketed as a gluten-free product due its low levels of gluten, only 10 ppm of gluten is found in Wheat Dextrin.
Product Features
Each serving of Benefiber is said to contain 3 grams of fiber. Benefiber comes in several forms such as chewables, caplets and powders, including the new berry flavored powder which contains calcium. The regular powdered form of the supplement is marketed as "sugar free" and taste free" and can be virtually added to any food or drink and promises not to change the taste, texture, or consistency. In fact, the official Benefiber website contains a list of recipes which contain Benefiber in its list of ingredients. There are soups, sauces, and dips, salads, main dishes, desserts, and snacks as well as smoothie drinks. In addition, Benefiber promises not to have the normal "gritty" texture found in many over the counter fiber supplements. The official website even posts tips on how to increase your daily intake of fiber through adding certain types of foods to your diet.
Advantages
Each serving of Benefiber adds 3 grams of needed fiber to your diet.
Benefiber is all natural and contains no potentially harmful ingredients.
Disadvantages
Some reported side effects associated with taking Benefiber include flatulence, gastrointestinal pain, discomfort, diarrhea, nausea, stomach upset, as well as stomach pressure resulting in a "full" feeling.
Benefiber does not promote thermogenisis within the body to aid in weight loss.
Benefiber does not contain a fat burner in its ingredients.
Conclusion
Most of the processed food that Americans consume has been virtually stripped of any fiber and nutritional content and dietary fiber has been shown to play a role in the body's ability to regulate its digestive system to a more "normal" function which helps the body to "move" food through the digestive tract at a faster rate. This may in fact aid in weight loss however a diet rich in foods that contain high levels of fiber are a much better source. However it must be said that Benefiber may give the same desired results without the extra calories.