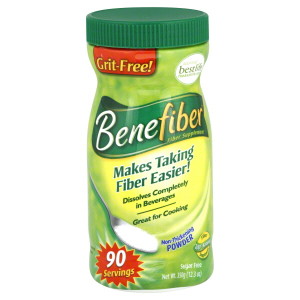 In the diet industry, don't mistake marketing for effectiveness. Benefiber makes a lot of claims, so we dug deep for a review into the ingredients, side effects, customer service and clinical research to see what all the hype was about. We digested the statements of hundreds of users. Then, we summarized the information and condensed to give you what you need.
What You Need to Know
Firstly, Benefiber is a supplement company with a Healthy Shape option. According to the product claims, the brand, derived from wheat dextrin, can curb cravings with just two servings per day. The fiber mixes completely into water, juice or milk allowing the dieter to take it on the run.
The company behind Benefiber, Novartis, has been around since 1996. All natural ingredients are used in the formula, a good choice. You can purchase Benefiber at pharmacies and many grocery stores. We like the lastingness of the company and the professional headquarters, but read on…
Price – "A Bit Too Much?"
Our first concern is with price. Benefiber is made up of wheat dextrin, just like many other supplements on the market. The ingredient is widely available for a fraction of the cost. "Fiber is a good option for overall health, but Benefiber does not offer evidence that this product is better than others," claims our Research Editor. "Why pay more than twice the cost?"
"I had seen commercials for Benefiber and thought I would give it a try – bye bye $20," says a user.
Another buyer claims, "The American consumer is too stupid to notice that the unit cost per oz. is way higher than competitors."
There's not always an issue with money. We found a user that thought it well worth the cost, "Definitely worth the price to keep the fiber intake up!"
Another said something similar, "Benefiber had no taste, dissolved fast, and was sold at a great price."
Scroll below for one of the best products we've seen over the last year.
Poor Customer Service – "An Issue?"
If there are questions or comments about a company, it is important to have the option of reaching a customer service representative. We called Benefiber only to find we experienced a long wait and a less than friendly agent. Benefiber users report the same results.
"When I called, they had me complete a lengthy questionnaire on the phone…when I insisted that I speak to a supervisor, after a lengthy hold, they agreed to send me [a] coupon," offers a buyer.
"Their customer service sucks. They are not kind," according to a caller.
There were quite a few complaints about the customer service department. We were unable to find anyone who had a positive experience.
We've found in our research that product issues, like poor customer service, are enough to hinder the long-term success of the supplement. If Benefiber is not there to support the buyer, this could be questionable.
Is the Science There?
Benefiber claims the Healthy Shape option is "clinically proven", but we found no research studies listed to support this statement. We read information supporting the use of fiber for mild appetite suppression, but there's no reason to believe a branded supplement is more effective than a generic one. At DietSpotlight we need proof that a formula is the best option for weight-loss. If that's not part of the plan, the dieter might as well turn and walk away.
The Bottom Line – Does Benefiber Work?
Ahhh, now it's time for the final take on this one – ready? We like the company's long run in the supplement industry and all-natural source of fiber, but we don't feel comfortable suggesting it because of the higher price and poor customer service support. We're also a bit concerned with the "F" BBB rating.
If you're ready to make those extra pounds disappear, we recommend a product with strong customer service support and an affordable price. You should also look for a formula comprised of proven ingredients.
Among the best products we've seen in 2016 is one called Leptigen. The compound consists of four ingredients in a proprietary blend with published research for support showing it can help raise metabolism and speed up fat loss. We found no reports of negative side effects and customer feedback on results reports dieters seeing great results.
Plus, the producers of Leptigen are so confident the product will work, they're offering a Special Trial Offer, positive sign.