Updated: 10/06/2015 - Sponsored by Leptigen
Cellucor Super HD Review - Does This Weight Loss Supplement Really Work?
Are lack of clinical research and side effects deal breakers?
PUBLISHED: 09/03/2015 | BY: SUMMER BANKS, SENIOR REVIEWER
Editor
's Review:
3.5
/ 5.0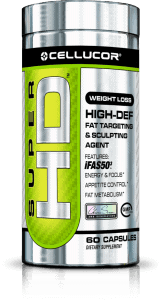 We've heard all kinds of buzz regarding Cellucor Super HD, so we took the time to create an in-depth review, examining the side effects, ingredients, scientific research and customer-service quality. Also, we focused on hundreds of customer reviews and user responses from around the web. At this point we summed up the data we found to give you the information you need.
EDITOR'S TIP:
Substitute Cellucor Super HD with a proven fat burner such as
Leptigen
for better results.
What You Need To Know
Cellucor Super HD is available online for $69.99 (120 capsules). This supplement is claimed to promote appetite control, increase the metabolism of fat, provide high-powered energy and encourage fat reduction. You simply take one capsule in the morning and one capsule in the mid-afternoon (always with 8-12 ounces of water). This diet formula contains the following; Niacin, Vitamin B6, Vitamin B12, Caffeine Anhydrous, N-Acetyl-Tyrosine, Toothed Clubmoss, Cyanocobalamin, Methycobalamin, Pyridoxal-5-Phosphate, Rauwolfia Extract, Evodiamine, Red Pepper Fruit, Yohimbine Extract, Pausinystalia, Dandelion Root, Amia Fruit, Rhodiola Rosea Root, Chinese Mistletoe Stem, Tuber Fleece Flower Root and Camellia Sinensis Leaf.
Cellucor Super HD was released back in 2013 and is available on the official website. Also, there is a 100% satisfaction guarantee posted on the website, and plenty of customer feedback is found online, but read on…
Lack of Clinical Research
According to our research editor, "Even though Cellucor Super HD is boasted as a powerful weight loss formula, there is no documented scientific research presented on the official website or anywhere online to support this claim."
One user said, "I experienced no real benefit from Super HD; no additional energy or focus, no thermogenic symptoms, and certainly no additional weight loss."
"Not a fan of this stuff at all. It just doesn't work. More likely than not just a loaded caffeine pill with fairy dusted ingredients," said another.
Scroll below for one of the best products we've seen in 2015.
Serious Side Effects
There are many customer complaints about side effects, which is something that should not be overlooked. One dieter stated, "This stuff made me feel like my heart was gonna explode and made me sick!!!!! No way! Never again!!!! WASTE OF
MONEY."
Another complained, "Headaches, vomiting and feeling like crap since I took this. I have taken other similar products before so I know what to expect, but this product has something that has made me sick."
According to our extensive research, if there is a certain part of a weight loss pill or diet program that's especially bothersome (a painful/difficult exercise routine, pills that cause side effects, no clinical research) the likelihood of real weight loss success is minimal. In other words, if Cellucor Super HD does cause side effects in a lot of people, this could be a major problem.
The Science
Sadly there is no scientific research presented on the official website to support Cellucor Super HD. For us at DietSpotlight, it's imperative to see published clinical research regarding the supplement and its ingredients in order for us to support the diet product. No clinical studies equals a red flag.
The Bottom Line
While Cellucor Super HD does contain an interesting ingredient blend, we would not recommend this product for serious weight reduction. Not only is there a lack of scientific research, but this supplement seems to cause some serious side effects as well. Moreover, many dieters complained that this product is ineffective.
If you really want to slim down and rock your best body, we suggest you select a dietary supplement that is backed by solid clinical trial research and does not cause any harsh side effects.
Among the most impressive weight loss products we've spotted in 2015 is Leptigen. This supplement uses a unique blend of four proven ingredients that have been shown in documented clinical studies to help encourage fat loss and increase metabolism. We can't pinpoint any complaints regarding harmful side effects and user reviews posted online indicate dieters are seeing good results.
Also, the makers of Leptigen are so confident in their product they're offering a special trial offer, which is a good sign.