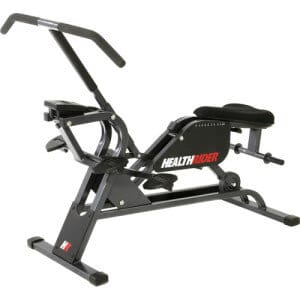 Why is it that so few fitness products are backed by science? Let's find out if HealthRider is one of the good ones. We decided to take an in-depth look at side effects, components, scientific research and overall customer service quality. Plus, we sorted through hundreds of user experiences from the internet. Lastly, we summed up all the information we found to give you the facts you need.
What is HealthRider?
First off, HealthRider is a company that offers numerous fitness machines, including treadmills, ellipticals, bikes, riders and hybrid trainers. These machines are all available via the official website. The brand is promoted by Tony Little, a renowned fitness expert. The original was intended as a total-body workout tool that can be used by both women and men. It works every major muscle group in order to help you burn off more calories and improve muscle strength. However, the exercise itself is low intensity so muscles and joints are not strained. The cost of this machine is around $500.
The original HealthRider was released back in the 1990s. This machine is available in two different models, which are the HealthRider and Tony Little's AbRider Plus. This fitness tool allows for both cardiovascular exercise and strength training at the same time. Also, an LCD monitor is provided to help you track heart rate and exercise time, but read on…
The Price – "Ouch?"
The first issue we realized with HealthRider was the high price. "The original sells for around $500 new, which is simply not affordable for some people. At this point there are so many alternative fitness options that cost much less money, but still give you a full-body workout," says our Research Editor.
One customer said, "Don't want to spend this much money on an exercise machine!"
Another person stated, "Not worth the price, sorry Tony Little."
Scroll below for one of the best products we've seen over the last year.
Negative User Reviews – "Another Concern"
There are certainly some customer complaints posted online for HealthRider. One user stated, "Hurt my back with this thing! What happened to low impact?"
Another complained, "Assembled it and discovered that the Resistance function does not work."
The research we've conducted has shown that if a certain part of a diet program or fitness product is especially problematic (a painful/difficult exercise routine, too many user complaints, high price) the chances of long-term success is minimal. In other words, if Health Rider does in fact leave users wanting a refund, this could be a serious concern.
The Science – "Is it Legit?"
There was no mention of scientific studies that support HealthRider for weight-loss. However, this product has been shown to help with low-impact exercise. Needless to say, regular exercise does assist with helping you lose more. However, we did not find any clinical support presented on the official website that proves HealthRider specifically helps in this area.
The Bottom Line – Does HealthRider Work?
Well now, did we give this one a thumb up or down? It looks like some people were excited to try HealthRider since it is touted as a total-body workout and is low-impact. However, we noticed that there are some customer complaints about this exercise solution. Due to the price and negative user reviews, we don't feel comfortable recommending it. The reality is there are much less pricey fitness tools and programs available for at-home exercise.
If you'd like to get rid of more excess body fat and slim down, we recommend a fitness machine or weight-loss pill that is affordable, supported by clinical studies and has received positive customer feedback.
Among the best products we've seen in 2016 is one called Leptigen. It uses a proprietary blend of four ingredients, which have been proven in documented clinical studies to help accelerate metabolism and improve fat loss results. Also, we didn't see any talk of dangerous side effects and dieter comments posted online express people are seeing substantial results.
Also, it's with a sign of confidence that the makers of Leptigen have chosen to offer a Special Trial Offer.