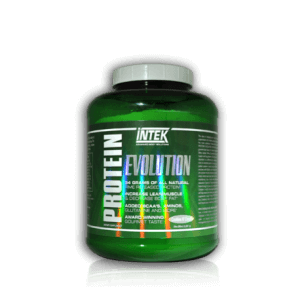 In our never-ending quest to find the best diet products out there, we reviewed Intek Protein Evolution to find out if it's worth trying. We looked at the ingredients, online reviews, customer comments, side effects, and science behind this product to provide a detailed summary for our readers.
EDITOR'S TIP:
Combine Intek Protein Evolution with a proven fat burner such as
Leptigen
for better results.
What You Need to Know
Intek Protein Evolution is a protein powder designed to be mixed with cold water up to 3 times per day. It contains whey protein, egg protein, milk, taurine, BCAA complex, colostrum, collagen, several vitamins, flavoring, and sweetener. The powder is easy to mix, and it comes in a convenient 2 or 5 pound tub that allows you to take it anywhere.
Intek Protein Evolution has been around since 2010, so it's fairly new as a diet supplement. It's available online and from some health and fitness stores. We do like the availability of the product and its ingredient list, as well as the high amounts of protein, which makes us think this would also work as a meal replacement, but read on…
Price–Is It Worth It?
Our initial concern with this product is the high price. "At $70 plus shipping for a 5-pound container, this sounds like a good deal," said our research editor, "but when you take the maximum serving of 2 scoops 3 times per day, you can quickly go through two or three tubs per month." Compared to other protein shakes, this is priced somewhat competitively, but there are alternative diet supplements that are more affordable
"2 tubs lasted me less than a month. $140 or more a month is way too much for me," said one user.
"This has worked for some people, but at $70 a tub it's not for me," said another.
Scroll below for one of the best products we've seen over the last year.
Taste–Difficult to Swallow
Something that we've noticed with a lot of protein supplements is that it's difficult to find a product that has the right consistency and a pleasant taste. This product was no different. "This has a smooth consistency, but the flavor is a bit off," said one customer in an online review.
"This tastes so bad it's difficult to swallow," said another. Many people agreed that when mixed with cold water Intek Protein Evolution has a bad taste, prompting many to try mixing it with other liquids. "I tried mixing this with milk and it tasted better, but I was also getting more calories per serving," said one customer.
Our research suggests that whenever there is a particularly troublesome aspect of a weight loss program or diet supplement (painful workouts, bad tasting supplement, expensive products, etc.), the likelihood of sustained weight loss is slim. If Intek Protein Evolution really does taste bad to some people, it could be difficult for them to stick with this supplement.
The Science–Proof It Works, or Unsubstantiated Claims?
There's plenty of evidence supporting the ingredients in Intek Protein Evolution and their benefit for building muscle mass, but there's nothing suggesting that this product would be a beneficial weight loss supplement. Protein powders are generally designed for people that are looking for muscle gains and weight gain, and this product is no exception. For casual dieters looking to lose weight or improve overall health, this product may be overkill. Without science supporting this product as a weight loss solution, we see red flags for those looking to lose weight.
The Bottom Line–Is It Worth a Try?
Intek Protein Evolution has a lot to offer for those looking to build muscle mass and gain weight, but we did have some concerns. The biggest concern we had with this product was the lack of scientific evidence proving that it is an effective weight loss tool. We like to see unbiased research proving that a product will help our readers lose weight, so this was a disappointment. We're also concerned about the taste, the high cost, and the negative side effects some people experienced.
If you're looking for an alternative product that offers proven weight loss results, we suggest you go with a product that offers value and an effective formula. A good product will be affordable and offer good results without an unappetizing taste that makes it tough to swallow.
Among the best products we've seen in 2015 is one called Leptigen. Its formula contains a proprietary blend of 4 ingredients, and the ingredients have been featured in scientific research that backs up Leptigen's fat burning and metabolism boosting claims. We read dozens of reviews online, and dieters seem to agree that Leptigen offers great weight loss results without negative side effects.
Right now, the makers of Leptigen are offering a special trial offer, so you can try this product and make sure it's for you!