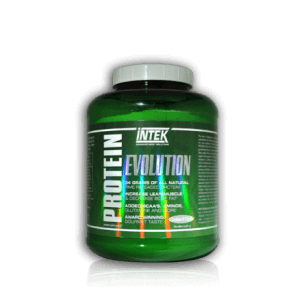 In our never-ending quest to find the best supplements out there, we decided that Intek Protein Evolution deserved a closer look. Our attention turned toward the ingredients, side effects, customer service and scientific research. Furthermore, we picked apart hundreds of user comments and reviews. Then, we refined and condensed to give you the info you need.
EDITOR'S TIP:
Click here
to combine Intek Protein Evolution with a proven testosterone booster such as Pronabolin for better results.
What is Intek Protein Evolution?
First off, Intek Protein Evolution ingredients arewhey protein concentrate and isolate, egg protein, calcium caseinate, l-taurine, bcaa complex, colostrum, collagen vitamins, fiber and minerals. It promotes wellness by helping build lean muscle and supporting digestion. The recommended serving is three scoops per day. One container lasts 30 days. The ease of mixing is one benefit.
Intek Protein Evolution has been around since 2010, so it's relatively new to the market. It's available online and from some health and fitness stores. We do like that it contains 30g of protein per serving and that we found some positive customer comments, but read on…
Price – "Is It Worth It?"
Our first concern with Intek Protein Evolution ingredients is high price. "At $70 plus shipping for a 5-pound container, this sounds like a good deal," said our Research Editor, "But, when you take the maximum serving of 2 scoops 3 times per day, you can quickly go through two or three tubs per month."
"2 tubs lasted me less than a month. $140 or more a month is way too much for me," said one user.
"This has worked for some people, but at $70 a tub it's not for me," said another.
However, cost wasn't a concern for some customers. "As long as the protein is high quality, the price is worth it," said a customer.
Scroll below for one of the best products we've seen over the last year.
Taste – "Difficult to Swallow?"
Something that we've noticed was that some customers complained about the poor taste of Intek Protein Evolution ingredients. "This has a smooth consistency, but the flavor is a bit off," said one customer.
"This tastes so bad it's difficult to swallow," said another.
Others had a different take on this one. "I think vanilla is a bit better than chocolate," commented a customer.
"If you mix it with almond milk, it tastes pretty good," stated another.
Our research suggests that whenever there is a particularly troublesome aspect of a supplement, like having a poor taste, the likelihood of long-term success is slim. If Intek Protein Evolution is not easy to drink, it could be difficult for them to stick with it.
The Science – "Substantiated Claims?"
There's plenty of evidence supporting the ingredients in Intek Protein Evolution and their benefit for building muscle mass. It's also known that products like this can help fight hunger between meals. The problem is that this is true of all similar products, even those that cost less. Also, there's no scientific research showing this profile is directly connected to muscle building. At DietSpotlight we want proof. Without science supporting this product as a better option than the competition, we see red flags.
The Bottom Line- Does Intek Protein Evolution Work?
Are we shaking up our very own Intek Protein Evolution drink right now? Well, we like that it contains some natural ingredients and that it offers 30g of protein per serving, but we're concerned about this one because there are no studies used to back the muscle-building claims. We're also a bit skeptical about it due to customers talking about high price and poor taste.
Lack of muscle could be a sign of low testosterone levels. If you need that boost, we suggest going with an affordable supplement containing ingredients that work and not connected to harmful side effects.
Among the best products we've seen in 2016 is one called Pronabolin. The formula contains nine clinically-tested ingredients that have been shown to help build muscle and strength, increase energy and vitality, as well as boost testosterone levels. There's no one talking about harmful side effects, but people are seeing great results.
Right now, the makers of Pronabolin are offering multiple-bottle discounts and a 120-day money-back guarantee. This is an excellent sign of confidence in their supplement.