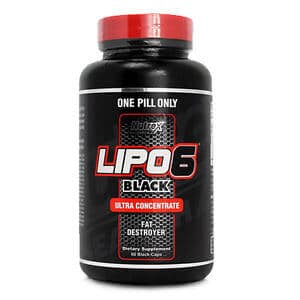 I'm obsessed with finding diet products that actually work. Let's find out if Lipo-6 Black UC is one of them. We took an exhaustive look at ingredients, side effects, scientific research and customer service quality. Additionally, we drilled down hundreds of customer reviews and comments. Then, we condensed and summarized to give you the info you need.
What You Need to Know
First off, Lipo-6 Black UC is a fat burner containing caffeine, theobromine, citrus aurantium, yohimbine and rauwolscine. After taking two capsules per day, the supplement supposedly increases energy and helps with weight-loss. The small pills are considered a benefit.
The supplement was introduced by Nutrex Research in 2002 as a weight-loss supplement and appears to include some natural ingredients, a good start. The official website and online retailers sell the product. We like that it appears to be affordable and that we located some positive customer comments, but read on…
Side Effects – "Look Out!"
The first negative was Lipo-6 Black UC side effects. "There's one thing that keeps coming up one year after the next," said our Research Editor. "The name of a product often tells the dieter what to look for."
"I hated the feeling this product gave me. My head would throb all day long so I stopped taking it," said a customer.
"After 30 minutes I felt insane hot body. Sat on my chair and started feeling like I was floating up in air, out of body. Soon my hands and legs started shaking. Also my heartbeat went insane and I felt crazy short of breath," commented a consumer.
Scroll below for one of the best products we've seen over the last year.
FDA Warnings – "Concerning?"
In April of 2012 and 2015, Nutrex Research was contacted by the Food and Drug Administration due to supplements containing 4-Amino-2-Methylpentane Citrate. The products stated the ingredient was natural, but in actuality, it was synthetic.
Ineffective – "No Changes?"
Based on consumer comments on the web, Lipo-6 Black UC ingredients didn't help with weight-loss. "Lipo 6 black did not help in losing weight. Started at 312 lbs. Started training with regular weights and cardio 4-5 times a month. Ballooned up to my heaviest to 336 lbs.," reported a consumer.
"No effect for me. Note that I GO to the gym and eat healthy food. My weight still the same," commented a user.
"Garbage: no fat burning effects, lose energy and appetite suppression after first week. Big waste of $$$ don't waste yours," said another.
According to our research, we've found that it only takes something small relating to a supplement, like ineffectiveness, to put a halt to long-term success. If Lipo-6 Black UC doesn't help users lose weight, there are problems.
The Science – "Any Proof?"
The official website provides details relating to the benefits of the supplement, but doesn't offer links to published clinical research supporting weight-loss claims. We've found science-based facts linking caffeine to users losing weight, but nothing specific to this product. At DietSpotlight, science is a critical part of the research process. If Lipo-6 Black UC isn't backed by studies, we have problems with it.
The Bottom Line – Does Lipo-6 Black UC Work?
So, the decision you've been waiting for: does Lipo-6 Black UC work? Well, we like that we located some positive customer comments and the length of time the company has been operating, but we have reservations about it due to the lack of published clinical research supporting the weight-loss claims. We're also hesitant about it due to the reports of negative side effects, the ineffectiveness and the FDA warnings.
If you want to drop those extra pounds, we suggest going with a supplement containing a formula backed by published scientific research and no reports of negative side effects.
Among the best products we've encountered in 2016 is one called Leptigen. The supplement contains a formula consisting of a four-ingredient proprietary blend, which has been shown to help accelerate metabolism and jump start fat loss. People are commenting on the web about seeing excellent results and no one is talking about negative side effects.
Also, the makers of Leptigen are so confident in their supplement, they're offering customers a Special Trial Offer, a great choice.