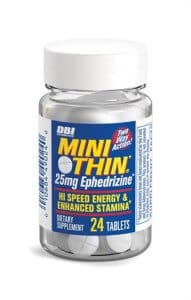 This review is what happened after I obsessed for weeks over Mini Thins.
We took the time to dig deep and investigate this product, focusing closely on the ingredients, side effects, clinical research and level of customer care. Furthermore, we sorted through countless user comments and customer responses that are posted on the web. At last, we compacted all of the facts and feedback we found to give you the info you need.
EDITOR'S TIP:
Combine Mini Thins with a proven fat burner such as
Leptigen
for better results.
What You Need To Know
Mini Thins are claimed to give you an energy boost so you can get through the day. This product should be taken once mid-morning and once mid-afternoon. The original Mini Thins contained Ephedra or Ephedrine, but the new formula does not. The ingredients used in this supplement are; Caffeine Anhydrous (200mg), Bitter Orange Peel Extract (83mg), Asian Ginseng Root Extract, Ginger Root Extract, Green Tea Extract, Kola Nut Extract, Rhodiola Rosea Root Extract and White Willow Bark Extract.
We are uncertain when Mini Thins were first released, but they are available on Amazon for $10.59 (36 capsules). Also, this product is easy to use anywhere and it does contain some herbal extracts, but read on…
Dangerous Ingredient – A Concern?
According to our Research Editor, "Mini Thins actually contain a dangerous ingredient called Bitter Orange Peel Extract. This extract contains Synephrine, which increases blood pressure and elevates your heart rate. Synephrine can lead to heart palpitations, heart attack and stroke."
One customer commented, "Makes me very anxious and jittery. Not a good feeling!"
Another user stated, "Gave me a headache and makes my hands shake."
Scroll below for one of the best products we've seen over the last year.
Negative User Feedback!
There is quite a bit of negative customer feedback posted online for Mini Thins. One user mentioned, "The label says Mini Thin. It is a big red horse pill…does absolutely nothing for you, unless you need to gag on a pill."
"I was VERY disappointed. Not only did they not work.. they smelled terrible," said another customer.
The extensive research we've done has shown if there is a certain part of a diet product or weight loss system that is especially bothersome (dangerous ingredients, unpleasant taste, negative user feedback) the chances of prolonged success are not good. In other words, if Mini Thins do cause a lot of negative user feedback, this could be a serious issue.
The Science – Any?
Here at DietSpotlight, we prefer to see documented clinical research that supports the product and its ingredients. Unfortunately we could not locate any published science pertaining to Mini Thins. Therefore we cannot get behind this product and its claims.
The Bottom Line: Do Mini Thins Work?
Now the moment you've been waiting for: our bottom line on Mini Thins. Well, we appreciate that Mini Thins contain some herbal ingredients and this product is easy to obtain online. On the other hand, we have some reservations about Mini Thins because this product is not backed by any actual science. Furthermore, we're concerned about the dangerous ingredient used in this supplement and all of the negative user feedback we found on the web.
If you'd like to drop more pounds, then we advise you to go with a product that does not contain any dangerous ingredients, is supported by real clinical research and is backed by plenty of positive user feedback.
Among the best products we've seen in 2015 is one called Leptigen. Its formula is a unique blend of four ingredients, which have been proven in documented clinical research to speed up fat loss and boost metabolism. We have not found any talk of unpleasant side effects and dieter comments around the web show people are seeing excellent results.
The makers of Leptigen are so sure about their product they're offering a Special Trial Offer, which is a positive sign.