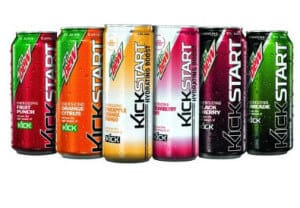 You're about to learn everything you need to know about Mountain Dew Kickstart. Here at DietSpotlight, we did one of our in-depth reviews, closely examining the ingredients, side effects, customer care and scientific studies. We also read dozens of user responses and reviews that are posted online. Finally, we then summarized and condensed all the facts and feedback to give you the info you need.
What You Need To Know
Mountain Dew Kickstart is an energy drink that is available in 16-ounce cans. It comes in flavors such as orange citrus, fruit punch, limeade and strawberry kiwi. This beverage is claimed to give you an energy boost to help you with workouts, focus and simply getting through the day. As for the ingredients, Mountain Dew Kickstart contains; Caffeine (92mg), Sodium (180mg), Vitamin C (100%), 5% Juice, Sugar (20g), Vitamin A and Vitamin B6. This drink should help improve mental alertness, enhance focus, elevate mood and ignite energy levels.
Mountain Dew Kickstart was first released in 2013. It's easy to find this beverage in local stores for around $2 per can. The company that makes this product, which is PepsiCo, has a good BBB rating and there are some customer testimonials posted online, but read on…
Artificial Sweeteners – Something to Consider?
According to our Research Editor, "Mountain Dew Kickstart is loaded with sweeteners like Acesulfame K and Sucralose. Naturally this makes these energy drinks taste very sweet. This is actually a complaint of many customers."
One user commented, "Don't like the taste. Mountain Dew Kickstart is overly sweetened! Not for me."
"Can't get past the sickly sweet taste of this stuff. It's definitely loaded with artificial sweeteners," said another customer.
Scroll below for one of the best products we've seen over the last year.
Side Effects – Another Concern
Sadly some people experience side effects from Mountain Dew Kickstart. In fact, one customer stated, "EVERY time I drink this I get diarrhea. It never fails. That can't be good."
Another person said, "Makes my heart race. Maybe too much caffeine for me."
According to our research, if there is a certain part of a supplement or energy drink that is very burdensome or concerning (artificial sweeteners, too many side effects, high cost) the likelihood of prolonged success is minimal. Therefore if Mountain Dew Kickstart does cause unpleasant adverse effects in a lot of people, this could be problematic.
Any Real Science?
Here at DietSpotlight, we prefer to see solid scientific research that supports the product and its claims. As for Mountain Dew Kickstart, we could not locate any clinical research or studies. This makes it difficult for us to get behind this energy drink.
The Bottom Line – Does Mountain Dew Kickstart Work?
So, should you buy Mountain Dew Kickstart? Well, we like this company's longevity and that this beverage is very easy to find in common stores. But we have some concerns because Mountain Dew Kickstart is not backed by any clinical studies. Furthermore, we're leery about this energy drink's artificial sweeteners and side effects.
If you're really ready to boost energy levels and enhance vitality, we suggest a product that does not lead to side effects, contains clinically proven ingredients and comes with excellent customer service.
Among the best products we've found in 2016 is one called Leptigen. This supplement uses a blend of four ingredients , some clinically-tested, and have been shown to accelerate metabolism and ignite fat loss. There's no discussion of adverse effects and user comments posted online show people are seeing solid results.
Also, the makers of Leptigen are so confident about their product they're offering customers a Special Trial Offer – impressive.