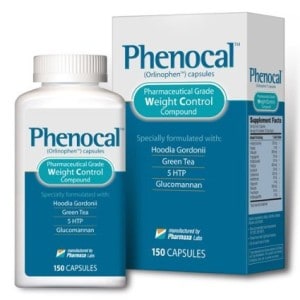 I'm obsessed with finding diet products that actually work. Let's find out if Phenocal is one of them. We did one of our comprehensive reviews, focusing closely on the ingredients, side effects, clinical research and overall customer service. Moreover, we looked at dozens of user reviews and customer responses from all over the internet. Finally, we then compacted all the data we discovered to give you the information you actually need.
EDITOR'S TIP:
Substitute Phenocal with a proven fat burner such as
Leptigen
for better results.
What You Need To Know
Phenocal is marketed as a pharmaceutical-grade weight control compound. The ingredients used in this supplement are as follows; Green Tea Leaf, Glucomannan, L-Tyrosine, Cocoa Extract, Hoodia Gordonii, Garcinia Cambogia, Yerba Mate, Coleus Forskohlii, Evodiamine, L-Tryptophan, Conjugated Linoleic Acid (CLA), 5-HTP (5-Hydroxyptophan), Fucoxanthin, Chromium, Biotin, Bioperine and B Vitamins. Phenocal should be taken once in the morning (three capsules) and once in the afternoon (three capsules). This product is manufactured by Pharmaxa Labs.
Phenocal has been available since at least 2010 and it can be purchased via the official website for $39.85. This supplement contains 100% natural ingredients and a 60-day money-back guarantee is posted on the official website, but read on…
Fad Supplement Ingredients – A Concern?
According to our Research Editor, "Phenocal contains fad supplement ingredients which are not backed by solid clinical research as effective weight loss aids. These ingredients include Hoodia Gordonii Extract and Garcinia Cambogia."
One user said, "Waste of money…doesn't work…I exercised and ate right and lost 2 lbs, which was probably from my own exercise and diet and nothing from this weak product."
"I took this product for a month, and did not lose a pound. I didn't feel energized either. It's a waste of money," commented another customer.
Scroll below for one of the best products we've seen over the last year.
Too Many User Complaints!
You will find a long list of user complaints for Phenocal, posted on the internet. One dieter stated, "I've been taking it for 2 solid weeks, no change in appetite, no increase in energy."
Another customer offered, "This product made me very tired, which is counterproductive when it comes to weight and energy management."
According to our research, if there is some particular aspect of a weight loss pill or diet program that is very troublesome (fad supplement ingredients, too many user complaints, steep price tag) the odds of weight loss success for the long run are not good. Therefore if Phenocal does cause a high number of user complaints, this could be a major concern.
What About the Science?
Unfortunately we could not find any solid science that supports the weight loss claims regarding Phenocal. At DietSpotlight, we like to see documented clinical research or studies that pertain directly to the diet product and the ingredients it contains.
The Bottom Line: Does Phenocal Work?
So, should you run out and buy Phenocal? First of all, we like that Phenocal contains all natural ingredients and it is sold with a money-back guarantee. But we have some reservations about this diet product because it's not supported by actual clinical studies. Furthermore, we're concerned about the fad supplement ingredients used in Phenocal, and the numerous user complaints we found online.
If you'd like to drop more weight, then you should try a diet product that is supported by positive user reviews, contains clinically proven ingredients for weight loss and sells at a reasonable price.
Among the best products we've seen in 2015 is one called Leptigen. It contains a proprietary blend of four unique ingredients, which have been shown in documented clinical research to help elevate metabolism and encourage fat loss. We did not find any complaints of harmful adverse effects and customer comments posted on the internet indicate people are seeing substantial results.
The makers of Leptigen are so satisfied with their product they're offering a Special Trial Offer, which is a good sign.