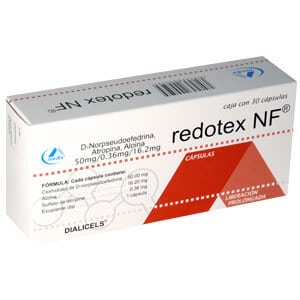 Diet products either work or they don't. Period. Let's find out which on Redotex is. We chose to do one of our thorough reviews, taking a closer look at the ingredients, side effects, clinical research and customer service. Plus, we read hundreds of experiences from all over the internet. Then, we summarized and condensed it all to give you the info you need.
What is Redotex?
Firstly, Redotex is a prescription fat burner containing a mixture of stimulants.[1]
The ingredients include L-triiodothyronine [2], D-norpseudoephedrine [3], atropine sulfate, alona and diazepam. Under ruling by the FDA, the drug is banned for sale here in the United States.[4]
Redotex is manufactured by Medix and only available with a prescription from a doctor. The medication is only sold in Mexico. We like we found some favorable customer comments and isn't sold over-the-counter, but read on…
Redotex Ingredients – "Questionable or Ineffective?"
The first issue was the effectiveness of Redotex ingredients. "Prescription drugs for weight-loss have two major problems," says our Research Editor. "First, they may not be safe if you are taking anything else. Second, the results may not last long-term."
"It dropped my blood pressure so low I would black out every time I stood up," said one user.
"Once you stop taking them do you gain The weight back again," offers another.
We didn't find any comments that supported the ingredients in Redotex.
Scroll below for one of the best products we've seen over the last year.
Side Effects – "Not a Positive"
There are multiple ingredients in the formula that could cause Redotex side effects. One user said, "From my experience, it raised my heartbeat but at the end of the day, I would be drowsy."
"The side effects are worse being overweight," claims another.
For a more well-rounded look, we also found some positive experiences.
As one user put it, "I have not had any side effects, I feel great just really thirsty!"
Our research indicates that if anything about a program is difficult, such as the potential for side effects, the chances of long-term results are lower. If Redotex does evoke adverse reactions, that's something serious to consider. [5]
The Science – "Validated?"
We were unable to find any scientific research supporting the use of Redotex for weight-loss. We did find a warning from the FDA that stated the risk of side effects from the prescription drug increase when it is not used under the supervision of a doctor. Seeing as it is not available in the United States, that could be a problem.
The Bottom Line – Does Redotex Work?
So, should we crash the border to buy up all of this drug? We found nothing to really like about this product, which is a major reason to have reservations about suggesting it to dieters. The prescription is not available in the United States, because it is banned. Plus, the FDA warns against use without a doctor's care.
If you'd like to drop some weight, we recommend buying a supplement that gives you safe and effective ingredients that are legal in the United States and free of a risk of side effects.
Among the best products we've seen in 2016 is one called Leptigen. It is made with a proprietary blend of four clinically proven ingredients known to help support metabolism and increase fat burning power. As we researched, we could not find reports of side effects, but we found plenty of reports of users seeing positive results.
We're excited to see the makers of Leptigen are so confident in their product they're giving new customers a Special Trial Offer, which is always a good sign.