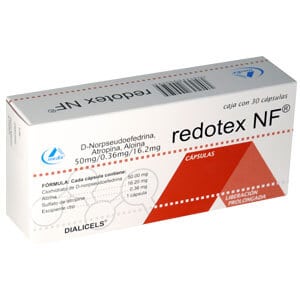 We heard a lot of talk about the detox, so we chose to do one of our thorough reviews, taking a closer look at the formula, the clinical research, and company customer service. Plus, we read hundreds of testimonials and user reviews from all over the Internet. Then, we summarized and condensed it all to give you the info you need so you can make an informed buying decision.
EDITOR'S TIP:
Substitute Redotex with a proven fat burner such as
Leptigen
for better results.
What You Need to Know
Firstly, Redetox is a detoxification medication, containing a mixture of stimulants and depressants, including: L-triiodothyronine, D-norpseudoephedrine, Atropine sulfate, Alona, Diazepam, but are linked to increased metabolism. The supplement is manufactured in Mexico, by Medix. This DzMexican Miracle Drugdz is only available in Mexico with a prescription from a doctor. Under ruling by the FDA, the drug is banned for sale here in the United States. Evidence suggests those who attempt to purchase it will be detained by U.S. Customs officials.
There is no official website for this product. Over the course of our research, we were able to find third party distributors selling the product for $125, but read on…
No Warning of Drug Interactions
The ingredients in this formula are a mixture of dangerous stimulants and antidepressants. One stimulant in the formula is norpseudoephedrine, which has the same properties as the banned substance, ephedrine. Not only are stimulants this strong known to be harmful and cause side effects such as increased heart rate and blood pressure, mixing them with an ingredient like diazepam, known to help decrease anxiety, control seizures, and reduce muscle spasms, can create a potentially deadly reaction.
DzThere's a clear reason why this product is banned in the United States. Those who live here should not attempt to purchase.dz said our Research Editor.
It dropped my blood pressure so low I would black out every time I stood up..dz said one user.
dzOnce you stop taking them do you gain The weight back again.dz, said another.
Scroll below for one of the best products we've seen in 2015.
Banned in the United States
The ephedrine like ingredient in this formula, plus the mixture of depressants in the formula are the reason why the FDA has banned this formula in the United States. With the evidence of harm, and even death, in some cases of ephedrine use, it's safe to say the FDA has made the right call.
One user said, DzFrom my experience, it raised my heartbeat but at the end of the day, I would be drowsy..dz
The side effects are worse being overweight. .dz said another.
Our research indicates that if anything about a program is difficult, such as the inability to legally purchase this supplement, or the potential for harsh and even life-threatening side effects, then it is difficult for users to see benefit from the product.
The Science
There is no science to support that this formula works – only science about some of the ingredients which shows them harmful for weight loss, or not even being used to help with weight loss.
The Bottom Line
We were interested in reviewing Redetox as we thought it would be a safe and effective way to lose weight, or at the very least jumpstart a weight loss program. However, after determining that it is not only illegal to purchase in the United States, but that this could be a deadly cocktail of drugs, we cannot recommend this product to any DietSpotlight reader.
If you'd like to drop some weight, we recommend buying a supplement that gives you safe and effective ingredients.
Among the best products we've seen so far this year is Leptigen. It is made with a proprietary blend of four clinically proven ingredients known to support metabolism and increase fat burning power. As we researched, we could not find negative mention of the product or side effects, which tells us users are seeing solid results.
We're excited to see the makers of Leptigen are so confident in their product they're giving new customers a special trial offer, which is always a good sign.