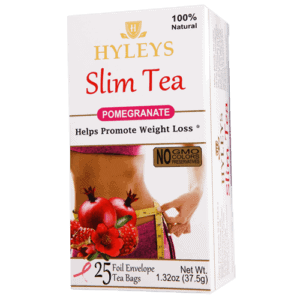 In my never-ending quest to find the best diet product, this week I reviewed Slim Tea. We dug deep and examined the ingredients, side effects, customer service and clinical studies. Furthermore, we focused on hundreds of dieter comments and reviews. Then, we summarized and condensed to give you the info you need.
What is Slim Tea?
First off, Slim Tea is a weight-loss beverage. The ingredients are green tea, senna leaves and natural acai berry flavor. Supposedly, it helps to flush out the colon, aid with digestion and cleanse the body. You can use it after meals or before bedtime. No added sugar, chemicals or artificial colors are a few benefits.
Slim Tea has been available since 2003 and is made by Hyleys, a division of Mekor LLC.  You can purchase it on the official website and through trusted retailers. We like that it contains a few natural ingredients and there are some positive comments posted online, but read on…
Unpleasant Taste of Slim Tea – "Something to Consider?"
The first negative is the poor taste of Slim Tea ingredients. "There are quite a few customer complaints about the unpleasant flavor," said our Research Editor. "This could reduce the chances of seeing results."
According to one customer, "Not at all what I expected and didn't do anything for dieting and I didn't like the taste. I will not buy it again."
Another user said, "This tea tastes horrendous and smells terrible as well!"
We like the fact that there are two sides to the story. Taste is good for some users.
"The taste is wonderful," was one comment.
Others agreed, "It has a mellow smooth flavor and definitely better tasting than the average supermarket tea."
Scroll below for one of the best products we've seen over the last year.
Weight-Loss Results – "Nothing Solid"
We could not pinpoint any real proof that Slim Tea actually aids with weight-loss. One customer commented, "Lies, it comes with DIET plan and you eat very little. Does not work."
"Definitely does not help with weight loss. Give me a break," said another user.
Hyley's does want users to lose weight when drinking Slim Tea.
The company states, "A healthy diet plan is included in each box."
"Cleaned out my system and I feel so much lighter," reported another.
The extensive research we've done has shown if there's a specific part of a weight-loss product that's bothersome, such as no real results, the odds of long-term success aren't good. Therefore, if Slim Tea isn't what the customer expected, why wouldn't the dieter switch it out for a weight-loss product that's clinically-tested and shown to work?
The Science – "Solid?"
At DietSpotlight, we really prefer to see documented clinical studies that support the weight-loss product and the ingredients it uses. However, we could not find any real science to back up Slim Tea. Unfortunately this is a red flag, especially when you take to heart the fact that supplements are available today with formulas that DO work. And, they are available at affordable prices.
The Bottom Line – Does Slim Tea Work?
So, should you run out and buy Slim Tea? Well, we like Slim Tea's longevity as a product and some positive comments we saw about it online. Then again, we have some issues with this diet tea because it's not backed by any real science. Also, we're concerned about the lack of real weight-loss results and less-than-savory taste.
If you'd like to get rid of more excess weight, we encourage you to go with a diet product that is backed by scientific studies, uses safe ingredients and is supported by numerous amazing customer testimonials.
Among the best products we've seen in 2016 is one called Leptigen. This product uses four key ingredients, which have been clinically tested and shown to help increase fat loss and kick-start metabolism. User comments posted online show people are seeing excellent results. These are all the things we think dieters need to look for in a solid weight-loss supplement.
The makers of Leptigen are so satisfied with their product they're offering a Special Trial Offer, which is a positive sign. Basically, with this deal all you have to lose is those extra pounds that keep hanging around! We also found that Leptigen is available with fast, reliable worldwide shipping.