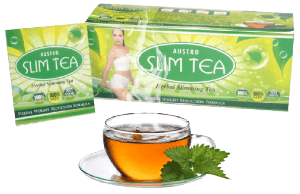 In my never-ending quest to find the best diet product, this week I reviewed Slim Tea. We actually dug deep and created an in-depth evaluation, closely examining the ingredients, side effects, customer service and clinical studies. Plus we focused on hundreds of customer reviews and dieter responses from all over the internet. At last, we summarized the facts and feedback we found in order to give you the information you actually need.
EDITOR'S TIP:
Combine Slim Tea with a proven fat burner such as
Leptigen
for better results.
What You Need To Know
Slim Tea is a "special blend" that claims to calm and slim the body. Although it's mainly marketed at women, this tea can be used by men as well. It contains the natural ingredients Senna, Mallow, Licorice, Panax Ginseng and Eleuthero Root. These herbs work together to help flush out the colon, aid with digestion, cleanse the body of harmful toxins and assist with weight management. This tea is simply made with hot or cold water, and it can be consumed after meals or before bedtime. Slim Tea works best if used daily. No sugar, chemicals or colors are used in this tea.
This tea has been available since 1984, and it contains natural ingredients. There are some positive comments posted online and a balanced diet plan is included with this tea, but read on…
Unpleasant Taste – Something to Consider?
"There are quite a few customer complaints about the actual taste of Slim Tea. Naturally this is concerning because if you can't drink the product regularly, it's unlikely to produce any real results," says our Research Editor.
According to one customer, "Not at all what I expected and didn't do anything for dieting and I didn't like the taste. I will not buy it again."
Another user said, "This tea tastes horrendous and smells terrible as well!"
Scroll below for one of the best products we've seen over the last year.
No Real Weight Loss Results
We could not pinpoint any real proof that Slim Tea actually aids with weight reduction. One customer commented, "LIES, LIES, it comes with DIET plan and you eat very little. DOES NOT WORK!"
"Definitely does not help with weight loss. Give me a break," said another user.
The extensive research we've done has shown if there is a specific part of a weightloss product or diet program that is very bothersome (a painful/difficult exercise routine,
unpleasant taste, no real weight loss results) the odds of long-term weight reduction are not good. Therefore if Slim Tea does in fact taste bad and fail to produce weight loss results in numerous people, this could be a serious dilemma.
The Science – Solid?
At DietSpotlight, we really prefer to see documented clinical studies that support the weight loss product and the ingredients it uses. However, we could not find any real science to back up the weight loss claims regarding Slim Tea. Unfortunately this is a red flag.
The Bottom Line: Does Slim Tea Work?
So, should you run out and buy Slim Tea? Well, we like Slim Tea's longevity as a product and some positive comments we saw about it online. Then again, we have some issues with this diet tea because it's not backed by any real science. Also, we're concerned about the lack of real weight loss results and less-than-savory taste.
If you'd like to get rid of more excess weight, we encourage you to go with a diet product that is backed by scientific studies, uses safe ingredients and is supported by numerous customer testimonials.
Among the best products we've seen in 2015 is one called Leptigen. This product uses four key ingredients, which have been proven in published clinical studies to help increase fat loss and kick-start metabolism. We can't find any complaints of side effects and user comments posted online show people are seeing excellent results.
The makers of Leptigen are so satisfied with their product they're offering a Special Trial Offer, which is a positive sign.