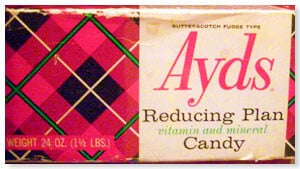 If you want the bottom line on Ayds, give me just two minutes of your time. We dug deep and did one of our in-depth reviews, examining the ingredients, side effects, scientific research and level of customer service. We also spent hours sorting through dozens of dieter comments and user reviews from the internet. Finally, we summed up everything in order to give you the facts you need.
EDITOR'S TIP:
Substitute Ayds with a proven fat burner such as
Leptigen
for better results.
What You Need To Know
To start with, Ayds is essentially a candy chew for weight loss. The purpose of this product is to curb hunger so you eat less food. This can in turn lead to weight reduction. Several flavors of Ayds were made, which include peanut butter, chocolate mint, caramel, chocolate, and butterscotch. You simply eat one of these candy chews when you begin to feel hungry. As for the key ingredient in Ayds, it is Benzocaine, which helps numb the taste buds. This diet candy was very popular back in the 1970s and 1980s, but is no longer available. Unfortunately Ayds lost popularity in the late 1980s due to the sudden awareness of the AIDS virus, which is an acronym that is pronounced the same.
From what we gathered online, Ayds was initially released back in 1937 and was available to the general public. This diet product was reasonably priced and there are some positive comments about it posted online, but read on…
Product Unavailability – A Serious Problem?
Sadly Ayds weight loss chews are no longer available for purchase, which is an obvious concern. "Although this diet product was once readily available to the masses and gained a great deal of popularity for suppressing appetite, it cannot be purchased any longer in stores or online," says our Research Editor.
One user commented, "Can no longer find Ayds for weight loss. Not even on eBay."
According to another individual, "Looked everywhere for Ayds candy, but this diet product is definitely gone."
Scroll below for one of the best products we've seen over the last year.
User Complaints – Another Concern
Some customers complained about the lack of results they got from using Ayds. In fact, one dieter mentioned, "I liked to eat these, but never experienced any actual weight loss."
"Not really the best weight loss product, but they were always affordable and easy to find," said another user.
The research we've conducted has revealed that if there is a certain aspect of a weight loss product or diet program that is especially annoying or difficult (product unavailability, user complaints, unpleasant taste) the odds of real weight loss success are not good. So, if Ayds is not available for purchase any longer, this is certainly a deal breaker.
Any Actual Science?
The key ingredient used in Ayds was proven to help with appetite suppression many years ago. Therefore this candy may be effective for weight loss to some extent. Naturally results vary from person to person. For us at DietSpotlight, it's nice to see that there is some solid research supporting Ayds for weight reduction. On the other hand, this diet product is no longer available.
The Bottom Line: Does Ayds Work?
So, should you choose Ayds for weight loss? Well, it's good to see that Ayds candy contained an actual ingredient that helps suppress hunger and it's also nice to see some positive customer reviews posted online. Then again, Ayds is not a good choice for weight loss at this point because this diet product has been discontinued and is no longer available. Furthermore, some people who used Ayds did not experience the weight loss results they were after.
If you'd really like to get rid of some excess pounds, we encourage you to go with a product that is readily available for purchase online, contains clinically proven ingredients for weight loss and comes with excellent customer service.
Among the best products we've seen in 2015 is one called Leptigen. This product contains four important ingredients, which have been shown in documented clinical research to kick-start metabolism and enhance fat loss results. Be aware that we can't find any talk of unpleasant side effects and the user feedback on the web expresses people are seeing excellent results.
The makers of Leptigen are so confident in their product they're offering a Special Trial Offer, which is very encouraging.