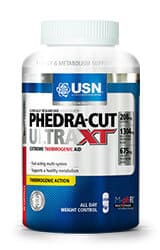 I'm obsessed with finding diet products that actually work. Let's find out if Phedra Cut Ultra XT is one of them. We did one of our intensive reviews, inspecting the side effects, ingredients, clinical studies and overall customer service. We also took the time to read hundreds of dieter responses and user reviews that are posted online. At this point we summarized and condensed all the facts to give you the bottom line.
EDITOR'S TIP:
Combine Phedra-Cut Ultra XT with a proven fat burner such as
Leptigen
for better results.
What You Need To Know
Phedra Cut Ultra XT is a weight loss supplement made by USN or Ultimate Sports Nutrition. It should be taken twice a day (2-3 capsules, 30 minutes before meals). However, you should take two days off from this supplement each week. Put simply, this product is claimed to boost thermogenesis, increase energy levels and aid with weight loss. The ingredients used in Phedra Cut Ultra XT are as follows; Caralluma Fimbriata, Bioperine, Glucuronolactone, Capsicum Extract, Yerba Mate, Green Tea Extract, Natural Caffeine, Citrus Aurantium, Fucoxanthin, Green Coffee Bean, Banaba Extract, N-Acetyl-L-Carnitine, Iodotyrosine and L-Tyrosine.
Phedra Cut Ultra XT was released back in 2008 and this supplement can be used by both women and men. Some natural ingredients are used in this product and the ingredient label is clearly posted on the company website, but read on…
Dangerous Ingredients – Concerning?
"We immediately noticed that Phedra Cut Ultra XT contains Citrus Aurantium, which has Synephrine in it. Synephrine can result in accelerated heart rate, increased blood pressure, heart attack and even stroke," says our Research Editor.
According to one user, "I bought this product last year and after 2 months I was diagnosed with severe high blood pressure. I followed all instructions. This product is a death trap."
"I recently bought Phedra Cut and have been taking it in the morning and in the afternoon. 2 days of being on them and I've been vomiting hectically and my tummy hurts," said another customer.
Scroll below for one of the best products we've seen over the last year.
Adverse Effects – Another Concern
It's evident that Phedra Cut Ultra XT can lead to some adverse effects, which is a serious concern. One customer commented, "I have been using Phedra-Cut Ultra XT for the last 4 months. What is now evident on me is that my tummy is bloating and I have low libido and sex drive. I struggle to get an erection."
Another user stated, "I feel HOT. My head feels hot, and last night when I trained I sweated like never before. Is this normal? What is causing this HOT feeling in my head?"
Our research has proven if there is a particular facet of a weight loss pill or diet program that is very problematic (terrible taste, serious adverse effects, dangerousingredients) the likelihood of lasting weight loss is slim. In other words, if Phedra Cut Ultra XT does lead to side effects in numerous people, this could be a major problem.
The Science – Solid?
Here at DietSpotlight, we like to see documented clinical results that support the diet product in question. In regards to Phedra Cut Ultra XT, we could not pinpoint any scientific research or clinical studies. Unfortunately this is a red flag.
The Bottom Line: Does Phedra Cut Ultra XT Work?
Now the moment you've been waiting for: our bottom line on Phedra Cut Ultra XT. Well, we like that Phedra Cut Ultra XT contains some natural ingredients and it can be used by women and men alike. Then again, we have some qualms about it because it's not backed by any real science. Also, we're concerned about its dangerous ingredients and side effects.
If you'd like to slim down and drop more pounds, we recommend you go with a diet supplement that does not use dangerous ingredients, is backed by solid scientific studies and does not lead to harsh side effects.
Among the best products we've seen in 2015 is one called Leptigen. This supplement uses a blend of four important ingredients, which have been shown in documented clinical research to help enhance fat loss and elevate metabolism. We can't pinpoint any talk of unpleasant side effects and dieter comments found online indicate people are seeing excellent results.
Plus, the makers of Leptigen are so positive about their product they're offering a Special Trial Offer, which is a good sign.