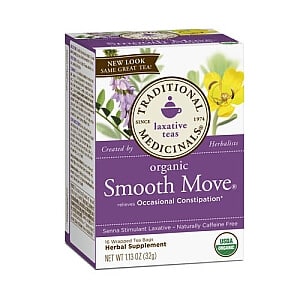 I'm here to cut through the noise and get you to the bottom line on Smooth Move Tea. We decided to pay a bit more attention to ingredients, side effects, clinical research and quality of customer service. Additionally, we will pick apart hundreds of dieter comments and reviews. Then we'll summarize and refine to give you the info you need.
What is Smooth Move Tea?
First off, Smooth Move Tea is an herbal supplement containing senna, licorice root, bitter fennel, sweet orange peel, cinnamon bark, coriander fruit and ginger rhizome. The recommended serving is one cup of tea every 6 to 12 hours, which supposedly relieves occasional constipation. You can drink the beverage cold or hot, one plus.
There's no information as to when Traditional Medicinals introduced Smooth Move Tea, but the supplement appears to include only natural ingredients, a good sign. The product is available to purchase on the official website and through trusted retailers. We like the favorable BBB rating and that some customers report good results, but read on…
Ineffective – "No Go?"
The first concern about Smooth Move Tea ingredients were that they didn't work. "The whole purpose of a product like this is to get things moving in the bathroom," said our Research Editor. "Not only is it not worth it to spend money on something that doesn't work, it can be frustrating."
"I have drank this tea for 3 days in a row and I have still not gone to the bathroom," said a consumer.
"Doesn't work as they advertise!!," commented a customer.
Scroll below for one of the best products we've seen over the last year.
FDA Warnings – "Concerning"
In March of 2001, the Food and Drug Administration contacted Traditional Medicinals about labeling. The FDA stance was that the company used claims that defined the product as a drug used to treat rather than a supplement. The information has since been removed from the website.
Side Effects – "Watch Out"
According to consumer comments on the web, there's no Smooth Move weight-loss, but there are some side effects. "This didn't work for me. All I got after taking it was abdominal cramps 8 hours later with no 'smooth move'," reported a customer.
"Never again…there is nothing smooth about this tea…Causes severe stomach ache," commented a dieter.
"BEWARE!! If you have any GI issues whatsoever do NOT use this tea. Severe abdominal cramping and pain that lasts for hours. And after all that it does not become a smooth move," said a user.
Based on our research and experience, we found that something minute, like side effects, could restrict long-term success. If Smooth Move Tea negatively affects dieters, is the product worth it?
The Science – "Clinical Backing?"
There's a wealth of information relating to the benefits of Smooth Move Tea on the official website, but the company doesn't provide published clinical research showing a connection with weight-loss. This is a concern, especially when dieters are reporting side effects. At DietSpotlight, locating studies to back claims is imperative. If there's no science, we turn our back.
The Bottom Line – Does Smooth Move Tea Work?
So, is there a rush to buy up all of the Smooth Move Tea? We like that the product contains natural ingredients and that we found some positive consumer reviews, but we have reservations about recommending it because of the lack of scientific research linking the formula to weight-loss. Plus, we're concerned about comments of ineffectiveness and side effects.
If you want to lose those extra pounds, our recommendation is a supplement that is backed by published scientific research with no reported negative side effects and no interest from the FDA.
Among the best products we've seen in 2016 is one called Leptigen. The supplement is made up of a four-ingredient proprietary blend, which has been shown in studies to help jump start metabolism and promote fat loss. No one is talking about negative side effects and from what customers are posting on the web, people are seeing exceptional results.
Also, the makers of Leptigen are confident in the supplement, so they're providing a Special Trial Offer, a great deal.