Updated: 08/25/2015 - Sponsored by Leptigen
Xyngular Review – Does This Weight-Loss Program Work?
Are price and side effects deal breakers?
PUBLISHED: 07/30/2015 | BY: TORY GRAY, SENIOR REVIEWER
Editor
's Review:
4.6
/ 5.0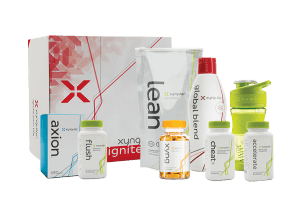 With all the talk about Xyngular products, we thought it a good idea to plunge into the ingredients, pricing and side effects. We took the time to read through hundreds of consumer comments and reports online. We gathered and rehashed the information in a condensed version for readers.
EDITOR'S TIP:
Combine Xyngular with a proven fat burner such as
Leptigen
for better results.
What You Need to Know
To begin, Xyngular is a program of weight-loss products offered in kits. You can purchase supplements and meal-replacement shakes as part of a package. You use the items throughout the day, but all are easily carried.
Xyngular claims to have been in the business for decades- quite a long time. Purchases must be made through distributors. Xyngular does have a "B+" rating from the BBB and there are some supportive comments from users, but read on…
Price – "Watch Out!"
There are no prices listed on the Xyngular website, but distributors do share costs. You can spend more than $600 a month on one weight-loss kit. "Supplements are an effective part of a program, but you don't have to break the bank purchasing them," says our Research Editor. "Xyngular is one of the most expensive choices available today."
"I was sent to the official website and saw the startup for the initial kit was about $250.00…very expensive…," one potential buyer explains.
"They keep telling me their warehouse guy is so [busy] dealing with refund[s] that they are way backed up. $500 is way [too] much to spend," a buyer says.
Another dieter reveals, "I want to try the ignite package but it is too expensive."
Cruise down for one of the best supplements of 2015.
Side Effects – "Something to Think About"
If a dieter has to deal with side effects, it can impact how long they choose to stick with a supplement. We found negative reactions mentioned throughout forums and comments. "I only took the sample and my heart was racing all day and I couldn't sleep at night," one dieter explains.
We found another user that claims, "I have now tried to take the Xyng [from Xyngular] 2 times. Both times I got meaner than a junkyard dog."
Based on our investigation into weight-loss supplements, if there are negative side effects the chances of long-term success are decreased. If Xyngular does cause issues, we could be looking at a dilemma.
The Science
Though Xyngular does not list clinical studies supporting weight-loss claims, we did find some research into ingredients like green tea and caffeine. The trouble is Xyngular offers products without backing. The Flush, for instance, is a laxative, not a supplement designed to help you lose weight. At DietSpotlight, it is paramount the science is there. Without this, we wave the white flag.
The Bottom Line
After taking all factors into consideration, we came to a conclusion about Xyngular. We appreciate the good BBB rating and the decent customer support, but we don't feel right about encouraging the use of these products. Dieters report side effects and the headquarters is located in a college.
If you're interested in dropping more pounds, our research reveals it's a good choice to find a supplement that brings with it proven ingredients and a modest price.
Amidst the first-rate products on the market for 2015 is Leptigen with a four-ingredient formula demonstrated in clinical studies to promote revved up metabolism and increased fat loss. We can't find notes of adverse side effects and the word around the web is dieters are enjoying good results.
Furthermore, the maker of Leptigen is so positive about the formula they're presenting a special trial offer.
(Feel free to scroll below for our previously published full-length reviews of Xyngular)
Previous Xyngular Review (Updated March 18, 2014):
What You Should Know
Click Here To See Our Highest Rated Review
Xyngular is a company that produces weight loss supplements and other dietary products. We will take a closer look at their product line to determine if there is any reason dieters should consider looking into it to help them accelerate their weight loss efforts.
List of Ingredients
The ingredients will vary depending on the product you choose. We suggest you take a closer look at the exact product's ingredients list. We have reviewed many of the products independently here on Diet Spotlight.
Product Features
Xyngular's full line of products includes: Super Fruit Global Blend Crystals, also known as Xypstix. These are single serving packets designed to be mixed with a bottle of water to give you an extra nutritional boost. XYNG is a multi-vitamin type supplement that contains vitamins and minerals with an herbal complex to help suppress the appetite and help you do more than dieting alone. Accelerate is a tablet designed for fat burning. Flush is a detoxification capsule to help cleanse the body to help boost weight loss results. Lean is a meal replacement protein shake designed to help the body to lose weight. Cheat is a sprinkle powder that supposedly enables people to eat whatever they want without having to suffer the consequences of calories, fat, and carbs in the body. This company has a diet and weight loss product for nearly any kind of weight loss issue; for those who want drinks, those who prefer pills, and those who want to control their appetite by eating whatever they want.
Advantages
The products address a full range of issues related to dieting and weight loss.
People who are interested in these products can make money with their own Xyngular business.
Disadvantages
There are no free trials of any of these products.
There is a lack of information on the Xypstix.
There are no customer testimonials.
There is no evidence of clinical research to support these products.
Conclusion
Xyngular certainly has an extensive product line targeted to those who want to lose weight. The issue is, information about all the products is limited, because it seems more like they are trying to sell the business idea to others, rather than products to the consumers who are interested in using them. If you are interested in any of these products, take care to ensure the ingredients are proven for weight loss, and make sure there is enough of the ingredients to produce effective results. If there's not enough in the formula, or you can't see how much is in the formula, there's no sense in taking the product. Instead, find a proven supplement that uses proven amounts of the active ingredients with a balanced diet and exercise program.
GD Star Rating
loading...