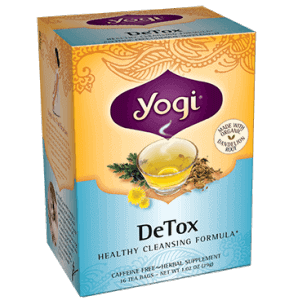 We've noticed people talking a lot about Yogi Detox tea, so we decided to pay a bit more attention to ingredients, side effects, quality of customer service and scientific research. Furthermore, we concentrated on hundreds of comments and reviews. Then, we condensed and summarized to give you the info you need.
EDITOR'S TIP:
Combine Yogi Detox with a proven fat burner such as
Leptigen
for better results.
What You Need to Know
Yogi Detox is dietary supplement containing Indian sarsaparilla, cinnamon bark, ginger, licorice, burdock, dandelion, cardamom seed, clove bud, black pepper, long pepper berry, Chinese amur cork tree bark, Japanese honeysuckle flower, forsythia fruit, gardenia fruit, Chinese goldenthread, rhubarb, winter melon seed and juniper berry extract. The recommended serving is one cup, which supposedly supports weight-loss. Yogi Detox benefits include ease of use.
The supplement, first introduced by Yogu Bhajan in 1969, does contains some natural ingredients, something we look for. Dieters can purchase the product on the official website and through some offline and online shops. We like that we found some positive customer comments and that the company has been around for decades, but read on…
Side Effects
The first negative reported was Yogi Detox side effects. ͞You'd think drinking a cup of tea would be without risk,͟ said our Research Editor. ͞In the case of this product, dieters are seeing some adverse reactions and that's never a good sign.͟
͞By the third day I felt sick immediately. I had been running back and forth from the bathroom at least 50 times in one day. I was nauseous, light-headed, and bed ridden for three days,͟ commented a user.
͞I tried it one time at night around 7pm, then I felt hot flashes with cold sweats, pulsating neck, heart palpitation with increased heart rates for HOURS! On top of that, I became extremely restless and anxious,͟ said a customer.
Scroll below for one of the best products we've seen in 2015.
Taste – Not Flavorful?
According to reviews posted on the web, Yogi Detox ingredients weren't flavorful. ͞I don't like the taste at all. I won't buy it again,͟ reported a customer.
͞This was the most awful smelling, horrible tasting "tea" I've ever had!!! Could barely get one swallow down. Very disappointing!!!,͟ said a dieter.
͞Very bad taste for me, tried only one tea bag and will never try again,͟ commented a user.
Our experience and research concludes that something small, like bad taste, could impede long-term success. If Yogi Detox isn't flavorful, will dieters continue to use it?
The Science
The official Yogi Detox website makes the case that the supplement is effective, but doesn't provide published clinical research to support the claims. There are studies relating to key ingredients, but the information doesn't support weight-loss. According to the Journal of Alternative and Complementary Medicine, ͞[Dandelion] (1 g:1 mL) increases the frequency and excretion ratio of fluids in healthy human subjects.͟ At DietSpotlight, we need scientific studies linking ingredients to losing weight. If there's no science, we throw our hands up.
The Bottom Line
After taking a closer look at Yogi Detox, we've come to a conclusion. We like that the tea has been around for years and that we located some positive customer comments, but we can't recommend it because there's no published clinical research supporting weight-loss. Plus, we're concerned that side effects and taste could be problematic.
If you want to transform your body, we recommend a supplement with ingredients supported by published clinical research with no known reported side effects.
Leptigen is one of the best supplements we researched in 2015. The product contains a four-ingredient proprietary blend, which has been shown in published scientific studies to help ignite fat loss and enhance metabolism. No one is speaking of negative side effects and dieters commenting on the web are seeing excellent results.
The company that makes Leptigen, in a show of confidence in the supplement, is providing a Special Trial Offer, a great decision.