If you've not heard the talk, 2017 introduced a weight loss system that companies in the industry are whispering about. We've reviewed more than 300 products in the past 12 months, and we keep coming back to Dietspotlight Burn, our premier supplement. We think it's worth a closer look.
Science Supports Exceptional Dietspotlight Burn Ingredients
Dietspotlight Burn is a superb choice for anyone ready to tackle those weight loss goals. To begin, we're proud the products delivers impressive results with a safe formula supported by research; instead of those fillers and fluff often found in other supplements.
Dietspotlight Burn is formulated and produced in a GMP-certified facility in San Diego, California. The blend of four clinically proven ingredients are:
Meratrim – a study in Obesity reported weight loss significantly higher in participants who used Meratrim for eight weeks. Lipid World delivers more support with a study showing subjects taking Meratrim measured smaller waist circumferences. Research also showed improvements in total cholesterol, triglycerides, and fasting glucose. [1] [2] [3]
ChromeMate (chromium polynicotinate) – per a study published in the Journal of Medicine, after just eight weeks of taking ChromeMate, it was revealed that the supplement supports healthy glucose and blood sugar levels. Though ChromeMate doesn't promise weight loss, blood sugar swings are known to cause hunger. [4] [5] [6]
Green Tea Extract – there are hundreds of studies on green tea extract health benefits; some regarding weight loss. Research published in the American Journal of Clinical Nutrition, the Journal of Medicinal Food and Obesity: a Research Journal, all show the potential for clinically-significant weight loss when partnered with exercise and healthy food choices. [7] [8] [9]
Dietspotlight Burn supplies a modest amount of caffeine (less than that latte this morning) to spark metabolism of fatty acids; leaving the undesirable jitters behind. Interestingly, research says as you lose weight, caffeine works better. [10] [11]
Dietspotlight Burn Ingredients = Weight Loss Victory, Says Science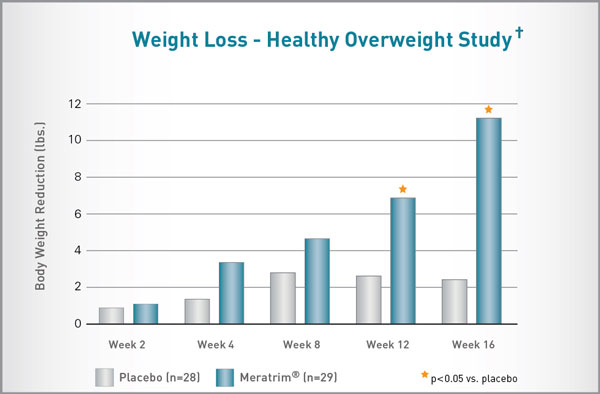 Above graph was part of study presented at 58th Annual Meeting of American College of Nutrition, 11/12/15, Orlando FL
We've chosen Meratrim as the main ingredient in Dietspotlight Burn. It's formulated by InterHealth, a company founded in California in 1987. In addition to the clinically-proven Meratrim, the company produces 15 branded ingredients supported by more than 250 scientific publications.
Multiple clinical studies show Meratrim promotes significantly more weight loss when used as part of healthy changes to diet and exercise habits. One study, for instance, showed users lost 11.5 lbs., 4.7 inches off the waist and 2.4 inches off the hips when compared to a placebo, after just eight weeks. That's just two months and research into the benefits to weight loss continue. [12]
Pure, Potent, Made in the USA
It means nothing for us to give you one research study after another if you don't know, for certain, that Dietspotlight Burn supplies the ingredients it says it does. What sets us apart from other supplements is that we offer pure, potent ingredients that are non-GMO, gluten-free and made in the USA. Our integrity and your trust are important to us, so we ensure each ingredient is tested by a third party for potency and purity.
Every bottle contains 60 capsules; a one-month supply. With one easy-to-swallow capsule before breakfast and another before lunch, we've had users report feeling results in the first few days. Many met substantial weight loss goals in just four weeks. Both men and women experience the same results.
We're proud to say reports of side effects from comments, reviews, and testimonials, are few and far between.
The Heart Behind the Formula
The success we've had with Dietspotlight Burn is undoubtedly linked to the strong formula, but for us, that's not where it stops. We believe a high level of trust with customers is crucial. To date, we've worked with over 400,000+ customers, who we've served for nearly a decade. It's taken years of research, thousands of products and too many customer reviews to count, but we believe we've created the "best of the best" formula. It's not only effective, but science stands behind to claims.
Plus, unpacking Dietspotlight Burn is a pleasant experience. Inside you'll find a 6-piece kit (Dietspotlight Burn and 5 free extras) is delivered in a stylish branded box. Each item is secured neatly in custom sections. You'll notice we've included a pedometer and a 28-page guide with expert tips on weight loss and healthy eating. This shows our passion for our customers and their success.
What's the Real Deal With Dietspotlight Burn?
It's Time for a Drumroll Please…
What can we offer you? Well, as it stands, unlike far too many other weight loss formulas, when combined with exercise and healthy food choices, Dietspotlight Burn helps you:
Boost fat burn
Enhance weight loss
Raise metabolism
Also: claim your sample of Dietspotlight Burn »
Bottom Line: The Sample is Worth a Try
We are thrilled that so many users have reported seeing changes within the first two weeks and we're confident in our formula, so we're giving away Free Samples for the New Year. You receive a 15-day supply of Dietspotlight Burn, a pill case and a guide to 21 Cheat Foods, to help with those diet changes. Sign up today for same-day shipping worldwide.
Click here if you'd like to try a 15-day sample of Dietspotlight Burn. The samples have been going fast – demand is high. So, if you can't order yours online today, check back in a couple of weeks to see if its restocked.
Dietspotlight Burn Questions & Answers:
We scoured the internet for reviews on Dietspotlight Burn to create this helpful FAQ.
What are the Dietspotlight Burn side effects?
Dietspotlight Burn side effects were not mentioned in any customer review or experience we found.
What is in Dietspotlight Burn?
Dietspotlight Burn ingredients are Meratrim, ChromeMate, caffeine and green tea extract.
What is the active ingredient in Dietspotlight Burn?
The active ingredient in Dietspotlight Burn is both Meratrim and ChromeMate.
Does Dietspotlight Burn work?
Based on the clinical testing we found for Dietspotlight Burn ingredients, you may just see some benefit. The formula may work to boost metabolism and spark fat loss. There's also some caffeine [1] and green tea in the mix, so energy should increase as well.
How much does Dietspotlight Burn cost?
A bottle of Dietspotlight Burn costs $109.95 for a one-month supply, but the company offers a Special Trial Offer. One bottle supplies 60 capsules.
What is Dietspotlight Burn's BBB rating?
The Better Business Bureau (BBB) rating for the company behind Dietspotlight Burn is a B.
How should I take Dietspotlight Burn?
You take one capsule in the morning and another in the afternoon. You are supposed to take each serving about 30 minutes before meals.
Can I take Dietspotlight Burn if a I have a health condition?
We'd love for everyone to take advantage of Dietspotlight Burn's proven ingredients, but it's important to talk with your doctor before starting it or any other weight-loss supplement. This is especially important if you are under the age of 18, taking prescription medications, have a medical condition, are pregnant, nursing or planning on becoming pregnant.
What do users like about Dietspotlight Burn?
According to Dietspotlight Burn reviews, users like that they felt increased energy and saw weight-loss results in as little as two weeks to one month.
What do users NOT like about Dietspotlight Burn?
The only thing we found that users did not like about Dietspotlight Burn was that sometimes there was a wait when calling customer service during the busiest time of day.
Will the caffeine in Dietspotlight Burn make me jittery?
There is 75 mg of caffeine in Dietspotlight Burn. This is far less than you'd find in other weight-loss supplements, but just enough to be clinically proven. If you drink caffeine throughout the day and add this formula to that, there is a chance you could feel a difference [2], but jitters is not a common side effect.
Can I return my Dietspotlight Burn order?
We've found customers that did send back their Dietspotlight Burn order. According to the returns policy, you have 120 days to request a return.
How do I contact Dietspotlight Burn customer service?
Dietspotlight Burn customer service is available by phone at 1-800-555-3951. You can send a message via the contact form.
Can I contact Dietspotlight Burn through social media?
Yes, you can contact Dietspotlight Burn through Facebook and Twitter.
Does Dietspotlight Burn come with a guarantee?
Yes, there is a 120-day money-back guarantee. Please visit their site for more information.
Dietspotlight Burn User Tips:
Dietspotlight Burn is a supplement that's made with clinically tested ingredients that have been shown to help spark metabolism. There are always issues with every product. This is why it's important to take note of user tips.
"Dietspotlight Burn does what it is suppose to do but it's good to do your part also surrounding what you actually eat."     Davell
"Anyone with a medical condition should consult with their doctor before taking any weight loss product."       Melissa
"Hydration is important in addition to eating healthier."       Donna
"You must follow the instructions on when to take it however."       Ramona
"As long as you eat right, and exercise and drink plenty of water. IT will work!"       Lillian
"The first night I had trouble sleeping. I started taking it exactly 1 hour after breakfast after that, no later."       Rola
Dietspotlight Burn Side Effects:
Nowadays, weight-loss supplements are playing an important role in more and more lives, but it should be emphasized that natural alternatives don't necessarily mean the safest avenue to travel. With any supplement there can be a side effect, and while Dietspotlight Burn side effects are few and far between, each individual is different.
Restlessness
Restlessness can be characterized in a variety of different ways, but most commonly it's described as a fidgety or anxious sensation with the inability to achieve relaxation, sit still, or rest.
What causes restlessness?
Restlessness can be caused by a number of pre-existing conditions like anxiety, attention deficit disorder, bi-polar disorder, or insomnia. [1] Some direct causes may include an irregular caffeine intake, or specific medications.
Increased heart rate
Increased heart rate is the speeding of the heart to 100 beats per minute or more. Also known as Tachycardia, it will typically begin in the lower ventricles of the heart, and is known to cause shortness of breath, dizziness, lightheadedness, and chest pain.
What causes increased heart rate?
Increased heart rate can be brought on by an existing health condition such as high blood pressure (hypertension), poor blood supply to the heart, muscle disease (cardiomyopathy), infections or tumors. Emotional stress, alcohol and caffeine intake are some direct causes of this symptom.
Nausea
Nausea is an inclination to vomit through a sick feeling in your stomach, often times coupled with sweating, diarrhea, faintness, or fever.
What causes nausea?
Some causes of nausea include systemic illnesses (influenza for example), inner ear disease, medications, or acute gastritis (direct irritation of the stomach lining). [2] Other possible causes are motion sickness, stomach infection, or food poisoning. Your forehead may feel damp and clammy in addition to numbness of the fingers and hands.
Insomnia
Insomnia is the inability to fall asleep or to stay asleep during a time when sleeping is necessary. People with insomnia can become unsatisfied with their sleep routine, feeling fatigued and moody throughout the day, or generally unable to focus.
What causes insomnia?
Insomnia can be brought on by any number of factors including psychiatric disorders, anxiety, certain medications, chronic pain or unhealthy sleeping habits. Inability to sleep may leave your body feeling weak and unable to function.
Dietspotlight Burn side effects are extremely rare, but that doesn't mean they are nonexistent. There have been some reports of insomnia, increased heart rate, and restlessness, among others. Before you start any supplemental diet you should always contact a physician in an effort to avoid any potential side effects or medical issues. If you are under 18, pregnant, nursing, have a pre-existing medical condition, or are already taking medication you should seek advice from you're your physician before taking any supplements.
We've never found a weight-loss supplement that didn't cause at least a mild side effect in some users. With Leptigen, the amount of caffeine is just right to get your metabolism moving, but if the user is extremely sensitive to this stimulant, they could experience a reaction of some sort.
"It gave me a headache."    Chelsy
"It gave me [a] stomach ache."    Anthony
"Made me…nauseous."    Shirley
"I do have experiences [with] mild headaches and mild stomach upset sometimes."    Margarita
All of the Dietspotlight Burn side effects we found mention of can be attributed to the caffeine. Though there is only 75mg per dose, that's enough to cause some issues in people who are sensitive to stimulants. Over time, the body tends to get used to it and the reactions can fade away.
Dietspotlight Burn is packed with ingredients with strong clinical support. They've been shown to help curb appetite, boost metabolism and increase fat loss - all supporting weight-loss. Research published in peer-reviewed journals is available.
Dietspotlight Burn Ingredients and Supplement Facts
Serving Size: 1 Capsule
Serving Per Container: 60
Amount per Serving
% DV
Green Tea Extract (standardized to 70% EGCG)
200mg
*
Meratrim (sphaeranthus indicus flower and garcinia mangostana fruit rind)
400mg
*
ChromeMate (chromium polynicotinate)
100mcg
*
Natural Caffeine USP
75mg
*
Other Ingredients: Gelatin, cellulose, sillicon dioxide, magnesium stearate (vegetable source)
We searched high and low through verified science to give you these facts about Dietspotlight Burn ingredients.
Meratrim
Meratrim is a combination of sphaeranthus indicus flower heads and garcinia mangostana fruit rind.
What is it Supposed to Do?
According to research, Meratrim works to "affect…pathways involved in fat cell formation and breakdown." You take supplements containing the ingredient twice daily. There are no safety concerns to speak of. The Food and Chemical Toxicity journal says, "the results presented herein, when combined with tolerability in the human trials demonstrate the broad-spectrum safety of Meratrim."
Clinical Research
There are multiple studies showing the benefit of Meratrim. According to the Journal of Medicinal Food, "The primary outcome was reduction in body weight. Secondary outcomes were reduction in BMI and in waist and hip circumference." [1] We found no reports of possible side effects.
ChromeMate
ChromeMate is a niacin-bound chromium used in some weight-loss supplements.
What is the Supposed to Do?
ChromeMate is proven to help support healthy cholesterol levels and control levels of blood glucose. There's also evidence it can help with weight-loss, when combined with exercise.
Clinical Research
We found support for ChromeMate in the journal Medicine & Science in Sports & Exercise. The study said, "exercise training combined with chromium nicotinate supplementation resulted in several potentially beneficial changes, including significant weight loss and a lower insulin response to an oral glucose load." [2]
Green Tea Extract
Green tea is a variety typically grown in China or Japan. It is a form of tea that is unfermented.
What is it Supposed to Do?
There are two active elements in green tea extract that can help with weight-loss. The first is caffeine. The amount of this stimulant will differ from one supplement to the next. The second element is EGCG or epigallocatechin gallate. This polyphenol has been shown to induce thermogenesis.
Clinical Research
According to Paula Martinac, who's earned a Master's degree in Science and Health nutrition, "Obtaining EGCG from green tea also promotes weight loss by promoting diet-induced thermogenesis and fat oxidation." She goes on to note that a study in the American Journal of Clinical Nutrition found, "Only the EGCG and caffeine group experienced significant energy expenditure, leading the researchers to conclude that the polyphenol has greater potential than the caffeine in green tea for promoting weight loss."
Caffeine
Caffeine is the most popular stimulant in the world. It is found in sodas, coffee and some foods.
What is it Supposed to Do?
Stimulants like caffeine increase energy and promote a faster metabolism.
Clinical Research
The Mayo Clinic offers, "Caffeine may stimulate thermogenesis — one way your body generates heat and energy from digesting food." They go on to say, "Caffeine may reduce your desire to eat."
Claim Your Sample »