Genius Burn Review

- 23 Things You Need to Know
Genius Burn is a fat-burning supplement that aims to promote both mental power and weight loss. It contains nine ingredients that they say are beneficial to both brain and body — but do they offer evidence? Their website promises "clinical evidence" but our research team had trouble finding anything but a few random studies on their "articles" page.
Our research suggests that they lack the data to support their inflated claims.  We put the product under the microscope to weigh all the pros and cons and to ensure we had the full picture. We then condensed all the info you need to bring you this review.
Overview
What is Genius Burn?
First of all, Genius Burn is a fat-burning supplement. They are made from a combination of nine different ingredients. It is also known as a 3-in-1 formula which claims to boost brain power, improve cognitive abilities and burn fat.
The fat-burning property of this supplement is supposed to help you in shedding weight. It should also be noted that Genius Burn is entirely free from caffeine. Genius Burn has been termed as a nootropic supplement.
Products Similar to Genius Burn
What are Nootropic Supplements?
Nootropics are supplements or drugs that function as cognitive enhancers. They help to improve cognitive function such as better memory, increased learning, creativity, and motivation, etc.
According to Current Medicinal Chemistry, nootropics are claimed to help both natural and induced cognitive issues, though plenty more studies are needed to confirm this.
Scroll below for one of the best products we've seen over the last year.
How Did Genius Burn Start?
The company behind Genius Burn is called Genius Brand. Genius Burn claims to produce four times better results as compared to a standard fat burner. All of the supplements of Genius Brand are based on the same vision of the company.
Ingredients
Genius Burn Ingredients
The product, Genius Burn is made from nine different ingredients which include the following:
Sensoril
TeaCrine
Cognizin
AlphaSize
iFAS503
The other ingredients of the product include GS4, L-Theanine, Capsimax, Huperzia Serrata, AstraGin, and Paradozine.
Ingredient Detail
iFAS503
iFAS503 is a patented ingredient which is itself made from a unique blend of three powerful FAS (Fatty Acid Synthase) inhibitors. These FAS inhibitors include Tuber fleece flower, Green Tea, and Parasitic Loranthus. All of these herbs are first blended together and then extracted through a unique technology to produce a very active and potent concentration.
How Does iFAS503 Work?
According to IN Ingredients, the manufacturer of the ingredient, the three FAS inhibitors used in iFAS503 are very potent ingredients. FAS is an enzyme that produces fatty acids. These fatty acids are utilized as a source of energy for the body to fuel energy-intensive activities.
When FAS is inhibited by FAS inhibitors, the body is unable to store fatty acids leading to suppressed appetite and results in weight reduction.
iFAS503 has the most potent FAS inhibitors. According to IN Ingredients, these ingredients in iFAS503 can cause up to 80% reduction of FAS in certain subjects and participants who took iFAS503 reported an overall 15.1% less food intake.
iFAS503 is also claimed to decrease the user's body weight after ten days of continuous intake.
iFAS503 consists of a potent inhibitor of Acetyl Coenzyme A, an enzyme which is also very crucial in fatty acid production, according to Biochemistry.
iFAS503 also consists of green tea extracts and catechins that also inhibit FAS. The combined effect of these activities apparently produces the results promised by Genius Burn.
According to the research available, iFAS503 is good for weight loss. It is available as a capsule, liquid or powder form. The serving size per day is 250 mg. It should be noted that iFAS503 should be used along with the product.
Sensoril
Sensoril is the patent and standardized form of the extract of Ashwagandha.
Sensoril is an active ingredient used in the making of many dietary supplements and pills. It is manufactured by a company called NutraGenesis.
The functions of Sensoril includes increasing weight management, relieving stress, relaxation and more, according to research published in Nutrients and Indian Journal of Psychological Medicine. 
Ashwagandha is a well-known herb that has been used for medicinal purposes for a long time. It is also called an Indian Ginseng or Winter Cherry which have beneficial effects if taken on a day-to-day basis.
Sensoril is the most concentrated form of Ashwagandha. This concentration of Ashwagandha is necessary to produce optimal effects, according to the manufacturers.
Scientific Research on Sensoril
Sensoril has been proven in different trials.
According to the FAQs section on the official Sensoril website, it was evaluated that a 60-day double-blind, randomized, placebo control trial was performed with 98 subjects. In this study, the people who took Sensoril at 125mg at least once or twice a day had reduced symptoms of stress, impatience, and fatigue.
Separate research studies have been performed on Sensoril as well. One study published in Pharmacognosy Research found it to have beneficial effects on cognitive function. Another published in the Journal of Alternative and Complementary Medicine found it to help ease anxiety.
Is Sensoril Ineffective Alone?
It helps in relieving stress and fatigue. Its benefits are apparently maximized when it is taken in combination, e.g., with traditional herbs. When Sensoril is combined with GABA, valerian root or L-Theanine, it becomes more efficient as compared to when taken alone. Sensoril is usually combined with other natural components, e.g., melatonin to help fight insomnia or sleeplessness. Sensoril remains to be the most active ingredient.
The recommended dosage of Sensoril is 125mg taken once or twice a day. The dosage also depends on the needs of the user. Some users may require larger or lesser amount; please consult your doctor to discuss.
How Long Can Sensoril Be Taken?
Pros of Sensoril:
It is a patented ingredient.
It is widely used in formulating supplements.
Clinical studies are available on Sensoril.
Cons of Sensoril:
Some people may be allergic to Sensoril.
The manufacturer behind Sensoril is not well known.
Warning for Sensoril
One should follow the recommended dosage of Sensoril. People with special medical conditions such as pregnant women or lactating mothers should first discuss the use of Sensoril with their medical consultant. Also, keep the capsules out of reach of children. Sensoril should also not be taken with other antidepressant medicines.
TeaCrine
TeaCrine is a clinically proven ingredient that consists of unextracted pure Theacrine. Theacrine is a purine alkaloid which is derived from natural sources such as cupuacu fruit and Kucha tealeaf. At the molecular level, TeaCrine is similar to caffeine, yet TeaCrine has specific distinguished properties as well.
The intake of TeaCrine produces a prolonged effect which is ideal for athletes who want to achieve better performance. This is due to the energy-boosting properties of TeaCrine.
Who Should Take Teacrine?
TeaCrine was tested on subjects for its ability to increase cognitive function. Over a period of 3 hours, the results from two trials published in the Journal of the International Society of Sports Nutrition and the Journal of Dietary Supplements showed that:
TeaCrine increases energy but does not cause jitters or irritability.
TeaCrine increases endurance and motivation for exercise.
TeaCrine decreases the feeling of tiredness and fatigue.
TeaCrine causes an increase in mental energy levels.
TeaCrine has multiple beneficial effects. These multiple benefits come from two different reactions that take place inside the body after its intake. The reactions occur in two distinct pathways called dopaminergic pathway and adenosinergic pathway. TeaCrine affects these two pathways and interacts with the neurotransmitters. It claims to lead to a sudden boost in energy without irritability.
Benefits of TeaCrine
Increases physical as well as mental energy
Helps in improving mood
Increases the motivation and endurance to exercise
Improves cognitive ability
Does not cause any irritability
Is recognized as GRAS (Generally Recognized as Safe) hence it has very few side effects
Clinical trials on TeaCrine have been performed, and new studies are underway
Functions
Key Functions of Genius Burn
There are a few key claimed functions of Genius Burn.
First, Genius Burn usage leads to increase in metabolic rate, cortisol regulation, and appetite suppressant.
Apparently, the supplement can also lead to increased memory, focus, and clarity due to the presence of TeaCrine, AlphaSize, and Cognizin.
Genius Burn also says it serves as an antioxidant agent.
Genius Burn also contains caffeine, which usually helps in increasing energy levels. This energy boost is dependent on the amount of caffeine and can be extremely unhealthy if taken regularly at high levels, according to Frontiers in Psychiatry.
The component TeaCrine alternates the effect of Caffeine in Genius Burn. TeaCrine also does not cause a mental crash as caffeine does.
The ingredient called Sensoril in Genius Burn claims to help in fighting off stress. It is unlike artificial mood enhancers which come with side effects and only provide short-term results.
Genius Burn Claims
The claimed benefits of Genius Burn include fat burning, better memory and learning ability, increase and clean energy, reduction in stress level and improved cognition.
NEW! Genius Burn 2.0
Introducing Genius Burn 2.0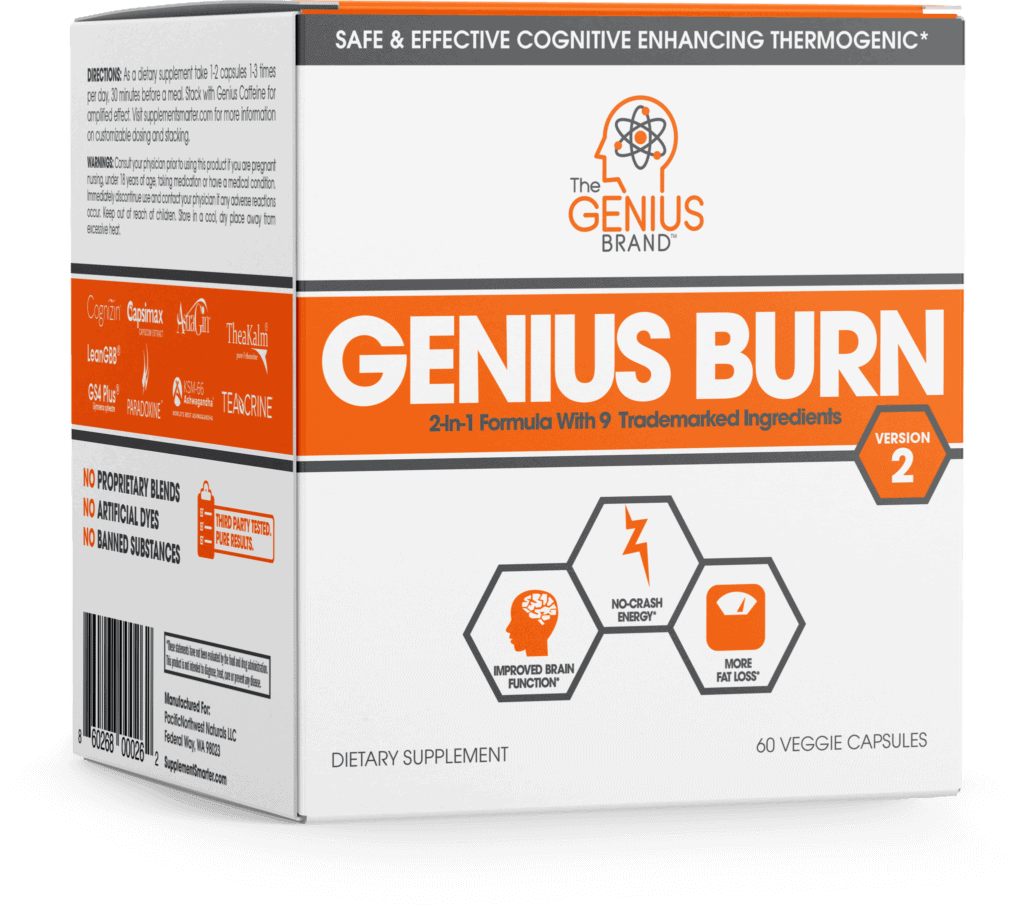 Genius Burn 2.0 is a combination cognitive enhancer and energy-boosting workout supplement. This all-natural product was designed with three goals in mind- increasing workout endurance, kicking up your cognitive functions, and most importantly- weight loss. Unlike many other products in this space, Genius Burn is caffeine and stimulant free. It is also designed to help users lose weight through hormone regulation rather than increasing your heart rate.
Genius Burn Version 2 Claims
This supplement claims to boost the user's cognitive performance, wakefulness, as well as accelerate weight loss. Genius Burn Version 2 is also supposedly a brain health supplement. The manufacturer claims that taking this supplement regularly will not only improve your workouts- it will lead to a healthier brain and thus increased brainpower.
This product is sourced in the USA, and the producer points out that all ingredients contained within Genius Burn are all-natural and hormone free. Another major claim offered by Genius is that this product has little to contrary aftereffects like a crash. This is in contrast to many other popular supplements that are filled with caffeine, Yohimbe and other stimulants to drive your workout.
Genius Burn 2.0 Ingredients
Genius Burn 2 Ingredients
The Genius Brand, the company that makes this product, claims that all ingredients included in Genius Burn 2 are tested by an independent third party lab for safety, efficacy, and purity, as is common in the nutraceutical/supplement industry. Their proprietary formula was designed with three goals in mind- burning weight, increasing memory, and increasing stamina. While their exact blend is a trade secret the listed ingredients in this product are:
Camelia Sinesis
This is the main active ingredient in GB 2.0. This flower-derived ingredient is said to increase cognition and the ability to think clearly and rationally, according to Phytomedicine. 
Also included in Genius Burn 2.0:
Tuber Fleeceflower
Theacrine/Teacrine
Cognizin
GS4
L-theanine
Inactive Fillers
Difference Between Burn 1.0 and Burn 2.0
Differences Between Genius Burn and Genius Burn 2
The main difference between this product is the non-stimulant nature, compared to other Genius supplement products. While many other products in this space have considerable synthetic caffeine, this product is advertised as being caffeine-free, and thus caffeine crash free.
In addition, the manufacturers have added Cognizin and GS4 which were not prevalent in the original formulation. This version is also designed as a pre-workout solution to be taken with breakfast or your morning coffee. Other Genius nutraceutical products are meant to be taken as 1-3 times daily supplement.
What's the Final Difference Between Genius Burn and Genius Burn 2.0?
Genius Burn 2 is slightly different than the previous iterations of GB. The significant difference between the products is the focus on preventing a caffeine crash. While many of the active ingredients in this product have proved to be useful in scientific studies, there have been no conclusive studies done on GB's proprietary blend.
Genius Burn Alternatives
Some of the products that are similar to Genius Burn include:
Pros and Cons
Pros and Cons of Genius Burn
Pros:
Consists of all-natural ingredients
Free from caffeine
Positive results posted by customers
Cons:
Lack of evidence to back up the claims
Very less or no actual weight loss achieved
Can only be purchased through Amazon
Not available to retailers
Genius Burn Side Effects
Some side effects can be observed as in the case of any product.
However, before taking any supplement, it is advised that a medical professional should be consulted. Some people may have a rare medical condition, and expert advice must be taken to avoid any mishap or unexpected complications.
Genius Burn Price
The price of Genius Burn as quoted on Amazon is $47.49. Other suppliers on Amazon may have other prices, look for the most reasonable price before ordering as individual retailers can have different prices.
On the official website, Genius Burn costs $49.99.
Where To Buy Genius Burn?
You can buy Genius Burn on the official Genius Brand website, Amazon, the Vitamin Shoppe, and other third party online retail websites.
What To Keep In Mind Before Buying Genius Burn?
Since there is no official retailer of Genius Burn, customers should pay attention to the return policies and shipping charges of the individual retailers on Amazon.
Directions
How To Take Genius Burn?
The recommended dose of Genius Burn is two capsules per day. The capsules have to be taken with water, to support both brain function and fat loss. As a rule of thumb, all men and women planning to use these pills should take one tablet at least 30 minutes before having meals for three days to assess any adverse reaction and tolerance. The 2-capsule routine should be continued through the usage period, but if anyone wants to have quick results, then he or she can take two capsules for three times a day.
In any case, the intake must be avoided before bedtime as the supplement is nootropic in nature. To obtain the best results, the usage of the product should be continued for about two months (60 days).
Common Complaints Against Genius Burn
The most common complaint against Genius Burn observed among patients is that the results promised by the pill may take some time to become evident. Some users may lose hope in this time and give up on the pills altogether.
How To Contact The Customer Service For Genius Burn?
The website of The Genius Brand provides a sample that could be filled out in case of any queries related to the product or complaint. The customer service can also be availed by messaging the company on their official FB page.
What Users Are Saying
"So far I'm really happy with the product. I like that it offers a thermogenic fat burner to help enhance the effects of my workout without a bunch of caffeine/stimulants. I also really like the added benefit of the nootropics – these are helping me not just to keep my workouts on track, but I'm feeling more focused throughout the day. Excited to try some other products & see the continued benefits of the Genius Burn!"
"Used the entire bottle properly. Had to double the dose and still couldn't tell a difference in energy, mood, or performance and most certainly not weight or appetite."
"What's good about this product is that it does not give you any shaky, buzzy, feeling. But I haven't felt any real effects from it either. I've been using it for 3 weeks now, and have lost 2 pounds, while dieting and exercising, but I'm not sure if it's really helping. I'm going to finish the bottle and hope that I can start to see real results!"
Bottom Line
The Bottom Line on Genius Burn
At the end of the day, do we think you should spend your money on Genius Burn to lose weight? The ingredient list is backed by clinical research. We also like that Genius Brand puts a focus on brain support. However, there are concerns.
This supplement may not be the best option for everyone; especially if someone is looking to increase overall health and possibly lose weight.
Living a healthier life with strong lifestyle changes can be difficult, especially when attempting to keep up with those changes after weight loss gets hard.
Among the best programs we've come across in years is Noom. With this program, you gain access to everything you need to make this your final weight-loss journey, including food tracking, exercise tracking, personalized meal plans and expert resources.
We also love that Dietspotlight readers, for a limited time, can access a free trial of Noom.
Learn More About Noom »