Updated: 01/07/2018
- Site operated by Burn HD
Give me two minutes, and I'll tell you whether Herbalife is worth a second look. We dove deep into the ingredients, side effects, MLM opportunities and clinical research to find out what the hype was all about. We also chose to read through hundreds of dieter experiences. After gathering all that information, we condensed it to give you the bottom line.
Herbalife Readers:
Click here
to find out why we're giving away samples of our product, Burn HD.
Overview
What is Herbalife?
First off, Herbalife is an MLM weight management company who offers a range of supplements. Some Herbalife products include the following items:
Multivitamins
Nutritional shakes
Weight-loss supplements
Protein shakes
Dietary supplements
Energy drinks
Herbalife protein and nutrition products are supposed to promote a healthy lifestyle, but are their products really good for you? Will they create a sustainable foundation for your diet and exercise routines? The only success we seem to see is from those who are already following a restricted calorie diet – so we'll need to dig deeper…
About the Company
Before we go any further, let's talk a bit about the company. Herbalife was founded in Los Angeles, California in 1980 by Mark Hughes. Since then, Herbalife USA has expanded globally, operating and marketing in many different countries, including China, Australia and the United Kingdom. The company has many different locations listed on the Better Business Bureau website and have received ratings ranging from A+ to No Rating. [1]
Herbalife is also an MLM company, meaning that most of its business is done through "distributors" who are trying to make a profit off of products that they already purchased. This sounds a bit scary, because this means some random person is trying to sell you products to make a profit – if you don't buy, they lose money.  Can you trust what they say?
Herbalife Competitors
Ingredients
Common Herbalife Ingredients
Herbalife presents itself as a marketer of health products, so they should use healthy ingredients, right? Here are five common ingredients found in their products:
Soy protein isolate
Soy lecithin
Hydrogenated oils
Casein
Biotin
There isn't much information on the website and we couldn't find anything on the RDA (recommended daily allowance) of the products. This only adds to our frustration.
Scroll below for one of the best products we've seen over the last year.
Herbalife Awards and Recognition
Herbalife USA has received several awards, including the 2013 and 2015 Healthy Nutrition Awards and the 2014 Product of the Year Award. International awards include the 2013 SNQ National Quality Certification. These awards were given based on four of their products: Formula 1 Healthy Meal Nutritional Shake Mix, Triple Berry Complex, Tang Kuei Plus and Niteworks Powder Mix.
Benefits
Five Possible Herbalife Benefits
Unfortunately, we had difficulty finding research showing benefits of Herbalife diet items. Many recent clinical trials have actually linked Herbalife with adverse effects. Any research the company claims to have behind it seems like outdated science.
But here are some possible benefits, as stated on their website, associated with the four Herbalife diet products that have received awards:
High protein aids in weight loss and weight management
High levels of amino acids help support the heart
Protein shakes form a complete, nutritious meal with 21 vitamins and minerals
High fiber aids in digestion and weight loss
Products contain zero cholesterol and zero trans fats
Customers might experience success with long-term compliance to a low-calorie diet, but right now, these products aren't exactly giving us much hope…
Does It Work?
Does Herbalife Work?
Since there is not a lot of peer-reviewed research on the benefits of Herbalife nutrition or the full weight loss program, it is difficult to say. Many of its products have not been tested and approved by the FDA and many of them also contain questionable ingredients.
There is, however, some research regarding the types of products they market. Regarding the Herbalife plan, there is some research to show that a high-protein diet is more effective in aiding weight-loss than a conventional diet.
Also, its Niteworks powders, which contain the amino acid L-arginine along with some antioxidants, have shown small improvements in anaerobic threshold in active elderly men.
With such a limited number of clinical studies, it is difficult to determine whether Herbalife nutrition products actually work. [2] [3] [4]
We figure that customers might see success, but only if they are adhering to a calorie-restricted diet – if that's the case, it doesn't say much about the efficacy of of the products or the Herbalife weight loss plan.
Side Effects
How About Herbalife Side Effects?
We've read some talk from customers who said that Herbalife products are highly processed and contain undesirable ingredients, so we felt we had to dig into the potential side effects. Some of them include: [5]
Hepatotoxicity (liver injury)
Nutritional deficiency
Allergic reactions
High blood pressure
Hypertension
Herbalife and Liver Injury
The consensus among nutrition professionals have been that some Herbalife merchandise can actually cause liver damage in some people. If you have an allergy or medical condition, you should definitely be careful about taking Herbalife supplements on a regular basis, as it could lead to nutritional deficiency and liver injury.
We noticed a lot of talk about allergies and intolerance to the soy and dairy in many of the products. This could be an issue for customers, especially when they are relying on a "distributor" for information about the product.
To be fair, more recent studies have gone back and determined that the causal relationship between Herbalife and hepatotoxicity is actually pretty low. [6] [7]
Recalls
Herbalife Recall
In May of 2017, there was a recall of Herbalife's Peanut Butter Protein Bar due to contamination by a fish allergen. There were no adverse health events associated with the product and the recall was voluntary.
Herbalife stated that they maintain "high-quality standards for its products," and are "dedicated to the health, safety and satisfaction of its consumers." [8]
Lawsuits
Herbalife recently paid a $200 million settlement in a lawsuit against the Federal Trade Commission. Fortune wrote, "Herbalife was scamming immigrants into loading up on weight-loss shakes they'd never be able to sell at a profit." [9]
The FTC has sent checks to over 350,000 people who lost money with the MLM company. "We are pleased to announce that hundreds of thousands of hard-working consumers victimized by Herbalife's deceptive earnings claims will receive money back," said Jessica Rich, Director of the agency's Bureau of Consumer Protection. "Along with changes the company will make to its business structure, this is a win for consumers." [10]
Products
Popular Herbalife Products Include
Herbalife is most popular for its protein and meal replacement items. These include:
Herbalife Formula 1 Healthy Meal Nutritional Shake (available in several flavors)
Herbalife Kids Shake
Herbalife Personalized Protein Powder
Herbalife Protein Drink Mix
Herbalife Formula 1 Express Meal Bar
Flavors
It only seems reasonable that we would talk about the flavors offered, since one of the more prominent customer complaints was with taste.
Herbalife shake flavors include:
Mint Chocolate
French Vanilla
Cookies 'n Cream
Dutch Chocolate
Orange Cream
Dulce de Leche
Vanilla non-GM ingredients
Vanilla – Alternative Proteins
Wild Berry
Pumpkin Spice
Piña Colada
Café Latte
Kosher (Vanilla)
Are Reports of an Herbalife Scam For Real?
There is some controversy as to how Herbalife operates its business model. Some theorize that Herbalife is built on a pyramid scheme, which is based on manufacturing overpriced, difficult-to-sell products that Herbalife distributors will buy. The Herbalife distributors, instead of making money, will lose money because they can't sell them to consumers at a fair price.
In 2008, the Fraud Discovery Institute of California accused Herbalife of fraudulent activity, but retracted its claims after determining that "Herbalife employs systematic internal controls, including the use of outside, independent laboratory testing, which ensures their products are manufactured safely and in compliance with California law."
And like we mentioned earlier, in 2016, Herbalife had to pay out $200 million in a settlement to distributors who had lost money and was forced to restructure their business model.
So, if the Herbalife scam was real, hopefully it is behind us. [11] [12]
Cost
What Do Products from Herbalife Cost?
Since the company does not sell its products directly to consumers, but through distributors, Herbalife prices may vary. We couldn't find anything listed on their official website, but here are some price examples of some products so you can determine what an Herbalife weight loss package would cost you.
Herbalife Formula 1 Healthy Meal Nutritional Shake: $39.90
Herbalife Formula 2 Multivitamin Complex: $24.35
Herbalife Tea Concentrate: $44.70
Herbalife Protein Bar Deluxe: $25.50
Herbalife Aloe Hand and Body Wash: $9.90
Herbalife product prices can change, depending on where you live and who the distributor is. Some customers pay up to $145 per month for just the protein supplement and two shakes. This leads us to believe that taking advantage of the full weight loss program could really get up there in price.
Herbalife vs Shakeology
What's the Deal With Herbalife Vs Shakeology?
Shakeology is a major competitor of Herbalife shakes, but the differences between Herbalife vs Shakeology are pretty straightforward. While Herbalife is by far the bigger, more well-known company, Shakeology products have been shown to be more nutritious, using more whole foods as ingredients. Shakeology shakes also contain more protein and amino acids than Herbalife shakes.
But when it comes to cost, Herbalife prices are definitely more affordable. [13]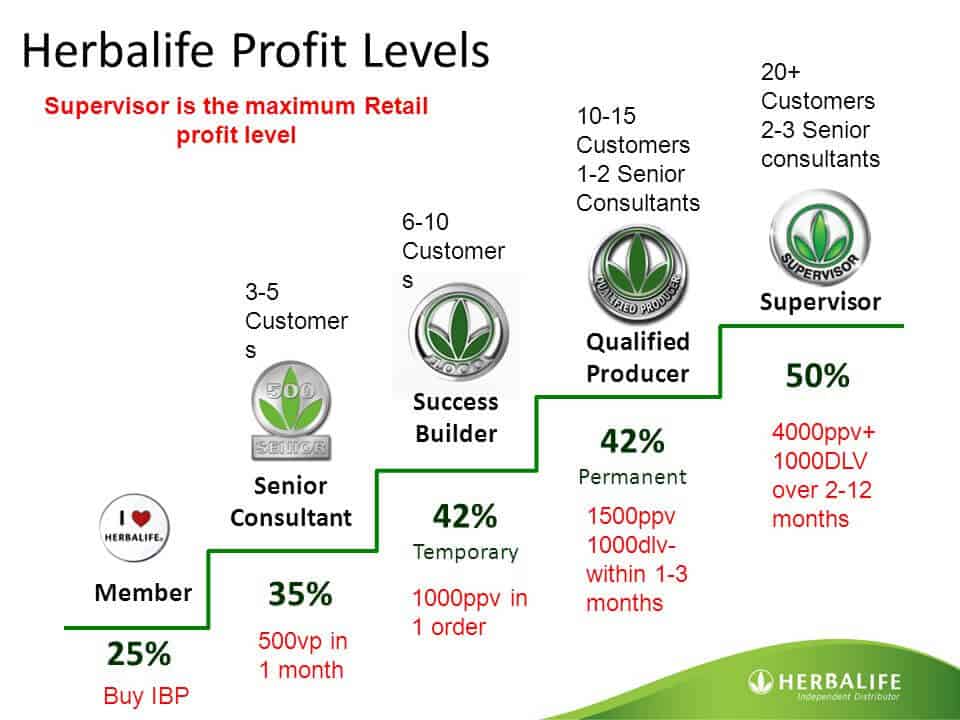 MLM Opportunities
Herbalife and MLM
Mark Hughes founded Herbalife in 1980 with the hopes of changing how the world views nutrition and weight loss. The company began by specializing in protein shakes but now has expanded to offer a wide array of products, such as meal-replacement shakes, supplements for heart, skin and digestive health, teas, and personal care products, including shampoo, conditioner, and lotions.
Herbalife revolutionized the multi-level marketing business model and is available in 95 countries through independent distributors. Herbalife's business model allows independent distributors to make a profit on specific items sold or to be compensated through the company's network marketing structure.
What is MLM (multi-level marketing) and How Does it Work?
A MLM marketing structure uses direct non-salaried distributors or sellers who earn through the company's compensation plan. In a standard MLM, direct sellers can make money through selling products or building their team of distributors. MLMs succeed by building personal relationships with their customer base, which attribute to word of mouth marketing.
What About Earning Money With Herbalife MLM?
Herbalife has improved the traditional MLM model by emphasizing the sale of products. With Herbalife, an independent distributor is not compensating for just recruiting or sponsoring other distributors, but must be selling products as well. Distributors purchase their stock of Herbalife products at a discounted rate and then sell their stock. At any time, a seller can cancel their distributorship and return any unopened product from their stock for a full refund.
What Users Are Saying
I love Herbalife but j don't like this flavor. It taste weak even with milk is rather cookies & cream.
No complaints I blended with some strawberries and raspberries and is delicious.
Have since learned there are healthier options out there. This is a decent tasting one however.
Also: read our Burn HD Weight-Loss Kit review »
Bottom Line
The Bottom Line on Herbalife
We're going to be honest… Herbalife comes with pros and cons, so is it the best choice when it comes to weight loss and meal replacement? Here are some of our concerns:
Herbalife scam, if real, is unethical.
Herbalife ingredients are not the best.
There aren't a lot of clinical studies backing up the Herbalife diet plan.
Lack of transparency on the website.
If you're just plan sick and tired of your weight, why not try out a supplement delivering a great price, clinically-supported ingredients and good customer reviews?
Among the best products we've seen this year is one called Burn HD. The four-ingredient proprietary blend is clinically shown to help spark metabolism, boost fat loss and break through weight-loss plateaus. We dug deep and found a ton of users who've achieved some amazing results, which, when partnered with research, is impressive.
To boot, the producers of Burn HD are confident enough in the formula to offer a 2-Week Sample– always a good thing.
Learn More About Burn HD »