Slim Cycle Review

- 9 Things You Need to Know
Both young and older adults benefit from a consistent exercise routine, though there is a lot of debate on what the best program is for any individual. Some people find going to a gym to be motivational and get them in the right mindset to work out, while others find gyms to be intimidating and prefer home workout options, which is where the Slim Cycle comes in.
Slim Cycle claims to be one of the best home workout options for cardio exercise, but is that true? Make sure to check out the bottom line to read the final verdict on this fitness machine!
Slim Cycle can be purchased through their Official Site.
Overview
What is Slim Cycle?
Slim Cycle is a lightweight 2 in 1 exercise bike that is designed to be versatile and portable. The stationary bike can be used in a recumbent or upright position, and it also has built-in resistance cables so that the user can work out their upper body while they bike. The user can also use the resistance cables while not biking if they prefer to exercise the upper and lower body separately.
Stationary bikes are also easy to use while at home watching TV or doing otherwise sedentary work to get some exercise in without too much preparation, but is there any research showing this kind of machine and exercise is beneficial?
JDST: Stationary bikes have been used in clinical trials and have positive effects on not only the physical but also the neurological health of older individuals.
Maturitas: Regular exercise has been shown to improve mental health, reduce inflammation, and improve overall mood.
Medicina: According to this study, "The combination of indoor cycling and diet is recommended to improve the lipid profile, lose weight, and reduce blood pressure. Furthermore, indoor cycling alone may also enhance aerobic capacity."
Slim Cycle Competitors
Company Bio
Who Created Slim Cycle?
SlimCycle is a product from Bulbhead International, a flagship brand launched by TeleBrands with a focus on creative new consumer products. Telebrands is the American marketing company that originally created the "As Seen On TV" category and logo.
While Bulbhead International does have a 7-day-a-week customer service line, reviews of the quality of customer service are quite poor, and they rank only 1.4/5 stars in Customer Reviews on Better Business Bureau.
Scroll below for one of the best products we've seen over the last year.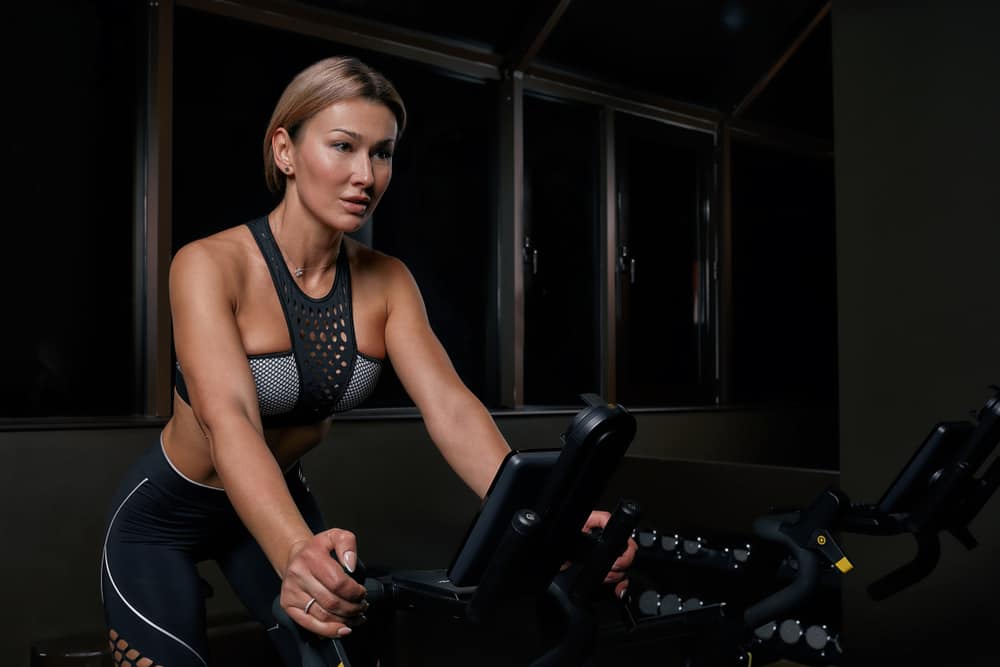 Claims
What Does Slim Cycle Claim?
Slim Cycle advertises itself as the most versatile fitness bike because it can be set up as a recumbent bike or an upright exercise bike, and it has built-in bands for resistance training with the upper body.
The slogan is "2x the results in half the time" because the user can cycle and work on their upper body with the resistance cables. The idea is to get an intense cardio workout while working the upper body with resistance cables.
Equipment
Slim Cycle Equipment
When purchased directly from the site, it comes with a Slimaway Belt and 10 free classes. Currently, there are no alternative packages, but the included equipment and promotions may vary depending on what platform the bike is purchased from.
SlimCycle Dimensions and Assembly
The SlimCycle arrives in over a dozen pieces, so it does require some amount of installation. That said, it is not difficult to find videos online that walk users through the full slim cycle assembly.
According to the Bulbhead International website, the total weight of the machine is 39lbs 6oz. The full dimensions are 4.218″ x 18″ x 44″, though it can be folded in half like an ironing board to accommodate easy storage.
Weight Loss
Slim Cycle and Weight Loss
The Slim Cycle program focuses largely on cardiovascular exercise with some resistance training. However, there is some research showing that stationary biking in general may be beneficial to weight loss.
One study published in the Journal of Exercise Rehabilitation found that after 16 weeks of bicycling exercises done on a stationary bike, individuals experienced "…positive changes in body composition, physical fitness and blood constituents, indicating that spinning cycle is more beneficial as compared to ordinary bicycle."
Another study published in the International Journal of Environmental Research and Public Health noted that indoor cycling could be beneficial to both weight loss and cardiovascular health in women. Similar findings were noted in a study published in the Journal of Physical Therapy Science, which found that stationary biking could improve gait and balance.
Stationary biking is a form of aerobic exercise, which has shown to be beneficial as well. According to research published in The American Journal of Medicine, modest reductions in weight and waist circumference were associated with 6-12 months of aerobic exercise training.
Moreover, research published in Nutrients and the International Journal of Sport Nutrition and Exercise Metabolism found that resistance training could lead to reduced body fat when combined with a healthy diet. That said, eating a balanced, nutritious diet is more important to weight loss than just exercise alone, according to research published in Cell Metabolism.
Though the Slim Cycle comes with exercises and a workout app, the product does not come with diet or nutritional device. The official recommendation of Bulbhead International on their website is to "[d]iscuss your goals, lifestyle, and diet with your doctor to determine a realistic timeline."
Where To Buy
Slim Cycle Cost and Where to Buy
The SlimCycle can be purchased directly from the Bulbhead website for $199.95, but it is also available on a variety of other online platforms such as Amazon and eBay.
The SlimCycle app comes free with the purchase of the stationary bike, but additional classes may be purchased as well.
Pros and Cons
Pros and Cons
There are several pros and cons to the SlimCycle machine to take into consideration.
Pros
Folds in half and rolls wheels for easy storage when not in use
Can be adjusted to a recumbent or upright position
Completely silent
The app is compatible with Android and Apple devices
Pedals feature 8 resistance settings and resistance on cables is adjustable
Digital display includes calories burned, distance traveled, speed, odometer, and total time
Cons
Weight and height limits (300lbs weight limit, 4'11" to 6'4″ height limits)
Handlebars and seat handles are not adjustable
Weighs about 40 pounds
Does not come with diet and nutritional guidance
What Users Are Saying
What Users Are Saying
"Works fine. Glad I bought it."
"Not for tall people – Do not get this if you are over 6′.. Will be hell on your knees. Had they drilled a few more holes to enable the seat to be higher.. It would be fine."
"I needed a cycle for my knees. I need an operation, my doctor gave me some exercises and to ride a cycle. I went to Amazon and found this one, it was the perfect choice, plus since exercising I don't hurt as much. Perfect cycle if you do not have much space."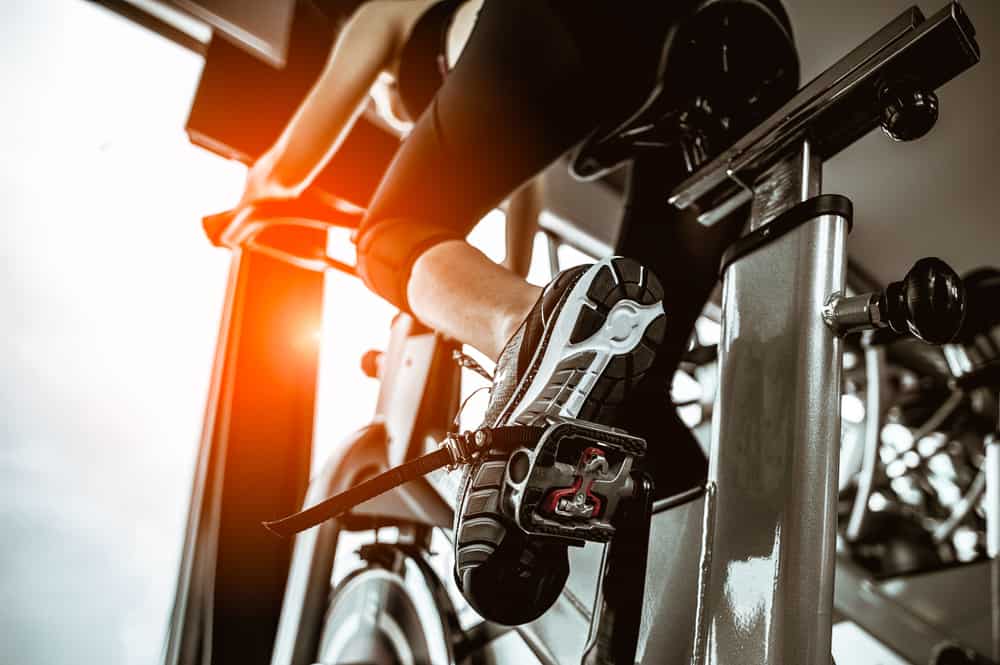 Bottom Line
Bottom Line on Slim Cycle Results
The Slim Cycle is a viable option for those who want access to a home workout machine but don't have a lot of space. It is an appropriate size for most people, though not a good option for users under 4'11", over 6'4″, or over 300 pounds.
Since there are eight different resistance levels for the pedals and several resistance levels for the cables, the bike allows for more intense workouts as the user becomes stronger, but consistency in an exercise routine is still the most important factor in fitness and weight loss.
If you are ready to lose weight and keep it off, it may be best to combine regular exercise with a program like Noom, which is specifically designed to help individuals learn about their behaviors.
By using psychology-backed tools like custom meal planning, 1:1 health coaching, extensive food logging, and daily goal reminders, Noom can help you lose weight and keep it off for good. If you are ready to give this clinically-backed program a try, make sure to check out their free trial offer – available for a limited time only!
Learn More About Noom »