Updated: 09/22/2015 - Sponsored by Leptigen
7-Day Detox Review - Does This Cleansing Product Work?
Are absence of real science and numerous user complaints deal breakers?
PUBLISHED: 09/07/2015 | BY: SUMMER BANKS, SENIOR REVIEWER
Editor
's Review:
4.1
/ 5.0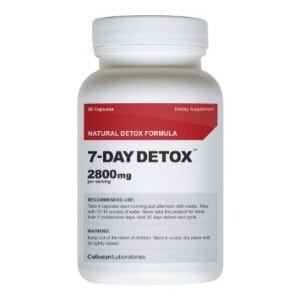 As you may have noticed, there's been a lot of buzz surrounding 7-Day Detox pills, so we dug deep and created a comprehensive review, examining the ingredients, side effects, clinical studies and overall customer care. We additionally researched hundreds of customer reviews and dieter comments from around the internet. Lastly we summed up everything in order to give you the information you need.
EDITOR'S TIP:
Combine 7-Day Detox with a proven fat burner such as
Leptigen
for better results.
What You Need To Know
7-Day Detox is advertised as a natural detoxification formula for women and men alike. This supplement is supposed to help flush out the colon, remove harmful toxins from the body and flatten the stomach. You need to take four capsules each morning and four more in the afternoon (always with 12-16 ounces of water). 7-Day Detox costs $19.95 (56 capsules). As for the ingredients, this supplement contains; Chromium (200mcg), Magnesium (250mg), Dandelion Root (1,000mg), Senna Leaf (250mg), Uva Ursi (250mg), Buchu Leaf (250mg), Lactobacillus Acidophilus (250mg), Irvingia Gabonensis (150mg), Cissus Quadrangularis (150mg), Caffeine Anhydrous (100mg), Lady's Mantle (50mg), Juniper Berry (50mg), Olive Leaf (50mg), Cumin Seed (25mg) and Wild Mint Leaf (25mg).
7-Day Detox was first released back in 2011 and there is a 90-day money-back guarantee posted on the official website. Furthermore, this supplement uses natural ingredients and there is no special diet plan required, but read on…
No Real Science!
According to our Research Editor, "There is no clinical research or studies presented on the official website to back up the claims regarding 7-Day Detox pills. You should also consider how much weight you can actually lose in only seven days."
One customer stated, "This was crap and I want my money back it does not work it does not help you do anything I gained more just by using this."
Another user offered, "This product did nothing. No hunger control, no energy, and no weight loss."
Scroll below for one of the best products we've seen in 2015.
A Lot of Customer Complaints!
You will find plenty of customer feedback for 7-Day Detox on dealer websites like Amazon. Many of these reviews are quite negative. One dieter said, "I did exactly as said and got NO results!!! I want my money back!! I am so disappointed!"
"These pills actually gave me headaches and made me feel really dizzy after taking them for a while without seeing any results," said another user.
Our research has revealed that if one part of a weight loss supplement or diet product is a major problem (no real science, bad taste, a lot of customer complaints) the odds of fat loss results of the long term are slim. Therefore if 7-Day Detox does in fact cause a high number of customer complaints, this could certainly prove to be a serious issue.
The Science
You will notice on the official website that 7-Day Detox is claimed to contain "clinically-backed ingredients," but there is no actual documented research to support this. In other words, there is no real science supporting this diet aid at all. At DietSpotlight, we really have to see some solid clinical trial research in order to support the diet product or weight loss supplement.
The Bottom Line
Some people will be intrigued by 7-Day Detox because you only have to use it for one week. However, you need to consider how much weight you can actually drop in only seven days. Many people will never hit their target weight this quickly. On a separate note, 7-Day Detox is mainly a combination of fiber and diuretics that cause more frequent bowel movements. This is not real fat loss.
Dieters that need to slim down quicker and shed more pounds of fat, we advise you to go with a diet supplement that really does contain clinically-proven ingredients and is supported by positive user reviews.
One of the top diet products we've seen in 2015 is one called Leptigen. This supplement offers four proven ingredients, which have been shown in documented clinical studies to promote fat loss and kick-start metabolism. Also, we have not noticed any talk of harmful side effects and customer feedback posted online expresses people are seeing significant results.
Also, the makers of Leptigen are so confident in their product they're offering a special trial offer, which is a good sign.