Updated: 08/25/2015 - Sponsored by Leptigen
Almased Review – Does This Meal Replacement System Work?
Are Almased's cost and taste deal breakers?
PUBLISHED: 07/23/2015 | BY: TORY GRAY, SENIOR REVIEWER
Editor
's Review:
3.1
/ 5.0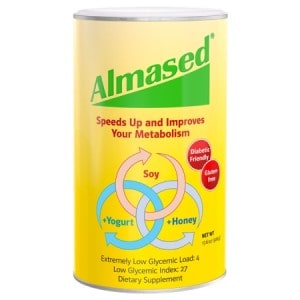 We've heard a lot of buzz about Almased meal-replacement shakes, so we did one of our in-depth reviews, examining the ingredients, side effects, clinical research and customer-service quality. Plus we read hundreds of user comments and reviews from around the web. We then summarized and condensed to give you the info you need.
EDITOR'S TIP:
Combine Almased with a proven fat burner such as
Leptigen
for better results.
What You Need to Know
First off, Almased is a meal replacement containing a mixture of fermented soy, skim milk yogurt powder and honey enzymes. When mixed into a shake and taken twice a day, the product supposedly supports weight loss. One benefit is you can consume it anywhere and it's easy to mix.
The product, which was introduced as a diet program in 1998, doesn't use synthetic ingredients, which is a good sign. It's available in health stores and on its official website. We do like Almased's good BBB rating, longevity as a company and some positive comments about the product on forums and other websites.
Price – "Yee-Ouch"
The first concern we had with Almased is cost. "If you replaced all your meals with Almased shakes, you'd probably lose weight," said our Research Editor. "But at $99.95 for 3 canisters, with no money-back guarantee, you'd also lose your bank account. It's one of the most expensive diet programs we've seen- and with no guarantee." If you took Almased twice a day, you'd spend a whopping $200/month.
"A tad expensive for me," said one user.
"This stuff might work wonders, but who can afford it?," said another.
Scroll below to for one of the best products we've seen in 2015.
Taste – Another Concern
According to a good number of people we found on the web, Almased is not exactly delicious. In fact, many customers reported quickly getting tired of the flavor. "I started Almased today and am having a terrible time making this stuff taste good enough to keep down," said one customer online.
"This stuff tastes horrible," said another. In reading through forums, many customers agree. Some people mix the drink with unsweetened cocoa, Stevia, vanilla or cinnamon to improve the taste. "vanilla milk makes it tastier," said one person.
Our research has shown if there is some particular part of a diet program that is especially troublesome (a painful/difficult exercise routine, pills that make you jittery, bad taste, etc.) that the likelihood of long-term success is slim. If Almased does in fact taste bad to a lot of people, this could be problematic.
Now, if you're dead-set on trying these types of shakes, perhaps substitute just one meal a day, says Emma Sterling, a practicing dietician for over 17 years.
The Science
While the official Almased website claims the product is "scientifically proven," we couldn't find any published studies that speak directly to the weight-loss benefits of the ingredients in Almased's formula. For us at DietSpotlight, being able to find published scientific research about a product's ingredients supporting weight-loss claims is critical to us. If there's no good science, we see big red flags.
The Bottom Line
We like Almased's longevity as a product and some positive comments we saw about it online, but we can't recommend it because its weight-loss claims are not backed by published clinical studies. Plus we're concerned about its high price and less-than-savory taste.
If you'd like to melt off more pounds, we suggest you go with a supplement that delivers both bang for your buck and a formula supported by published scientific research.
Among the best products we've seen in 2015 is one called Leptigen. Its formula is a proprietary blend of four ingredients, which have been shown in published clinical research to help accelerate fat loss and boost metabolism. We can't find any talk of any harmful side effects and comments around the web indicate people are seeing great results.
Also, the makers of Leptigen are so confident in their product they're offering a special trial offer, which is a good sign.
(Feel free to scroll below for our previously published full-length reviews of Almased)
Previous Almased Review (Updated March 18, 2014):
What You Should Know
Click Here To See Our Highest Rated Review
Almased, otherwise known as The Almased Synergy Diet Program, is a diet program designed by Almased USA Inc. that relies on a specialized, all-natural drink as part of their diet program. Almased claims this program will help people lose up to 15 lbs. in 6 weeks by following their diet, which combines liquid fasting and nutritionally based meals. The Almased drink, available for purchase from their official website, contains a mixture of fermented soy, skim milk yogurt powder, and honey enzymes, which they claim eliminate hunger and promote additional weight loss.
Available through their website or in select health stores, you can purchase a kit for $99.95, which contains 3 canisters.  Almased is one of the most expensive diet programs available. It is also one of the few developed with all-natural ingredients, according to manufacturer claims. Almased first became available as a general health supplement in 1985, and was introduced as a diet program in 1998. Almased's website is very thorough and backs up several claims with detailed studies.
Ingredients
Almased contains a mixture of soy protein, honey enzymes, skim milk yogurt powder, and several amino acids.
Product Features
Almased places heavy emphasis on its diet drink, which is consumed two times daily. It contains a "unique" blend of soy protein, skim milk yogurt powder, and honey enzymes, which the manufacturers claim promotes safe and effective weight loss. When beginning the program, Almased instructs users to begin a short three day liquid fast with this diet drink. Afterward, users follow the specific diet plan provided, consuming the Almased drink two times daily. Although they do not list how many grams of these ingredients they include, we have been informed that Almased contains 53% soy protein, 25% honey, 22% skim milk yogurt powder.
The Almased program is available for $99.95, whereas one canister of the Almased drink costs a surprising $34.95. Although there are no other diet supplements containing Almased's specific brand, there are many diet supplements that use similar ingredients for roughly half the cost.
Advantages
Almased's drink is created from all-natural ingredients, backed up by several scientific studies.
Almased's formulated drink is available to consume anywhere and easy to mix.
Almased is available in select health stores and through its official website.
Disadvantages
Almased is more expensive than other diet programs, priced at $99.95 per kit or $34.95 per canister.
This excludes dieters with soy allergies or lactose intolerance.
There are no money-back guarantees that we could find.
Some individuals may find product unappetizing. (See reader comments.)
Conclusion
Although Almased claims it does not use any synthetic ingredients, which is encouraging, Almased also does not offer any substitutes for those with soy allergies or lactose intolerance. Almased's diet program would seem to be a suitable solution for those looking for a naturally based diet, but the price could be high for some.
GD Star Rating
loading...