Updated: 11/08/2017
- Site operated by Burn HD
Diet products either work or they don't. Period. Let's find out which one GNC Lean Shakes is. We took the time to write a detailed review, examining the ingredients, side effects, customer service and clinical research. Moreover, we focused on dozens of dieter comments posted online. Finally, we condensed and refined to give you the bottom line.
GNC Lean Shakes Readers:
Click here
to find out why we're giving away samples of our product, Burn HD.
What are GNC Lean Shakes?
To start, GNC Lean Shakes are meal-replacement powders. The ingredients include milk protein concentrate, nonfat dry milk, creamer, natural and artificial flavors, sucralose, acesulfame potassium and a vitamin and mineral blend. This product supposedly encourages lean muscle mass and boosts metabolism. Simply add two scoops to eight ounces of cold water and drink twice per day. You can make it at home and take it with you anywhere.
GNC Lean Shakes have been available since 2009 and are sold online, as well as in stores. These shakes provide a significant amount of fiber and are available in several different flavors, but read on…
Products Similar to GNC Lean Shakes
The Value of GNC Protein Shakes
The first issue tackled was the value of GNC Lean Shakes. According to our Research Editor, "There are 16 servings in a bottle of GNC Lean Shakes," said our Research Editor. "While not the most pricey, it's still a higher cost for some."
GNC Lean Shakes cost $34.99. If you follow the recommended serving, each container lasts about eight days. So, the cost is closer to $131 for a 30-day supply.
"The jug only lasted me a week," said one customer.
Another stated, "I can't afford this."
Sometimes the cost is not what matters most to the dieter, or they believe the product is worth it.
One buyer said, "I know other meal replacements and shakes that are way cheaper than this but doesnt taste as good."
We also found a buyer that claimed, "Tasty flavor, better than average price."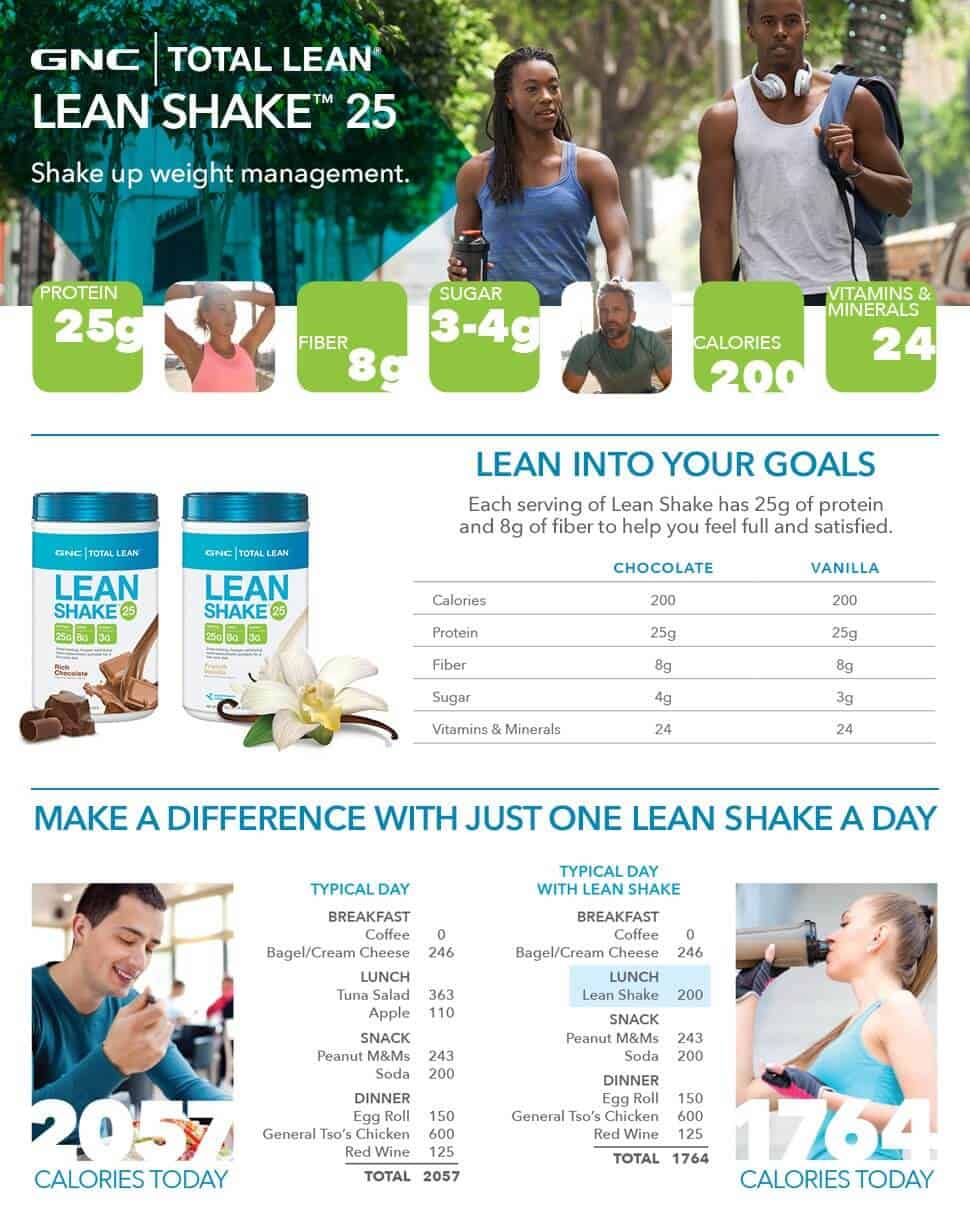 Scroll below for one of the best products we've seen over the last year.
Is the Taste of GNC Lean Shakes Concerning?
There are concerns over the taste of GNC Lean Shakes. One user said, "Tastes too sweet with artificial sweeteners."
With GNC Lean Shakes, one person may not like the flavor and another may love it.
A customer said, "I like the taste. Good stuff."
One buyer offered, "It tastes good mixed with milk."
The Science Supporting GNC Meal-Replacement Shakes
There's no research on the official website. However, let's take a closer look at GNC  Lean Shake ingredients. The first ingredient noted on the label is actually a carbohydrate blend. However, it's not the "bad" carbs people talk about. This meal replacement shake contains 13 grams of dietary fiber. There are researched benefits of fiber and adding fiber into a diet. [1] [2]
While there's a smaller amount of protein than other supplement, nine grams of protein is a respectable about. There's research showing the connection between adding protein to your diet and weight loss. [3] [4]
What Users Are Saying
"Great taste and I love it. Mix it up using their suggestion of orange juice. I also like the vanilla powder one which tastes great using their suggestion of cinnamon and graham crackers. Just not so much cinnamon! I just use one teaspoon not the recommended tablespoon."
"I've decided that I don't like the taste very much. I did lose a few pounds while using this product though so I guess that is a plus"
"It tastes good but gives a weird after taste. I can only drink this when it's frozen like a shake and extremely cold. Even then there is a weird after taste. After so many shakes I became tired of the taste and now it's just sitting in my cabinet. Adding fruit helps as well"
The Bottom Line – Do GNC Lean Shakes Work?
Hmm, what should be say about this one that'll sum it up for you? We appreciate that GNC Lean Shakes provide a significant amount of fiber to assist with regularity and appetite suppression. However, we have reservations about this supplement because it's not backed by solid clinical research. Furthermore, the amount of protein in a serving of this is quite minimal (only 9 grams). Also, if you used this it as directed, twice a day, it would cost you nearly $131 a month.
If you want to slim down and rock your best body, we encourage you to choose a diet supplement that is both affordable and backed by real clinical results. It helps if you don't have to worry about dealing with bad taste.
Among the best products we've seen this year is one called Burn HD. This diet formula contains a unique blend of four ingredients, which have been shown in documented clinical studies to improve fat loss and increase metabolism. We are unable to find any discussion of harmful adverse effects and dieter reviews posted on the web indicate people are seeing wonderful results.
Also, the company behind of Dietspotlight Burn is confident enough in their product to offer a Special Trial Offer, good sign.
Learn More About Burn HD »