Updated: 08/25/2015 - Sponsored by Leptigen
Isagenix Review – Do These Weight Loss Products Work?
Are price and poor customer reviews deal breakers?
PUBLISHED: 08/21/2015 | BY: TORY GRAY, SENIOR REVIEWER
Editor
's Review:
3.4
/ 5.0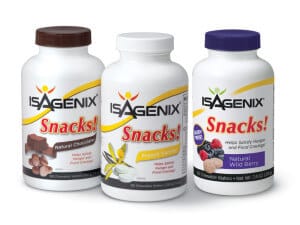 People are talking about Isagenix, so we thought it a good idea to take a closer look into the product ingredients, pricing, customer service and clinical support. We read user comments from hundreds of dieters all over the web. We took this information and compacted it into the most important details.
EDITOR'S TIP:
Combine Isagenix with a proven fat burner such as
Leptigen
for better results.
What You Need to Know
To start, Isagenix is a supplement company that offers weight-loss solutions. Products from the company include shakes, formulas to flush toxins from the body and energy boosters. Supplements are taken in the morning and at night. One good thing is that you can take the meal-replacements with you to drink on the go.
The products, introduced to the market around 2002, appear to contain all-natural ingredients, which is always good. Isagenix is available by phone and from marketing associates. We like the good BBB rating and the company has been in business for more than 13 years, but read on…
Price – "Over the Top"
We are concerned about prices associated with Isagenix products. You can purchase the 30-day weight-loss program for around $350. "You can't put a price tag on weight-loss, but when a company charges two or three times what others are charging there is a problem," says our Research Editor. "Isagenix formulas may help you lose a little weight, but the cost is just too high."
"I should have listened to my smarter side before dishing out close to $400 for this product, but I'm only human and fell for the empty promises that their website offered," according to one customer.
Another dieter said, "This is an insanely small jar for the insanely high price."
Keep scrolling to read about one of the best products we've found in 2015.
Poor Customer Reviews – "Something to Think About"
We read through hundreds of customer reviews on forums and websites. A large percentage of the comments were negative. Bad flavor and no results were two of the more common complaints. "All of this stuff tastes nasty. Like a big glass of grape Robitussin," offers one dieter.
"I didn't like it. It made me bloat up and feel nasty. It wasn't what I expected. Didn't work for me," claims another customer. Still another user says, "I tried this for a week and saw no difference in my weight, health or energy."
In our research, we've found poor customer experience or high price can negatively affect long-term success. Due to this, we found potential problems with Isagenix.
The Science
Isagenix offers videos and marketing materials, but no real "science." There is some evidence meal-replacement shakes can help a dieter lose more weight, but Isagenix does not present clinical research supporting a price higher than similar products. At DietSpotlight we look for published data to back up a company's weight-loss claims. If that does not exist, to us that's a warning.
The Bottom Line
The Isagenix company has longevity on its side and a supportive customer service department, but we have trouble recommending products without clinical support. We're also concerned about the high price and negative customer reviews.
If the time has come to shed those extra pounds, we suggest a supplement with good customer results and a blend of ingredients supported with scientific research.
We've seen a lot of weight-loss products and Leptigen is one of the best in 2015. A proprietary blend of four ingredients showing a positive effect on fat loss and metabolism. There's no talk among customers of negative side effects and results are great, based on customer reviews.
The company responsible for Leptigen is confident enough to present customers with a special trial offer – that's a good sign.
(Feel free to scroll below for our previously published full-length reviews of Isagenix)
Previous Isagenix Review (Updated March 18, 2014):
What You Should Know
Click Here To See Our Highest Rated Review
Isagenix is marketed as a company that wants to impact world health, according to the Isagenix website. The company has a line of products for cleansing, nutrition, and skin care. One of the products in the cleansing line, Cleanse for Life, is advertised as a tool for weight loss along with energy and good health. The bottles of Cleanse for Life are sold in a two pack, and each 32 ounce bottle is good for two cleansing days. This product appears to be recommended as a part of a complete system designed to cleanse your body over a 30 day stretch. It is also sold as part of the accelerated nine day program, which promises an average weight loss of seven pounds during that time frame. They also have meal replacement options, including shakes and soups.
The entire product line is available from the official Isagenix website, and also through a network of independent affiliate retailers similar to the classic Avon business model. We are pleased to see that the company provides complete ingredient lists for all of its products, but we are not so inclined to buy into the idea of a complete system with numerous products as the best weight loss method. We believe that many dieters can find success through a low calorie diet, daily exercise and a single, effective weight loss supplement.
Ingredients
The ingredients in the berry flavored Cleanse for Life include a proprietary blend that contains aloe Vera leaf, IsaLyte trace minerals, Pau d'Arco inner bark, suma root, eleutherococcus senticosus root extract, burdock root, fennel seed, peppermint leaf, licorice root, choline bitartrate, inositol, betain HCL and I-methionine.
We do not see anything on this list that stands out as an effective weight loss supplement. While many of the ingredients may be quite healthy in other ways, we prefer to see an appetite suppressant and proven fat burner on the list for maximum weight loss benefit. Well known weight loss substances like chromium, green tea, guarana and hoodia are noticeably absent from this list.
Product Features
Some of the Isagenix products appear to be quite pricey, although a double order of the Cleanse for Life sells for a reasonable $43 at the time of this review. We could not find any information about a free trial offer or money back guarantee.
Advantages
The idea of cleansing the body from the inside out does offer a number of health benefits.
The company provides complete ingredient lists for its products.
Disadvantages
We could not find a money back guarantee.
The product we looked at doesn't contain any proven weight loss ingredients.
The product is sold as part of a complete package that includes many products and is quite expensive.
Conclusion
We like the idea of an effective cleansing product as a method of jump starting a diet. However, cleansing programs are rarely the best choice for long term weight loss. This particular product doesn't pack much in the way of proven weight loss ingredients to instill much confidence from us in its ability to help dieters shed excess weight. We encourage dieters to look for more effective formulas from other companies for best results.
GD Star Rating
loading...