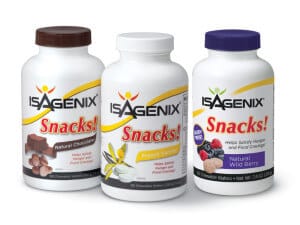 Isagenix company employees, have you ever taken your own products? We thought it a good idea to take a closer look into the ingredients, side effects, customer service and clinical support. We read user comments from hundreds of dieters all over the web. Then, we took this information and compacted to give you what you need.
EDITOR'S TIP:
Combine Isagenix with a proven fat burner such as
Leptigen
for better results.
What You Need to Know
To start, Isagenix is a supplement company that offers weight-loss solutions. Products include shakes, formulas to flush toxins from the body and energy boosters. Supplements are taken in the morning and at night. One good thing is that you can take the meal-replacements with you to drink on the go.
The products, introduced to the market around 2002, appear to contain all-natural ingredients, which is always good. Isagenix is available by phone and from marketing associates. We like the good BBB rating and the company has been in business for more than 13 years, but read on…
Price – "Over the Top?"
The first thing that bothered us about Isagenix ingredients were the prices. You can purchase the 30-day program for around $350. "You can't put a price tag on weight
Scroll below for one of the best products we've seen in 2015.
Learn More About Leptigen »
GD Star Rating
loading...
How Does Isagenix Compare?
Previous Isagenix Review (Updated June 5, 2014):
What You Should Know
Click Here To See Our Highest Rated Review
Isagenix is marketed as a company that wants to impact world health, according to the Isagenix website. The company has a line of products for cleansing, nutrition, and skin care. One of the products in the cleansing line, Cleanse for Life, is advertised as a tool for weight loss along with energy and good health. (Take a look at their
wikipedia page
if you'd like). Other companies that have similar product lines are
Yoli Better Body System
and
Purium
. with The bottles of Cleanse for Life are sold in a two pack, and each 32 ounce bottle is good for two cleansing days. This product appears to be recommended as a part of a complete system designed to cleanse your body over a 30 day stretch. It is also sold as part of the accelerated nine day program, which promises an average weight loss of seven pounds during that time frame. They also have meal replacement options, including shakes and soups. A similar meal replacement product is
Prolessa Duo
which is an appetite suppressant. The entire product line is available from the official Isagenix website, and also through a network of independent affiliate retailers similar to the classic Avon business model. We are pleased to see that the company provides complete ingredient lists for all of its products, but we are not so inclined to buy into the idea of a complete system with numerous products as the best weight loss method. It's nice to know Isagenix has a favorable
BBB rating
. We believe that many dieters can find success through a low calorie diet, daily exercise and a single, effective weight loss supplement. Incorporating an exercise routines like
PiYo
might help in the weight-loss process.
Ingredients
The ingredients in the berry flavored Cleanse for Life include a proprietary blend that contains aloe Vera leaf, IsaLyte trace minerals, Pau d'Arco inner bark, suma root, eleutherococcus senticosus root extract, burdock root, fennel seed, peppermint leaf, licorice root, choline bitartrate, inositol, betain HCL and I-methionine. Another similar weight loss product that contains aloe vera is
Calorad
By the way, it's interesting to view
science produced by Isagenix themselves
here. We do not see anything on this list that stands out as an effective weight loss supplement. While many of the ingredients may be quite healthy in other ways, we prefer to see an appetite suppressant and proven fat burner on the list for maximum weight loss benefit. Well known weight loss substances like chromium, green tea, guarana and hoodia are noticeably absent from this list.
Product Features
Some of the Isagenix products appear to be quite pricey, although a double order of the Cleanse for Life sells for a reasonable $43 at the time of this review. We could not find any information about a free trial offer or money back guarantee.
Advantages
The idea of cleansing the body from the inside out does offer a number of health benefits.
The company provides complete ingredient lists for its products.
Disadvantages
We could not find a money back guarantee.
The product we looked at doesn't contain any proven weight loss ingredients.
The product is sold as part of a complete package that includes many products and is quite expensive.
Conclusion
We like the idea of an effective cleansing product as a method of jump starting a diet. However, cleansing programs are rarely the best choice for long term weight loss. This particular product doesn't pack much in the way of proven weight loss ingredients to instill much confidence from us in its ability to help dieters shed excess weight. We encourage dieters to look for more effective formulas from other companies for best results.
Isagenix FAQ:
We looked at the available literature provided by the manufacturer of the Isagenix shakes as well as numerous individual reviews and testimonials to make this FAQ.
What are the side effects of Isagenix?
Customers have only noted a few side effects of the Isagenix shakes which some commenters suggested might be because the product is primarily a business and the people selling it are motivated to flood the internet with glowing reviews in order to make more money. However, a few places show people discussing the excessive amount of weight gain after finishing the program and others complained of severe back pain while using the shakes.
What are the ingredients in Isagenix?
The primary ingredients in Isagenix are a proprietary blend but the manufacturer does list whey protein powder as a main component of all but their vegan shakes. While they claim there are no artificial sweeteners in the products, the main sweetener is stevia, which is derived from a plant but is far from its natural state. The full list of ingredients varies based on flavor.
Does Isagenix Work?
Isagenix is essentially a meal replacement plan and there have been numerous studies that show meal replacement plans do work because they reduce overall caloric consumption. However, the Isagenix doesn't provide any scientific evidence that their product works any better than the meal replacement shakes that can be found for far less from other manufacturers. You may want to consider substituting Isagenix shakes for a product able to provide clinical reviews, such as Leptigen.
How much does Isagenix cost?
Isagenix shakes are among the most expensive meal replacement shakes available. A single cannister is about $50 and has only 14 servings. The company recommends two shakes per day which means a one month supply would be about $200, just for the shakes. Packages with additional products in the Isalean line or purchasing the supplemental products separately can quickly lead to twice that cost per month.
How should I take Isagenix?
The manufacturer recommends two shakes each day to replace both breakfast and dinner while actively trying to lose weight and many people revert back to one per day for maintenance..
Can I take Isagenix if I have a health condition?
Diet supplements are not regulated by the FDA and their medical claims do not have to be supported by any scientific proof. Regardless, the ingredients found in these products can negatively impact the efficacy of some medications and a primary care provider should be consulted before beginning any new supplement.
What do users like about Isagenix?
The most frequently mentioned things users liked about the Isagenix shakes was the taste and ease of use. Some people found their favorite flavor to be pleasing enough to prefer it to a meal over long periods of time and even if weight loss wasn't a primary goal.
What do users NOT like about Isagenix?
The high cost of Isagenix products is the single most cited complaint of the product. Many people can not justify spending this amount of money on what is essentially a protein powder with a phenomenal and aggressive marketing department.
Can I use Isagenix if I am lactose intolerant?
No, the shakes are made with protein derived from milk. However, there is one vegan option that might be suitable.
Do I have to have a blender to use Isagenix?
Using a blender is not necessary to blend the Isagenix shakes.
How do I contact the Isagenix customer service department?
There are several ways to contact the customer service department of Isagenix. Their department has representatives available Monday – Friday from 5am to 6pm and on Saturday from 6am to 2:30pm Mountain Standard Time. They can be reached by phone at 1-800-877-8111 or 1-480-889-5777. Their email address is Support@IsagenixCorp.com and they offer a live chat option on their website seven days a week from 8am to 10:30pm MST. http://www.isagenix.com/en-US/network-marketing-company/contact-us.
Do you know of any special deals or discounts on Isagenix?
It is quite difficult to find any of the Isagenix shake products at a discount. Those that are available at a marginally reduced cost have received complaints of being imitation products or being past the expiration date. Over the last several months many readers have been taking advantage of Leptigen's special trial offer, which is just the cost of shipping and handling. Click here to give it a shot.