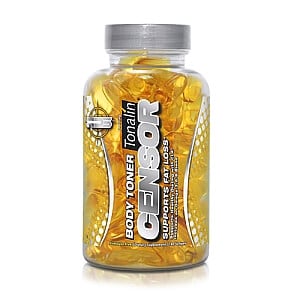 Censor is not your grandmother's supplement. We decided to conduct one of our in-depth reviews, looking at the ingredients, clinical research, side effects, and customer service quality. We also read dozens of online comments to get a general consensus. Then we summarized what we found to give you the info you need.
What You Need to Know
To start with, Censor has several ingredients that have some positive effects. There are omega oils and linoleic acids that often help with circulatory problems. Censor comes in a soft gel, and 2 tablets are to be taken 3 times daily at meals. NDS recommends taking this on top of a healthy diet and 30 minutes of exercise each day.
NDS Nutrition has been around since 2002, and they have a good reputation for quality products among health supplement companies. Censor is available through the official website, health stores, and online retailers. We like that they have some positive reviews, that the gels are convenient and easy to take, and that the company has some longevity, but read on…
Price – "Too Much for Me"
Our first concern with many products is the price, and Censor was no different. Dieting is not cheap, but with this one it could be too expensive for some. "Censor is only $60 per canister, but with 6 pills per day, it only lasts about 2 weeks," said our Research Editor. "When you add in shipping and handling, the monthly cost is nearly $150, and there's no money back guarantee."
"I liked the ingredients of Censor, but the total cost is way too much for me," said one user.
"Similar products are available in most drug stores for a small fraction of the cost of Censor," said another.
Scroll below for one of the best products we've seen over the last year.
Taste – "Not so Great"
Something else that we noticed in several reviews was the taste and aftertaste of the soft gels. "The gels leaked in the bottle and gave the rest of the gels a strong aftertaste," said one customer online.
"These capsules are low quality; I can taste the ingredients and the bitter flavor lingers," said another.
Many people agreed with these comments, but some offered advice to minimize the bitter aftertaste: "I took these before my meals so that my meal would cover up the brutal taste of Censor."
Our research has shown that whenever a diet supplement or workout program has particularly troublesome elements (painful workout routine, bad taste, high cost, negative side effects, etc.), the likelihood of long term success is slim. If Censor really does have a poor flavor that lingers, it could be difficult for dieters to lose weight.
The Science – "Clinically Proven?"
Censor claims to be a proven weight-loss supplement, but they also admit that when taken alone, Censor is not enough to guarantee results. There is some science proving that omega oils and essential fatty acids can be good for heart health, but these are not enough to lose weight without additional help. Without science proving it is effective, it's hard to justify the high price of this supplement and recommend it.
The Bottom Line – Does Censor Work?
Is it time to go out and pick up some Censor? We do like that the company has been around for over a decade, and that the pills are convenient and easy to take anywhere. Unfortunately, we are hesitant about recommending this diet supplement to our readers without published research proving that it is effective for weight-loss. We're also concerned about the bitter aftertaste reviewers mentioned, the higher price, and reported side effects ranging from nausea and jitters.
If you'd like to lose weight and keep it off, we suggest you find a product that offers a bang for your buck with an affordable price point and strong customer support.
Among the best products that we've seen in 2016 is one called Leptigen. The formula is a proprietary blend of just four ingredients. Each has been clinically tested and shows promise for boosting metabolism and weight-loss. Reviews online offer stories of some amazing results.
Right now the makers of Leptigen are offering a Special Trial Offer to prove to their customers that they are confident in the formula.