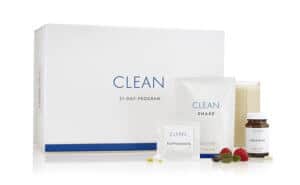 I'm here to cut through the noise and get you the bottom line on Clean Program. Here at DietSpotlight, we wrote a comprehensive review, focusing closely on the side effects, ingredients, customer-service quality and scientific research. Plus we read numerous user remarks and comments from around the web. Finally, we summarized and condensed to give you the important facts and details you need.
What is Clean Program?
First off, there are all sorts of internal cleansing supplements available. These products are often claimed to flush harmful waste, impurities and toxins from the body, while restoring the digestive tract. The Clean Program is no exception. It was created by Dr. Alejandro Junger. He found himself searching for a natural solution when his health began to decline. Soon enough, he decided diet and lifestyle are the key. He now offers shakes, health supplements and cleanse kits to help restore wellness and vitality.
We are not sure when this cleansing program first emerged. However, the products in this range are available directly from the official website. Some of the Clean Program ingredients include rice protein, fruit and vegetable fibers, vitamins and minerals, digestive enzymes, probiotics and antioxidants. There are even some helpful videos on the website to assist you, but read on…
Steep Price – "Can You Afford It?"
The first concern we have is with the price. "The actual cost of the 21-day Clean Program is $425, which is very steep. Naturally many people will find this unaffordable," says our Research Editor.
One customer stated, "Another rip-off for desperate people with IBS. $500.00 for the supplements. Worthless. Please don't be fooled as I was."
On the other hand, a different person commented, "A bit on the expensive side. The idea behind this Clean Program is good."
Another mentioned, "Will help cleanse your body of unwanted toxins and impurities. But you don't have to spend this much to do it."
Scroll below for one of the best products we've seen over the last year.
Side Effects – "Watch Out"
Another issue is Clean Program side effects. In fact, one person said, "Gave me serious diarrhea. What a rip-off. Don't waste your money."
But, a different user posted, "No serious abdominal pains or discomfort. Overall, not bad."
"Way overpriced, but it works pretty well," revealed another individual.
The extensive research we've done has shown if there is a specific part of a cleansing supplement or diet program that is very problematic (steep price, side effects, user complaints) the likelihood of long-term success is minimal. So, if the Clean Program does in fact cost too much for many people to afford, this could be a real dilemma.
The Science – "Is There Any?"
To start, the Clean Program was created by a medical doctor, and he says it's based on years of research. However, we did not find any actual studies on the official website. At DietSpotlight, we prefer to see some documented science that backs up the product or program and its marketing claims.
The Bottom Line – Does Clean Program Work?
So, should you spend your hard-earned money on the Clean Program? Well, we like that this supplement system contains fiber, antioxidants and vitamins. It's also good to see that some video testimonials are posted on the main website. Then again, we have some reservations about this cleansing program because it's not backed by any documented studies. Also, we're concerned about the very steep price tag.
If you'd like to get rid of more pounds, then we suggest you go with a product that is backed by solid clinical research, does not cost you an arm and a leg and is easy enough to take/use anywhere.
Among the best products we've seen in 2016 is one called Leptigen. Its formula is a unique blend of four ingredients, which have been shown in published clinical research to help ignite fat loss and kick-start metabolism. Be aware that we can't find any negative user reviews, and comments around the web express people are seeing wonderful results.
The makers of Leptigen are so confident in their product they're offering a Special Trial Offer, which is very encouraging.