Updated: 09/29/2015 - Sponsored by Leptigen
Dherbs Full Body Detox Review - Does This Full-Body Cleanse Work?
Are side effects and cost deal breakers?
PUBLISHED: 09/10/2015 | BY: SUMMER BANKS, SENIOR REVIEWER
Editor
's Review:
3.5
/ 5.0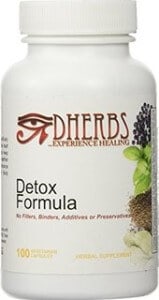 We've noticed dieters are intrigued with Dherbs Full Body Detox, so we examined the ingredients, side effects, customer service and science. We also read hundreds of user comments and reviews. We then consolidated and refined to give you the info you need.
EDITOR'S TIP:
Combine Dherbs Full Body Detox with a proven fat burner such as
Leptigen
for better results.
What You Need to Know
The Dherbs Full Body Detox ingredients include several formulas targeting vital systems in the body. If followed as recommended, you take the Dherbs Full Body Detox cleanse for 20 days, resulting in a normalized body function, improved circulation and increased energy levels. One benefit is ease of use.
The supplement, introduced in 2004, does not use artificial ingredients, a good start. You can buy Dherbs Full Body Detox on the official website or through trusted online retailers. We do like that there are some positive reviews from users and the longevity of the company, but read on…
Side Effects – An Issue?
The first issue we had was potential Dherbs Full Body Detox side effects. "There's a lure to detoxing supplements," says our Research Editor. "Dieters think they can force out those extra pounds in a unique way, but they are often disappointed."
"This was the most horrible cleanse I have ever tried. I vomited so much," said one buyer.
"I constantly had headaches along with stomach cramps after following the instructions and using the products," commented a consumer.
Scroll below for one of the best products we've seen in 2015.
Price – Breaking Your Wallet?
Regardless of some of the positive reviews we found on the web, Dherbs Full Body Detox is pricey. Several people commented the supplement costs more than other cleanses. "The details related to the additional cost for the recommended foods, drinks… should be advertised up front. This cleanse is very costly and that should be advertised up front, not hidden in the information included in the package with how to use the product," said a consumer.
"There's other cleanses out there that's less expensive, does not require you to take as 20 pills per day," said one user.
"A waste of money!!! All I needed was the colon cleanse. I should've requested a full refund. 130.00 Down the drain!!!," a dieter offers.
Our research concludes that any part of a supplement deemed problematic, like price, could put a damper on long-term success. If Dherbs Full Body Detox is as expensive as customers claim, there's reason for concern.
The Science
There's no scientific research supporting the claims on dherbsfullbodydetox.com. The detox contains laxatives and diuretics, promoting water loss, but that's about it. At DietSpotlight, locating science, backing weight-loss statements, is critical. If there is none, we have concerns.
The Bottom Line
After investigating Dherbs Full Body Detox, we reached a resolution. The longevity of the company and some favorable user comments are positives, but we can't recommend it because the weight-loss claims aren't supported by clinical research. We have concerns about the customer service department not being supportive and an unprofessional looking corporate headquarters.
If you'd like to help your waistline, we recommend you go with a cost-effective supplement containing ingredients supported by published clinical studies.
Among the best products we've seen in 2015 is one called Leptigen. The supplement has a proprietary blend of four ingredients, highlighted in published clinical research to help ignite fat loss and invigorate metabolism. Dieters aren't mentioning adverse side effects and reviews around the web show consumers are seeing positive results.
Also, the makers of Leptigen are so confident in their supplement, they're providing special trial offer, which is a good decision.