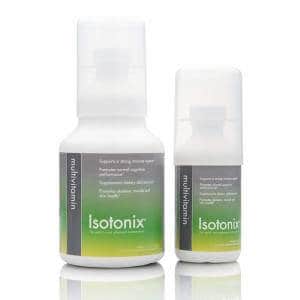 97% of dieters just want a product that works. Yeah, we don't understand that remaining 3%, either. Our in-depth looked at Isotonix side effects, ingredients, scientific research and customer service. We also dove deep into hundreds of user comments and experiences to find the facts. Then, we summarized and refined to give you the info you need.
What is Isotonix?
Firstly, Isotonix is a supplement manufacturer focusing on products in powdered form. The ingredients are grape seed, red wine extract, pine bark, billberry, citrus, vitamins and minerals. The company offers a wide variety of multivitamins, wellness supplements and weight-loss products. Usage depends on the supplement. [1][2]
Isotonix has been around for over 10 years. The products are available on the official website and through trusted retailers. We like that we found some positive customer comments and the use of a few natural ingredients, but read on…
Price – "Wowsers?"
The first issue we came across with Isotonix ingredients was price. While it seems affordable at first glance, it's much more expensive than a daily multivitamin or wellness supplement that you could get at the drug store. "Isotonix isn't prohibitively expensive," said our Research Editor. "But compared to similar products, it's more than double the price for the same ones in tablet form."
"Before I realized it, I had $300 worth of Isotonix products," said one user.
"These…seem to do the trick, but is it really that different than what I can get at Walgreens?," said another.
According to some Isotonix reviews, cost didn't come into the equation.
"I have been using Isotonix opc-3 for a month. My health is worth this price," said a user.
Scroll below for one of the best products we've seen over the last year.
Inconvenience – "Concerning?"
One other complaint that many people have pertains to the powders as an inconvenience. "I've been taking Isotonix for a month now, but I miss at least one day a week because [they] are so inconvenient," said one customer.
"These seem to work when I can get the mix right, but that's only about half the time," offers another.
"I hope I'm getting the mixture right, but I'm not seeing any results," explains one frustrated reviewer.
We found that not every dieter thought Isotonix was inconvenient. [3]
"I take it in the am as soon as i get up, mix 1 and 1/2 caps full of water (cap that is on the container) and 3 of the lids that hold the powder in, and mix it up," said a customer.
"I've been taking OPC for over 15 years, and it's easy to take, mix and drink first thing every morning," reported another.
Throughout our research into supplements, whenever there's something that's concerning, like being inconvenient, long-term success is slim. If Isotonix takes too long to prepare, this could be an issue. [4]
The Science – "Clinical Proof?"
Some of the Isotonix products are well-researched and proven to help with weight-loss. Unfortunately these same ingredients are in the supplements that you can find at a fraction of the cost on the shelves in any grocery or drug store. These do have the benefit of taking effect faster, but that benefit isn't worth paying double for. Here at DietSpotlight, in order to recommend something it must be better than more affordable alternatives and proven in clinical studies. When you're paying more for something that offers similar results, we lean toward the cheaper alternative. [5]
The Bottom Line – Does Isotonix Work?
So, the last of the facts have trickled in. What's our take on this one? We like the fact that Isotonix has been on the market for over 10 years and that it seems to have developed a cult-like following. We also like the results that some users have seen and that the product is readily available, but we have reservations recommending this because of the more affordable alternatives on the market that accomplish the exact results. [6] We're also concerned about the inconvenience of mixing the powders. [7][8][9][10]
If you'd like a convenient, affordable way to lose, we suggest a supplement that provides healthy and steady weight-loss with a formula that has ingredients backed by published research and trials. We also suggest you find a product that doesn't have cheaper alternatives that provide the same benefits.
Among the best products we've seen in 2016 is one called Leptigen. This proprietary blend of four ingredients has been clinically proven to help boost weight-loss by promoting metabolism and fat loss. The supplement has not led to any adverse side effects and users online seem happy with the results that they've seen.
Right now, the makers of Leptigen are standing behind their product with a Special Trial Offer, which shows just how confident they are that you'll love the supplement.