Updated: 09/29/2015 - Sponsored by Leptigen
Isotonix Review - Does This Wellness Supplement System Work?
Are cost and inconvenience deal breakers?
PUBLISHED: 08/19/2015 | BY: SUMMER BANKS, SENIOR REVIEWER
Editor
's Review:
3.5
/ 5.0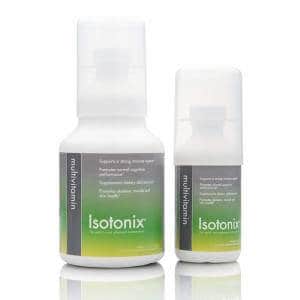 Oils are a trendy item when it comes to supplements, and we've all got a friend that is pushing essential oils, or some other oil based supplement. Because of the growing popularity, we did one of our reviews, taking an in-depth look at the ingredients, side effects, and supporting scientific research, and what customers online had to say in reviews and forums. This review provides you with all you need to know in a summarized and condensed format.
EDITOR'S TIP:
Combine Isotonix with a proven fat burner such as
Leptigen
for better results.
What You Need to Know
Isotonix comes in a liquid form, and is designed to be taken after meals. Because they come in liquid form, the ingredients are more readily absorbed into the body, to create a faster effect. Isotonix offers a wide variety of multivitamins, wellness supplements, and weight loss products in liquid form, requiring customers to mix the formula prior to taking it, which can be a bit inconvenient.
Isotonix has been around for over 10 years, and their longevity in the weight loss industry is a positive indication. Their products are readily available online, and there are minimal side effects, as long as you aren't allergic to any of their ingredients. We also like that they have products geared towards just about every age group, but read on…
Price – "Yee-Ouch"
While Isotonix seems affordable at first glance, it's much more expensive than a daily multivitamin or wellness supplement that you could get at the drug store. Wellness oil companies also tend to drag you in once you start buying one product, because they offer everything you could ever need to live a better life. Because of this, many users are sucked into buying more than they need, which can quickly add up. "Isotonix isn't prohibitively expensive," said our research editor. "But compared to similar products, it's more than double the price for the same products in tablet form."
"Before I realized it, I had $300 worth of Isotonix products," said one user.
"These oils seem to do the trick, but is it really that different than what I can get at Walgreens?," said another.
Scroll below for one of the best products we've seen in 2015.
Inconvenience – Another Concern
One other complaint that many people have in general about oils is the inconvenience. Because they come in liquid form, and must be mixed prior to ingestion, these can be incredibly inconvenient and difficult to get right. Mixing them improperly, missing a dosage, or taking less than the recommended amount can all mitigate the benefits of Isotonix products. "I've been taking Isotonix for a month now, but I miss at least one day a week because the oils are so inconvenient," said one customer.
"These seem to work when I can get the mix right, but that's only about half the time," said another. Many online reviews were similar; mixing the oils seems to be a complicated process that can be difficult to get right. "I hope I'm getting the mixture right, but I'm not seeing any results," said one frustrated review.
Throught our research into today's diet and wellness supplements, we've seen that whenever there is something that is more difficult or troublesome than necessary (difficult workout, painful exercise, supplements with side effects, cost, inconvenience, etc.), the likelihood of losing weight and improving your lifestyle long-term are slim. If Isotonix really is inconvenient and more expensive than alternatives, this could be an issue.
The Science
The ingredients in Isotonix products are well-researched and proven to help with weight loss. Unfortunately these same ingredients are in the supplements that you can find at a fraction of the cost on the shelves in any grocery or drug store. These do have the benefit of taking effect faster, but that benefit isn't worth paying double for oils over capsules. Here at DietSpotlight, in order to recommend a product it must be better than more affordable alternatives and proven in clinical studies. When you're paying more for something that offers similar results, we prefer the cheaper alternative.
The Bottom Line
We like the fact that Isotonix has been on the market for over 10 years, and that it seems to have developed a cult-like following. We also like the results that some users have seen and that the product is readily available, but we cannot recommend this product because of the more affordable alternatives on the market that accomplish the exact same purpose with the same ingredients. We're also concerned about the inconvenience of mixing the oils, and the likelihood of relying on additional oils that can further increase the cost of Isotonix.
If you'd like a convenient, affordable way to lose weight, we suggest a supplement that provides healthy and steady weight loss with a formula that has ingredients that are backed by published research and trials. We also suggest you find a product that doesn't have cheaper alternatives that provide the same ingredients and benefits.
One of our favorite products so far this year is a product named Leptigen. This proprietary blend of four ingredients has been proven to boost weight loss, and it has a unique formula that isn't available anywhere else. The ingredients have not led to any adverse side effects, and users online seem happy with the results that they've seen using Leptigen.
Right now, the makers of Leptigen are standing behind their product with a special trial offer, which shows just how confident they are that you'll love their product and see immediate results.