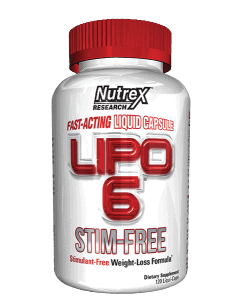 It's been a long journey but I feel I'm now qualified to advise you on whether or not to take Lipo 6. We conducted one of our in-depth reviews, examining the side effects, ingredients, customer service and clinical studies. Moreover, we checked out hundreds of dieter reviews and user comments from all over the web. We then summed up all the data we found in order to give you the information you need.
EDITOR'S TIP:
Substitute Lipo 6 with a proven fat burner such as
Leptigen
for better results.
What You Need To Know
To start, Lipo 6 should be taken in the morning prior to breakfast, and then again in the afternoon. It's important not to exceed four liqui-caps per day. This diet aid contains caffeine anhydrous, synephrine HCL, synthetic guggulsterones Z&E, bioperine and yohimbine HCL. Lipo 6 is supposed to help target stored body fat and accelerate weight-loss. It's touted as a maximum-strength formula (contains liquid capsule technology) that takes effect quickly and it's easy to take on the go.
Lipo 6 was first released back in 2005 and it's made by Nutrex Research, which was founded in 2002. This supplement can be purchased via the official website and through offline retailers. We like that the company has longevity in the market and we found some reasonable sounding weight-loss claims, but read on…
Class Action Lawsuit – "Worrisome?"
The first issue we worried about was the class action lawsuit against the Nutrex Research. Our Research Editor stated, "While taking an extensive look at Lipo 6, we noticed that a class action lawsuit was filed against the company. It's clear that some users experienced irregular heartbeat, hyperthermia and other harmful side effects."
One customer said, "High level of caffeine that made me shake, my heart was speeding fast, I was so scared! Never want to see this again."
"I suddenly felt a sudden rush of anxiety and nausea grip my stomach. I had difficulty remaining calm whilst waiting to arrive at work. When I got off the bus I started retching but wasn't sick. I went into work but felt completely out of sorts," said another user.
Scroll below for one of the best products we've seen over the last year.
Dangerous Ingredients – "Eeee Gads!"
After taking a look at all sorts of customer reviews for Lipo 6, it's clear that the key ingredient blend in this supplement could be unsafe. In fact, one customer complained, "Took 2 pills an hour before lunch and dinner. The next day my hands and feet got puffy, red, hot and itchy. Needless to say I didn't take any more pills."
Another user stated, "I've been taking Lipo-6 for about two weeks. I feel light headed at times and very anxious."
After conducting plenty of research, it's clear that if some certain part of a diet program or pill is a major concern (a painful/difficult exercise routine or customer lawsuits) the likelihood of weight-loss for the long term is slim. Therefore, if Lipo-6 does lead to serious side effects in a lot of people, this could be a real problem.
The Science – "Verifiable Claims?"
It's clear that the Nutrex Research website says Lipo-6 will cause dramatic fat loss in a short period of time. Sadly, we can't find any published clinical evidence to support this claim. There are a few ingredients that have been tested, but based on the reported side effects there could be more than needed and thus the risks increase. We at DietSpotlight believe finding documented science is critical to us. Without it we simply don't trust the product.
The Bottom Line – Does Lipo 6 Work?
So, what's the take. Should you speed to the nearest store to clear the shelf of this one? We are intrigued by Lipo-6's big weight-loss claims, but we can't encourage dieters to buy this product, because there is simply no clinical data to support it. Moreover, the lawsuit involving Lipo-6 is very concerning and it's clear that the ingredient blend in this supplement can potentially cause side effects.
If you'd like to slim down quickly and rock your best body, we encourage you to select a weight-loss supplement that does not lead to dangerous side effects and is actually supported by real clinical evidence. It's also a plus if there have been no lawsuits on the docket.
Among the best products we've seen in 2015 is one called Leptigen. It contains a proprietary blend of four effective ingredients, which have been proven in documented scientific research to help speed up fat loss and increase metabolism. We can't pinpoint any negative feedback regarding harmful adverse effects and user reviews on the internet indicate people are getting amazing results.
Also, the makers of Leptigen are so confident in their product they're offering a special trial offer, which is a good sign.