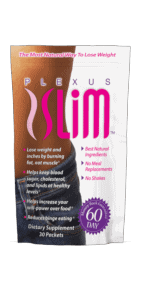 In my never-ending quest for the perfect diet product, this week I reviewed Plexus Slim. Touted by one news station as the "Pink Drink Diet Craze," we needed to know more about what's behind this one. So we looked closely at ingredients, side effects, clinical evidence and customer service. Plus we read hundreds of user comments from around the web. We then condensed that information to offer you the bottom line.
EDITOR'S TIP:
Combine Plexus Slim with a proven fat burner such as
Leptigen
for better results.
What You Need to Know
First off, Plexus Slim is a powdered packet that adds weight-loss ingredients to a bottle of water. The product is made up of green coffee bean, garcinia cambogia and alpha lipoic acid. You can drink it twice daily, but that means you'll only get 15 days worth of supplement in a single order. It can be taken on the go, a good choice for busy dieters.
Plexus Slim was introduced in 2011 – that's about four years in the business. The official website carries the product, but we don't think it is available in stores. Plexus Worldwide, the makers of Plexus Slim, have a good BBB rating and the company has been around a decent amount of time, but read on…
Price – "Wowsers?"
The first thing we took into consideration was Plexus Slim price. "This product has a couple of ingredients that can help you lose weight," says the Research Editor. "The problem is that you have to buy two packs to last one month. If you take it twice a day, as suggested, you will fork over almost $170 a month."
"I have considered Plexus but it is too pricey for me. I would love options that are a fraction of the cost," complains one dieter.
Another consumer believes Plexus Slim is "[a] particularly over-priced hyped-up VITAMIN."
Scroll below for one of the best products we've seen over the last year.
No Clinical Research – "Not a Good Idea"
We are concerned by the fact there are no clinical trials – and the company does not plan on testing Plexus Slim either. In a review with a major television station, Alec Clark (the Chief Marketing Officer), claims Plexus Slim will never be clinically tested. "It's not a drug and drugs need to have clinical trials behind them."
In our experience researching weight-loss supplements, we found a big negative, like high price or no customer service (Plexus doesn't offer customer service), can ruin the experience and decrease the chance of long-term success. As a result, we found Plexus Slim's price and lack of customer service to be potential problems.
The Science – "Any Clinical Proof?"
As mentioned, Plexus Worldwide will not test Plexus Slim clinically. Additionally, we did find that the Plexus Worldwide website was cited by the Food and Drug Administration for several infractions, including false claims and incorrect dosing instructions. Information read more like a medical statement. At DietSpotlight, it's the science that sets one product apart from others on the market. In this case, there's nothing to go on.
The Bottom Line
So, does this one live up to our expectations? We were initially intrigued by Plexus Slim. Four years on the market is a decent amount of time and there are a few good ingredients in the formula. However, what concerns us and leaves us up in the air about it most are the price, lack of customer service and the company's rejection of clinical support. Also, it is a multi-level marketing company, so you likely have to find a distributor to buy a normal quantity of it.
If you'd like to shed unwanted pounds, we recommend you try a product that combines scientific support, a good price and a dedicated customer service team.
Among the best products we've seen in 2015 is one called Leptigen. Its formula is a proprietary blend of four ingredients, which have been shown in published clinical research to help accelerate fat loss and boost metabolism. We can't find any talk of harmful side effects and comments around the web indicate people are seeing great results.
The makers of Leptigen are so confident in their product they're offering a Special Trial Offer, which is a good sign.