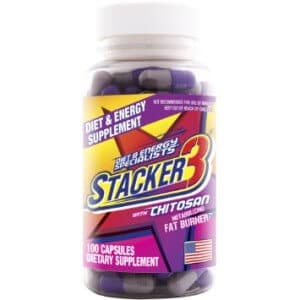 97% of dieters just want a product that's effective. Yeah, we don't understand the remaining 3%, either. For Stacker 3, we dug deep into the ingredients, side effects, scientific research and quality of customer service. We dissected hundreds of consumer comments and reviews. We then refined and summarized to give you the info you need.
What You Need to Know
To start, Stacker 3 ingredients include green tea, taurine, chromium, garcinia cambogia extract, white willow bark, chitosan and caffeine. The recommended dose is one capsule, three times per day with the results being, increased energy levels and weight-loss, according to product claims. The small size of the pill makes it easy to take on the go.
The product was introduced by NVE Pharmaceuticals Inc in 2003. It uses some natural ingredients, a good decision. You can purchase the supplement at your local retail store or on the web. We do like that the cost is reasonable, but read on…
Side Effects – "Out of Body Experience?"
The first concern regarding the Stacker 3 side effects is stomach pains. "When you take thermogenic supplements, you will notice changes like increased energy," said our Research Editor. "But, dieters don't expect adverse reactions when taking the pills."
"I used stacker 3 xplc to improve my energy at work. I thought everything was ok at first but after a year of one pill a day it affected my kidneys. No stars only pain and regret," commented a dieter.
"I took these once a day for five days with meals. On the fifth day I started experiencing serious side effects like dizziness, numbness in my fingers, and rapid heartbeat," stated a user.
Scroll below for one of the best products we've seen over the last year.
FDA Warnings – "A Major Concern"
On several occasions, NVE Pharmaceuticals Inc. has been contacted by the FDA due to mislabeling supplements. In April of 2004, the company received a letter warning of undisclosed ephedra in products. In September of 2012, the business received additional correspondence highlighting formulas with claims that were misleading.
Ineffectiveness – "Doesn't Work?"
After researching consumer comments on the web, the consensus is that the supplement is ineffective. The majority of the reviews state customers take the product for months with no results. "I started this 1 month ago, using it as directed with normal diet & regular exercise, & I've gained 8 pounds!," states a consumer.
"When I was taking it I didn't lose any weight, I actually started gaining it!," said a dieter.
"I first used Stacker 3 for weight loss, and I did not notice any weight loss," claims another.
According to our research, if there is one issue, like ineffectiveness, chances of long-term success could be reduced. If Stacker 3 doesn't produce results, we have concerns.
The Science – "Valid?"
Considering Stacker 3 doesn't have an official website, there is limited information relating to the scientific research supporting weight-loss claims. We even checked the corporate site and the company doesn't provide proof of effectiveness. For us at DietSpotlight, having published clinical data backing information is critical. If there's no science, what's to keep the dieter around?
The Bottom Line – Does Stacker 3 Work?
So, what happened at the end of our review? After taking a comprehensive look at Stacker 3, we've come to a conclusion. The company offers some positives such as the longevity in the industry and the inclusion of a few natural ingredients, but we have reservations about it because of the lack of published clinical research supporting weight-loss claims. We're also concerned about the FDA rulings against NVE Pharmaceuticals and the number of complaints found in forums.
If you'd like to transform your body, we recommend going with a supplement that contains ingredients supported by published clinical studies with no reported side effects. It is important for the company to be legitimate and professional.
Among the best products we've seen in 2016 is one called Leptigen. The formula contains a four-ingredient, proprietary blend, shown in published scientific research to help enhance metabolism and spark fat loss. On the web, there are no comments about adverse side effects, but consumers are noticing amazing results.
Also, the makers of Leptigen are offering a Special Trial Offer. A good choice and a sign of confidence.