LipoRush Review

- 15 Things You Need to Know
LipoRush by NDS Nutrition is a potent thermogenic that NDS claims are in "a class of its own," and the company believes you will "transform your body" by using the product. While we like some of the natural ingredients in LipoRush, the ingredient list is so long that it could be difficult for even an expert to discern which ingredients are effective and which are not. While the formula contains a few ingredients with fat-loss potential such as blackberry extract, the primary ingredient is caffeine, making the product unique.
Nevertheless, our research team took a deep look into LipoRush, researching the more-obscure ingredients and determining which were effective for fat loss and which were not. Read on to learn what we found.
LipoRush can be purchased through their Official Site.
LipoRush Video Review
Overview
What is LipoRush?
LipoRush is a thermogenic supplement marketed to aid the body's fat-burning process, and it is for adults over 18 years of age.
This stimulant-based product contains a diverse range of compounds that allegedly speed up the fat-burning process, but does the research prove that?
LipoRush Competitors
How Did LipoRush Start?
NDS, a company operating under FitLife Brands, Inc. in Nebraska, manufactures and distributes LipoRush.
All of the supplements manufactured by NDS are promoted and sold through the GNC franchise system.
Scroll below for one of the best products we've seen over the last year.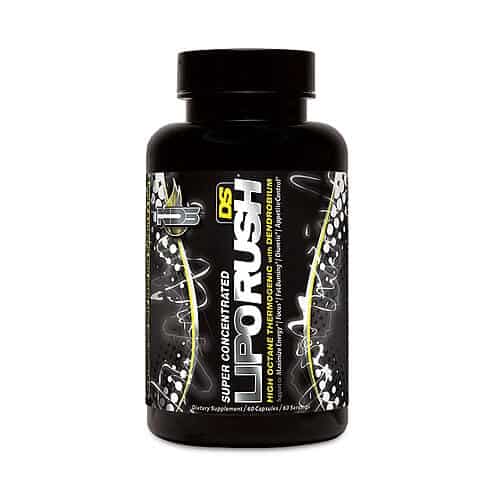 Claims
LipoRush Claims
LipoRush claims to be a high-octane thermogenic powerhouse that can destroy fat with one single capsule.
The company also claims that the product will entice people who want speedier weight loss.
LipoRush tends to reduce an individual's appetite while increasing mental capacity and helping that person attain a more defined body.
Ingredients
LipoRush Ingredients
LipoRush consists of the following ingredients:
Caffeine
Emplica Officinalis
Beta-Phenylethylamines
Hordenine
Dendrobium
Theobromine
Ashwagandha
L-glutamine
July 2019 UPDATE: The newest version of Liporush, Liporush DS 2, changed up ingredients a bit. The ingredients in the new formula include:
Caffeine
Amla Fruit Extract
Lotus Seed Extract
Dendrobium
Theobromine
Yohimbe Bark Extract
Dandelion Root Extract
Blackberry Extract
Gugulipid Extract
L-Carnitine
Chinese Licorice Root
Ashwagandha Root
Rhodiola Rosea Extract
Glutamine
Leucine
Isoleucine
Valine
How Does LipoRush Work?
LipoRush has a unique combination of thermogenic supplements that claim to flush out the extra fat.
The fat burning process is expedited by stimulating the adrenal hormones, thereby increasing the testosterone levels. The amino acids present in the formula also speed up the protein synthesis essential for muscle growth and staving off hunger.
LipoRush also claims to stimulate the metabolic activity of the body. This metabolic stimulation accelerates the fat burning process by increasing the lipid production rate and keeping the digestive tract intact.
LipoRush Fat Burner Formula
LipoRush is produced as a combination of four different blends, each one targeting a different issue:
Lipo Burn Blend, 440 mg
This blend is a concoction of active stimulants, antioxidants, and fat burners. This thermogenic combination of stimulants allegedly raises the body's energy levels and destroys fat while slowing down the digestion process and increasing the body's metabolic activity rate.
Water Shred Blend, 175 mg
This diuretic blend consisting of dandelion root extract and Uva Ursi is to help the body get rid of excess water by making the user urinate often.  This formula allegedly promotes a more lean and defined look, and L-carnitine is added to boost the growth of muscle mass by aiding the conversion of fats to energy.
Neuro Recovery Blend, 50 mg
As the name suggests, this blend professes to improve the neural connections and boost focus and concentration.
Amino Fit Blend, 50 mg
This blend contains amino acids such as glutamine, leucine, isoleucine, and others, which aid in muscle growth and prevent muscle breakdown. Bioprene is supposed to help in the absorption of the other ingredients.
How Does LipoRush Burn Fat?
The Lipo Burn Blend is the central portion of the product that targets fat burning. This blend is composed of the following ingredients:
Caffeine Anhydrous
Anhydrous caffeine is caffeine from which all water has been extracted. The manufacturers of caffeine anhydrous claim it acts as an energy booster and fat burner.
Beta-Phenylethylamine HCL
Better known as PEA, this stimulant acts as an energy booster. It results in boosting the fat burning rate.
Synephrine HCL
Synephrine HCL is a powerful stimulant that is a supposedly safer alternative to ephedra.  It increases the body's adrenaline levels and speeds up metabolism, allegedly resulting in faster fat breakdown.
Dendrobium
Dendrobium is thought to help boost metabolism, energy levels, and concentration abilities.
Yohimbine
Yohimbine is a well-known stimulant used to improve athletic performance.
Dosage
LipoRush Dosage and Packing
GNC sells LipoRush on its website; each bottle contains 60 capsules. The recommended dosage is one capsule per day with a meal, which means the bottle will last for two months.
LipoRush shouldn't be taken within six hours of bedtime since the tablet contains stimulants.
Benefits & Results
LipoRush Benefits and Results
Here are some of the claimed benefits of LipoRush:
Activates Thermogenesis
Thermogenesis is essential for weight loss. Taken with a regular regimen of healthy eating and exercise, LipoRush can potentially promote weight loss.
Energized and Charged All Day
People taking LipoRush daily have reported that they were highly active during the day. The users had increased energy levels.
Increased Concentration
Many LipoRush users stated that they started feeling more focused and less tired even after a heavy workout or exercise regimen.
Cost-Effective
The LipoRush product is not as expensive as other competitor supplements on the market. One 60-capsule bottle is $75.99 on the GNC website.
Side Effects
Potential LipoRush Side Effects
The LipoRush label states the following:
Not for use by those under the age of 18.
Do not use if pregnant or nursing.
Do not take if one has certain medical conditions.
Drink at least 6-8 ounces of water to avoid dehydration.
Eat a proper diet and refrain from drinking alcohol.
The LipoRush formula contains diuretics, which may increase urination and may result in dehydration.
Users may encounter hyper-alertness, dry mouth, irritability, and an increased heart rate.
Also, there are some significant side effects as well, such as severe headaches, mood swings, irregular stools, nausea, and more.
Who Can Take LipoRush?
Liporush is not a gender-biased product.
LipoRush is not for pregnant women and those women who are trying to conceive.
Moreover, some of the ingredients in LipoRush have been banned by sports organizations, so professional and college athletes should avoid taking LipoRush.
How Long Can a Person Take LipoRush?
LipoRush's label states that it is not for use more than eight weeks.
Where Can One Buy LipoRush?
LipoRush is sold on GNC's website, and it can also be found on other websites such as eBay and Amazon.
Amazon and GNC offer the best price for LipoRush.
Right now, LipoRish and LipoRush DS 2 are not available on the official website. However, there are some alternatives available, like LipoRush XT and LipoRush XTP.
LipoRush and Weight Loss
LipoRush alleges that it helps accelerate the weight loss process.
However, the product also states that "For best results, consume it along with a proper workout and healthy diet."
Since diet and exercise are the critical factors involved in weight loss (for most people), why should this product be used?
Product Warnings
LipoRush Product Warnings
The GNC website contains a long list of warnings about consuming LipoRush:
The recommended dosage should not be exceeded.
Caffeine or synephrine should not be consumed from other sources as it may lead to overstimulation.
The product should not be used by individuals who are prone to excessive dehydration.
There is a harmful chemical present in the product (banned by the State of California), which may cause serious side effects.
LipoRush Fat Burner Alternatives
Here are some of the key players in the weight-loss market which can be used as replacements for LipoRush:
Alpha Lean-7 (Hard Rock Supplements)
Phenocal
Hydroxycut Hardcore
HydroxyElite (Hi-Tech Pharmaceuticals)
Phenadrine
The Ripper
What Users Are Saying
What Users Are Saying
"Energy for days – Love this product literally would do a commercial for free."
"It made me sweat for maybe 30 minutes before I fell asleep. Which brings me to my next complaint, no boost of energy! I constantly fell asleep after taking this. The powder drink version is so much better!"
"Taste is good, but it's really just a bunch of caffeine – like waaaay too much caffeine! Gave me the shakes & felt nauseous after taking (& I've been drinking coffee for years!)."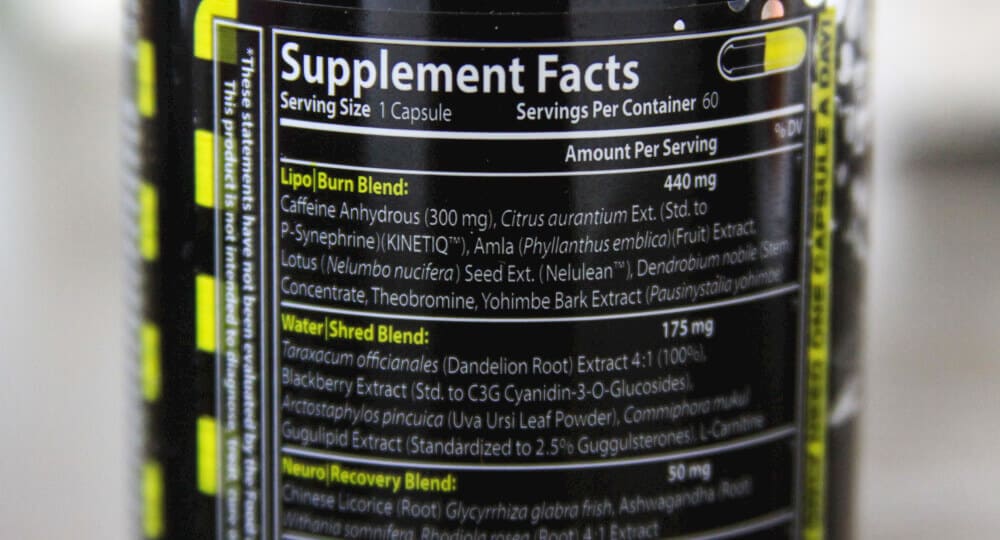 Bottom Line
The Bottom Line – Does LipoRush Work?
So, what's the final take on this fat burner? There are some positives, like the longevity of the company and a few favorable customer comments. Still, we have reservations about it because of the lack of scientific studies supporting weight-loss claims. We're also concerned that the business doesn't have a BBB rating and the addition of ingredients reported to cause negative side effects.
If you'd like to improve your waistline, we recommend you go with a product providing benefits supported by published clinical research that is both effective and backed by strong user support.
Among the best products we've seen this year is one called Noom. This program is not like other weight-loss apps available today. With Noom you get personalized meal plans, expert support, nutritionist-managed food database, exercise tracking and more.
The makers of Noom are currently offering a free trial offer, which is a sign that they're confident in their product.
Learn More About Noom »