Updated: 11/12/2017
- Site operated by Burn HD
If you've ever peeked into the world of superfood powder drinks, you've probably spotted Athletic Greens. It stands right there among some other big names on the market, promising the moon, and delivering benefits you can probably get at a fraction of the price. The first thing our team did was investigate the ingredients and side effects of this product. We had to look deeper to find out why this powdered shake costs so much. We then turned to the scientific research, after all, when a company pushes their product this much, with as many claims as they make, surely there's some solid evidence to back it? Finally, we took everything we found on this "Premium Superfood Cocktail," shortened it, and delivered it right to your fingertips.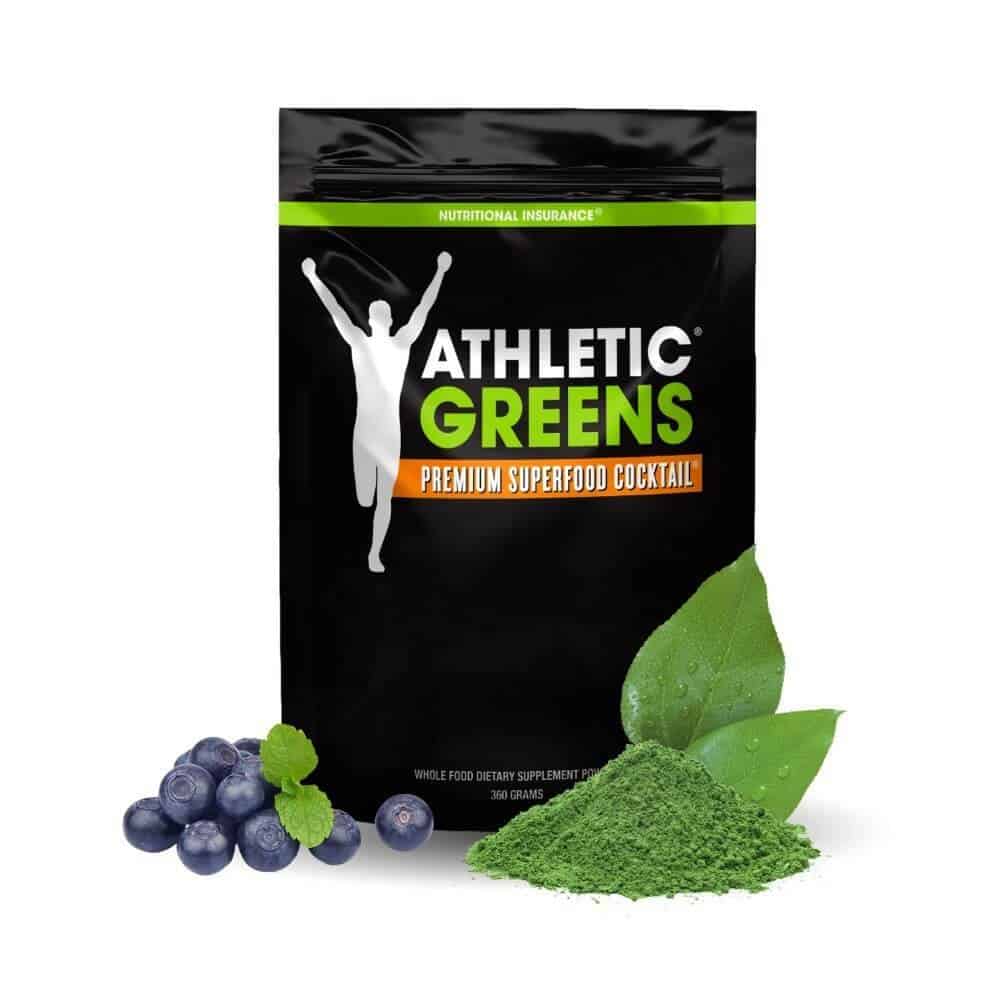 Athletic Greens Readers:
Click here
to find out why we're giving away samples of our product, Burn HD.
What is Athletic Greens?
First off, Athletic Greens is a superfood similar to a protein shake. Apparently, it contains 75 ingredients that are broken down into 4 categories:
Alkaline
Nutrient-Dense
Raw Superfood Complex
Nutrient Dense Natural Extracts, Herbs, and Antioxidants
Some of the ingredients in this powdered shake include:
Spirulina
Inulin
Wheatgrass
Broccoli flower
Green tea extract
Rhodiola rosea
Ashwaganda
Milk thistle
In addition to that, they include 7.2 billion probiotics from two different strands. At first glance, 7.2 billion seems like a lot, but as far as probiotics go, it's pretty standard. The average probiotic supplement contains between 1 and 10 billion.
At the price of this drink mix we were hoping for some exotic and magical ingredients. Something new. Something exciting – but alas. In fact, for as much as this company promises, you would think the ingredients would be one of the first things listed on their site. They even have an "Ingredients" tab – but it just leads you down a road to more claims.
The website does say you can mix this powder in water, juice or milk, depending on your preference, so there's that.
This supplement is designed to give you 12 servings of fruits and vegetables in just one serving of this product. Finally, something to get excited about. There are 30 servings in the container, and the cost per serving was enough to send our excitement blimp crashing back down to Earth.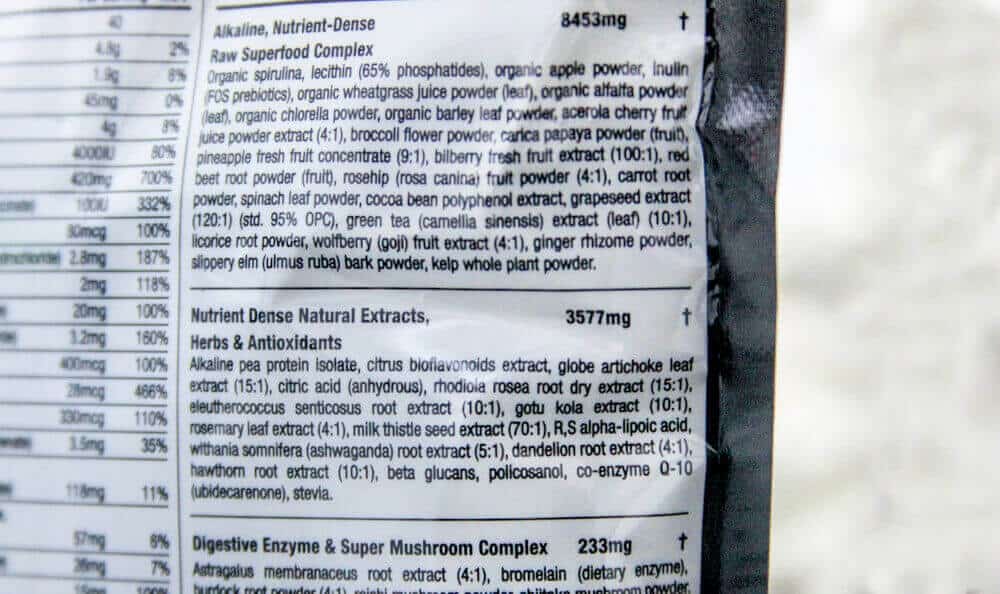 Products Similar to Athletic Greens
Athletic Greens Ingredients – A Closer Look
We really wanted to take a deep and thorough look into the ingredients of this product. We're hoping to find some research or truth behind this formula – anything to back the claims being made by the company.
Spirulina
Spirulina a blue-green algae that's safe for both humans and animals to consume. It's widely used as a dietary supplement and whole food. Spirulina is a type of cyanobacterium, and could produce harmful toxins called microcystins.
According to a report by Environmental Health Perspectives, microcystins are "potent hepatotoxins and probable tumor promoters."[1]
Evidence-Based Complimentary and Alternative Medicine says, "The positive effects of Spirulina in allergic rhinitis are based on adequate evidence but larger trials are required," going on to write, "there are no high-level evidence trials on the role played by Spirulina in chronic fatigue and in antiviral applications."[2]
The study touches on the cholesterol-lowering effects of the ingredient, but again, more trials are needed.
Green tea extract
Green tea is one of the most consumed teas in the world, and has been since Moses parted the Red Sea. This is because it's believed to be a powerful antioxidant with a ton of benefits from brain health, to heart and liver health, and even anti-cancer properties.[3]
A study by Chinese Medicine points to weight-loss benefits of this tea, writing, "Long-term consumption of tea catechins could be beneficial against high-fat diet-induced obesity and type II diabetes and could reduce the risk of coronary disease."[4]
About those anti-cancer claims…according to the National Cancer Institute, "Although tea and/or tea polyphenols have been found in animal studies to inhibit tumorigenesis at different organ sites, including the skin, lung, oral cavity, esophagus, stomach, small intestine, colon, liver, pancreas, and mammary gland, the results of human studies—both epidemiologic and clinical studies—have been inconclusive."[5]
So as for this ingredient, it can help with weight loss, but hasn't been proven to do much for what this product is claiming.
Ashwaganda
Ashwaganda is a plant – the roots and berries are used to make medicine. It's thought to be one of the most powerful herbs in Ayurvedic healing. Another ingredient that's been around for centuries, it's claimed to have rejuvenating properties that can help stress, fatigue and concentration. In Sanskrit, Ashwaganda means "the smell of a horse." So…yeah.
According to a study by the Indian Journal of Psychological Medicine, "high-concentration full-spectrum Ashwagandha root extract safely and effectively improves an individual's resistance towards stress and thereby improves self-assessed quality of life."[6]
However, in large quantities, this component can cause upset stomach, diarrhea, and vomiting.[7] I guess you take the good with the bad there.
Wheatgrass
Wheatgrass, as you may have already guessed, comes from the freshly sprouted leaves of the common wheat plant. This ingredient is most commonly used as a concentrated source of nutrients, containing vitamin A, vitamin E, vitamin C, magnesium, and amino acids.[8]
A report by Mini Reviews in Medical Chemistry says, "In animal experiments, wheatgrass demonstrated benefits in cancer prevention and as an adjunct to cancer treatment, as well as benefits to immunological activity and oxidative stress." They go on to mention, "However, all the trials were small and a number of methodological problems arose."[9]
BMC Complimentary and Alternative Medicine published a study on this ingredient, concluding, "Research regarding R. rosea efficacy is contradictory. While some evidence suggests that the herb may be helpful for enhancing physical performance and alleviating mental fatigue, methodological flaws limit accurate assessment of efficacy. A rigorously-designed well reported RCT that minimizes bias is needed to determine true efficacy of R. rosea for fatigue."[10]
So far, we're just trying to get a handle on these ingredients and all of this information. Everything we've examined so far indicates a potential for health benefits – but there's nothing concrete.
In addition to this, we couldn't find one single study on this formula to back up any of this product's claims.
Scroll below for one of the best products we've seen over the last year.
Athletic Greens Side Effects
If we're being honest with you, there's a potential for negative side effects – no matter what you take. With that being said, we noticed a fair share of customer complaints on side effects, so we thought we would plunge into them to find out what the deal is.
According to users, some of the most common side effects were:
Bloating
Constipation
Fatigue
Body aches
Changes in bowel movements
The next thing we did was take a look at the potential side effects from some of the main ingredients of the supplement.
Spirulina
Known and documented potential side effects of spirulina include:[11]
Headache
Sweating
Nausea
Difficulty concentrating
Ashwaganda
According to WebMD, "Ashwagandha is possibly safe when taken in small doses." Since we don't know how much of this ingredient is in this product's formula, we can't say for sure if it's within "possible side effects" territory – but nevertheless, here they are:[12]
Vomiting
Nausea
Upset stomach
Diarrhea
Rhodiola Rosea
Generally uncommon and mild, Rhodiola rosea side effects can include:[13]
Irritability
Insomnia
Increased blood pressure
Anxiety
Headache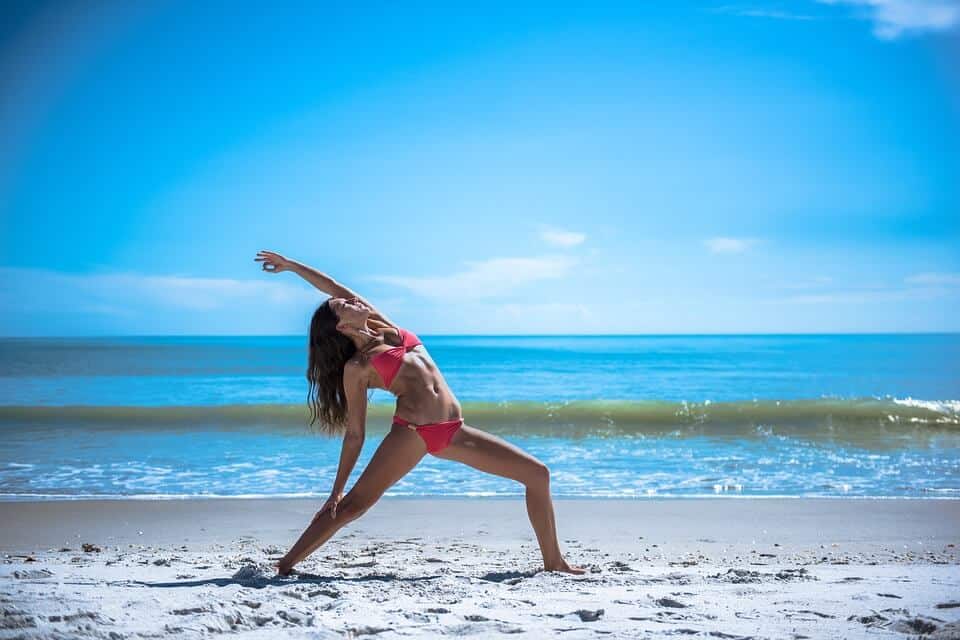 Athletic Greens Benefits
Alright, let's see if we can't turn this boat around and head for some more positive waters. This supplement comes along with a ton of nearly unbelievable claims, including:
Great taste
Immune system support
Optimal health
Can "replaces your current supplements"
Will fill nutritional gaps in your diet
Digestive health
The list goes on…
According to MedicalNewsToday, Rhodiola rosea can treat anxiety, fatigue, anemia, and headaches[14] – although some of the benefits seem to be contradictory to the possible side effects.
Athletic Greens for Weight Loss
Here's the funny part. One claim that was missing from the mouths of the makers was weight loss. This is extremely shocking to us for two reasons:
Nearly every supplement, even products that have nothing to do with weight loss, claim weight loss.
This product contains green tea extract – which is known to cause weight loss.
There's no shortage of Green Tea Extract scientific studies out there showing a potential for weight loss and the range of antioxidant benefits it possesses. Green tea contains epigallocatechin gallate, a substance that can boost metabolism.[15]
About The Company
Athletic Greens has been around for 8 years and is based out of Las Vegas, NV. The Better Business Bureau gives this company an A+, which contradicts customer complaints on "pushy" emails, but the BBB rating doesn't tell the full story.
As far as confidence goes, Athletic Greens has no shortage of it. They offer a "double your money back" guarantee if you find a better product. They write:
"Find a higher quality all-in-one supplement and get double your money back." That's pretty interesting.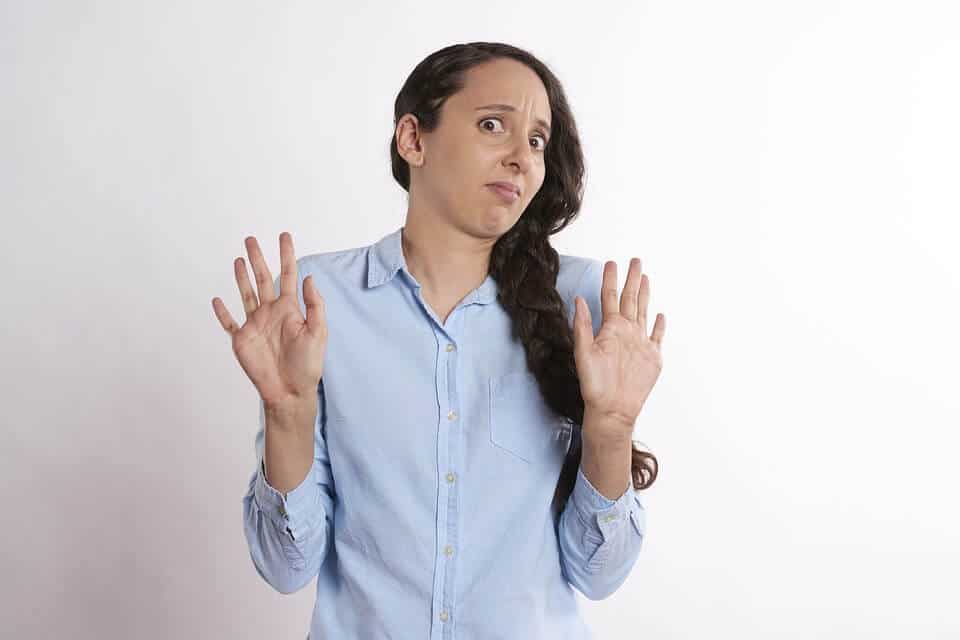 Athletic Greens Cost
It doesn't matter what we wrote in the paragraphs before this one – nothing will be as disappointing as what we're about to type out here.
One bag of this stuff (30 servings) will run you around $97. This comes to $3.23 per serving. That's just ridiculously high for a superfood product. Compared to other products, it's almost in another universe altogether.
You can buy it on their website, don't worry, they offer a "double deal" for almost $150. According to some users, you might receive some emails pushing the product on you once you've checked it out.
Oh, and those emails might increase once you buy the product. Nothing about this gets us excited – spam mail is never something you expect or want when purchasing a supplement.
Athletic Greens Alternatives
We've outlined some of the ingredients, touched on the benefits and side effects of the product, and even talked about the price. Now it's time to go over some of the possible alternatives out there.
Pharmafreak Greens Freak
For as much as this product claims to offer, the glowing difference between these two powdered supplements is the price. Pharmafreak Greens Freak offers their product at only $1 per serving – that's a pretty compelling reason to think about some of the alternatives out there.
On the other hand, Pharmafreak doesn't provide nearly as many vitamins and minerals as Athletic Greens. What it all comes down to here is price.
Winner: Tie
Green Vibrance
This powdered nutrition supplement contains some similar ingredients to Athletic Greens, but customers didn't seem to like the taste of Green Vibrance. One important factor to keep in mind when debating a product like this is flavor. Athletic Greens, according to customer reviews, wins in the taste department.
Winner: Athletic Greens
Amazing Grass Green Superfood
This product comes in a tub packed with 60 servings – double that of Athletic Greens. In addition to that, Amazing Grass carpet bombs this sundae with cherries by offering their product for $0.52 per serving. When it comes to the price – there's no comparison.
Winner: Amazing Grass Green Superfood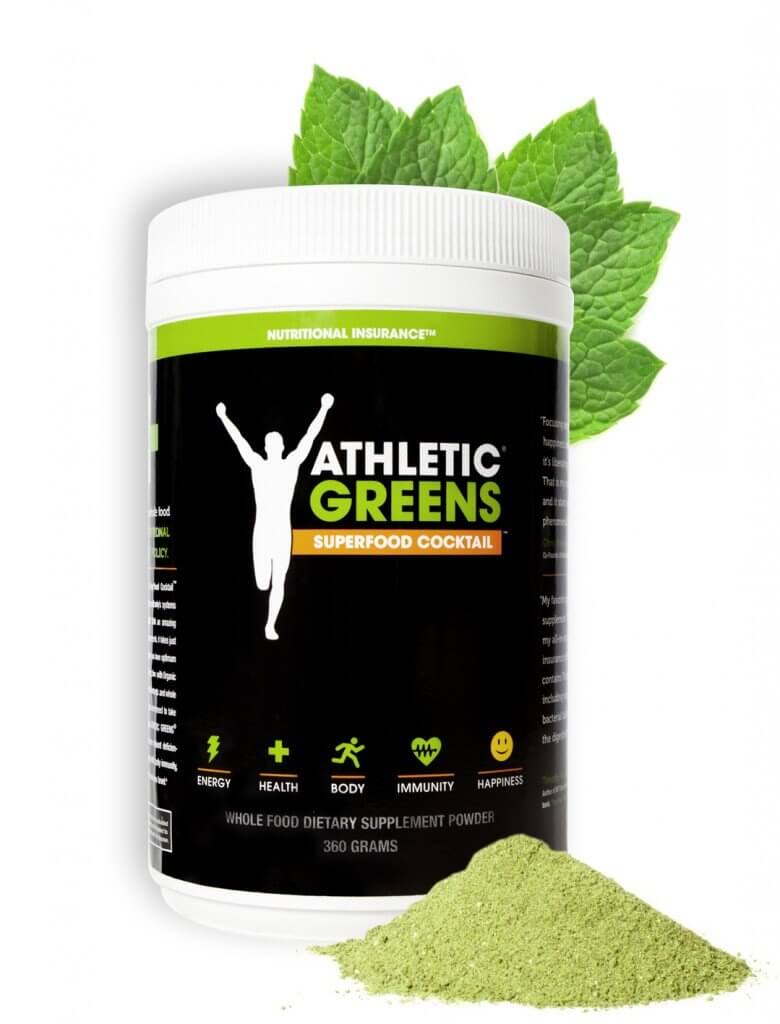 What Users Are Saying
"I just reordered my second package of Athletic Greens because it's been nothing short of a miracle for me. My energy is way up, my psoriasis is barely visible and I feel great. It is expensive, but with all the major food and nutrient sources it provides, it so worth it!!"
"Great product. Too expensive, but really effective."
"The taste is not good. It is grainy no matter how I mix it. I have had it in yogurt, smoothies and water and it is still very grainy. I have not lost weight or felt more energetic. It is very expensive and I don't feel that I have received any benefit by ingesting it."
The Bottom Line – Does Athletic Greens Work?
So is this where you snatch up your wallet and purchase this powdered superfood, or run far, far away? While researching this supplement we came across a wealth of information, and even more to shake our heads at.
We do like the ingredients here – we feel they're well-researched and effective for what the company is offering. We also like the comments on taste and quality, but there were just a few glaring issues:
Price
Lack of scientific research
Too many potential side effects
The price is astronomical, and the lack of research supporting this formula has us groaning. If you want to infuse nutrients into your daily diet to balance digestion and support mood, this may be your product -if you can afford it.
If you want to burn fat, increase energy and feel confident about your body, go with a supplement that's affordable and easy to take.
Among the best products out there is BurnHD. It contains a proprietary blend of four key ingredients, shown in studies to boost metabolism, increase energy levels and curb appetite. We couldn't find any talk of negative side effects and customer reviews are super positive, from real people seeing real results.
We're so confident that you'll love this product, that there's a Special Trial Offer going on so you can try it out for yourself – this is always a great thing.
Learn More About Burn HD »