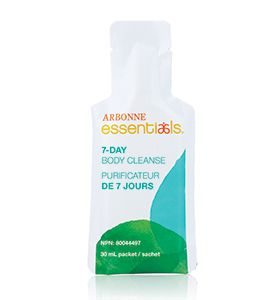 There's been quite the buzz around Arbonne 7 Day Body Cleanse. So we examined the side effects, ingredients, all clinical research, as well as customer service satisfaction. Additionally, we picked apart hundreds of user comments and reviews. Then, we condensed and summarized to give you the info you need.
What is the Arbonne 7 Day Body Cleanse?
First off, Arbonne 7 Day Body Cleanse is a one-week detox program. The ingredients are senna leaf, [1] fucoidan, astragalus, [2] rhubarb root, psyllium husk, milk thistle, blue green algae/spirulina, [3] red marine algae, cascara sagrada, buckthorn, slippery elm, [4] and meadowsweet. Mix one container with 32 ounces of water and drink once per day. It's intended to promote regularity and possibly help with with weight-loss. One benefit is that it comes in a prepackaged bottle. [5]
Arbonne 7 Day Body Cleanse was launched in 1980 by the company of the same name. [6] It's sold through online retailers, the official website and through consultants. The company has a good BBB rating and we like that we found some positive comments, but read on…
Arbonne 7 Day Body Cleanse Taste – "Is it Good?"
The first concern was the poor taste of Arbonne 7 Day Body Cleanse ingredients. "Taking the recommended dosage may help clean out your system," said our Research Editor, "but if you can't stomach it, you probably won't finish it."
"I personally didn't even make it to day 2 of this cleanse. The taste was bad," said one user.
"Not impressed and it tasted off," claimed another.
On the other hand, some customers didn't talk about the taste.
"When I mix it with juice, I don't notice the flavor," said a dieter.
Scroll below for one of the best products we've seen over the last year.
Arbonne 7 Day Body Cleanse Side Effects – "Not Good!"
After searching Arbonne 7 Day Body Cleanse side effects, we became concerned. "This product had the reverse effect on me. I ended up constipated," said a customer. [7]
"A friend and I did this cleanse together. We both felt bloated and plugged up and gained weight by the end of the week," stated another.
We found some Arbonne 7 Day Body Cleanse reviews that didn't mention adverse reactions.
"I never got crampy. I honestly just did the shakes with fiber, and then ate clean," commented a consumer.
"The cleanse liquid needs to be added to 32 oz of water and sipped throughout the entire day, along with an additional 32 ounces of water. When done this way, the headaches and nausea will be much less noticeable," stated another.
After conducting hundreds of reviews, we've found that even a minimal amount of discomfort can reduce long-term success. If Arbonne 7 Day Body Cleanse does causes side effects and tastes bad to boot, users may not stick with the program long enough to see results.
The Science – "Real Proof?"
While Arbonne 7 Day Body Cleanse's proprietary blend hasn't been clinically studied at all, we know ingredients like the senna will help move waste out of the body faster as it works as a stimulant laxative. [8] We do have to advise caution when taking this supplement as it isn't a weight-loss supplement at all. At DietSpotlight, we want to see science that proves you can lose with a product. Unfortunately, we weren't successful this time.
The Bottom Line – Does Arbonne 7 Day Body Cleanse Work?
Should we race out and get this body cleanse? Well, there are a few natural ingredients and Arbonne has enjoyed great longevity, but we are hesitant to give the supplement a green light because there's no research to support the claims. Also, the bad taste and side effects reported by customers is concerning.
If you're looking for a supplement to help you shed some excess weight, we suggest going with one that's backed by science and isn't connected to harmful side effects.
Among the best products we've seen in 2016 is one called Leptigen. It mixes four ingredients in a proprietary blend that is proven to help burn fat and boost metabolism. Harmful side effects haven't entered the conversation and people report experiencing great results.
Another positive indicator is that the makers of Leptigen are offering a Special Trial Offer, because they are confident in the formula.