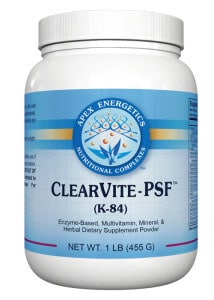 Cleanses are becoming more and more popular as a short-term diet solution. Many cleanses claim to help you lose weight quickly by replacing one meal or all of your meals with their products. Clearvite is one of these programs that has generated a lot of buzz lately, which convinced us to do an in-depth review of their ingredients, side effects, published research, and company information. We also read dozens of online reviews from the top online retailers to provide you a condensed review with everything that you need to know.
EDITOR'S TIP:
Combine ClearVite with a proven fat burner such as
Leptigen
for better results.
What You Need to Know
Clearvite is a diet cleanse that is designed to be taken over the course of 2-3 weeks. This cleanse contains a proprietary blend of ingredients with hypo-allergenic nutrients, metabolism boosters, herbal compounds, and sweeteners. Unfortunately, the exact formula is not available, and the ingredients remain a mystery. The product comes in a convenient tub, and it can be mixed anywhere with a variety of liquids.
Clearvite has been around for over a decade, which is encouraging, and it can be purchased from many well-known retailers online. The company does have a professional looking website and has some longevity as a company, but read on…
Price–"Deceptively Expensive"
Our first concern with Clearvite was the high cost. "Clearvite doesn't seem too expensive at just $59 per canister," said our research editor, "but when you learn that each one lasts just 7-10 days, the monthly cost can be over $150." Cleanses are notoriously expensive, but this one is more expensive than competing products, causing us to think twice about recommending this pricy product.
"I bought this thinking it was a good deal, but in order to finish the cleanse you'll need 2-3 bottles," said one user.
"The $50 price tag won me over, but after reordering twice before completing my cleanse the final cost of $150 was just too much," said another.
Scroll below for one of the best products we've seen over the last year.
Taste–"Poor Taste and Consistency"
Many reviewers agreed that the recent formula change for Clearvite led to a poorer taste and a gritty consistency. "I liked the old formula, but the new formula has a poor taste and consistency, I won't be ordering this again," said one customer online.
"The new flavor is awful," said another. Many reviews on online retailers echoed this sentiment. Some people did find that mixing it with a sweeter liquid helped, but the increased calories in juice, milk, or other liquids can sabotage any positive effects of this supplement. "It tastes better with almond milk, but I stopped losing weight when I started taking this with milk," said one review.
Our research shows that whenever a supplement or exercise routine is particularly troublesome (poor taste, negative side effects, difficult workouts, etc.), the likelihood of sustained weight loss is slim. If Clearvite really does have a poor taste and consistency like many reviewers claim, it could make it difficult to lose weight and keep it off with this cleanse.
If you are set on trying this supplement, we suggest you mix it with something that hides the taste and balance it with a healthy exercise program.
The Science
The official website for Clearvite boasts great results and incredible success stories, but the lack of information about the ingredients and proprietary formula gives us a reason to be skeptical. There are no published studies proving the efficacy of Clearvite, and without knowing what the ingredients are, we can't research the effectiveness of their formula. At DietSpotlight, we're always looking for scientific research proving that a product works and is better than similar products, so without this information we see big red flags with Clearvite's claims. We'd like to at least see comparisons of Clearvite and a more affordable cleanse proving that Clearvite is worth the high price, so we'd opt for the cheaper alternative without this information.
The Bottom Line
We were initially excited to review a product that is easily available online, has decent longevity, and had some good reviews, but because this cleanse doesn't have any research backing up its claims, we can't recommend it as a weight loss supplement that will be effective for our readers. We're also concerned about the high price of this cleanse, the poor taste and consistency, and the lack of information about the ingredients used in Clearvite.
If you're looking to lose those last few pounds without the hassle of a cleanse, we suggest a product that offers proven weight loss at an affordable price. Look for a product that has claims backed by published research and unbiased studies.
Among the most effective products we've seen so far in 2015 is a product called Leptigen. The proprietary blend of four ingredients has been shown in published research and clinical studies to help increase fat loss while boosting metabolism. The online reviews seem to agree that this is an effective weight loss tool, and there doesn't seem to be any mention of negative side effects associated with Leptigen.
If you're interested but can't make up your mind, the makers of Leptigen are currently offering a special trial offer, which can help prove that Leptigen will help you get to your goal weight.