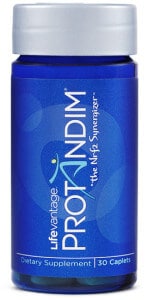 Don't laugh, but well over 50% of diet products simply don't work. So what about Protandim? Well, we wrote one of our in-depth reviews, scrutinizing the side effects, ingredients, clinical studies and level of customer care. Furthermore, we took a look at dozens of user comments and dieter responses from all over the web. At this point we condensed and summarized to give you with the facts you need.
What is Protandim?
First off, Protandim is a dietary supplement that is intended to reduce oxidative stress through "Nrf2 activation." The ingredients used in Protandim are milk thistle extract, green tea extract, bacopa extract, turmeric extract and ashwagandha root. According to the official website, this product can lower stress levels by 40 percent in only 30 days. This in turn helps the body function more efficiently, combats signs of aging and reduces damage from free radicals. You should take it with food.
Protandim is made by LifeVantage and it has been available since 2003. This supplement contains natural ingredients and there is convenient contact information on the company website. Furthermore, it's easy to purchase through the main website, but read on…
Customer Complaints – "Concerning?"
The first thing we address with Protandim ingredients is the number of customer complaints. According to our Research Editor, "There are quite a few user experiences that are not exactly positive. This is a red flag that should not be ignored."
One customer commented, "This product did nothing for me whatsoever! Don't buy!"
"Waste of money! My doctor even told me to stop using it," said another user.
Scroll below for one of the best products we've seen over the last year.
Results – "Lacking"
One doctor commented, "Their product is extremely overrated and they have NO positive human studies whatsoever. The components in Protandim can be acquired on Amazon for a tiny fraction of the cost of what it's costing now."
Another person stated, "I do not recommended the use of Protandim. There is no evidence that it provides a health benefit to humans."
Our research has proven that if there is some particular part of a weight-loss supplement or diet program that is especially burdensome (too many customer complaints, lack of results, high cost) the likelihood of long-term success is quite minimal. So, if Protandim does fail to produce measurable effects in a lot of people, this could be problematic.
The Science – "Valid?"
Although "science" is mentioned for Protandim on the official website, there are no actual clinical trials involving humans, which makes it difficult to determine how well this product actually works. At DietSpotlight, we prefer to see documented research regarding the product and how well it works on people.
The Bottom Line – Does Protandim Work?
Alright, are we out there looking for some Protandim? Well, we like that it contains natural ingredients and a lot of information is presented on the company website. But we have some reservations because no solid science is provided that involves human clinical trials. Also, we're concerned about the customer complaints and negative comments posted online.
If you'd like to drop more weight, then we encourage you to select a product that is supported by lots of positive user feedback, backed by solid clinical research and sells at a reasonable price.
Among the best products we've seen in 2016 is one called Leptigen. Its formula is a proprietary blend of four powerful ingredients, which has been shown in documented scientific research to help accelerate fat loss and ignite metabolism. Also, we can't find any complaints of harmful side effects and customer comments found online indicate people are seeing great results.
The makers of Leptigen are so certain of their product they're offering a Special Trial Offer, which is a good sign.