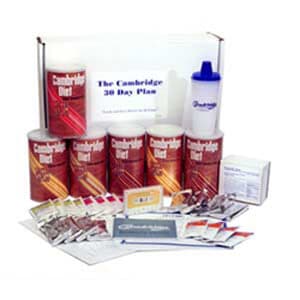 The Cambridge Diet is a weight-loss plan I will never forget. We decided to create an in-depth review, closely examining the ingredients, side effects, level of customer care and clinical evidence. Furthermore, we scrutinized countless user comments posted online. Lastly, we summarized and condensed all the data to give you the bottom line.
What You Need To Know
To start off with, The Cambridge Diet started in the UK, but has been in the United States since 1979. This weight-loss plan involves six different "flexible" programs to suit all women and men. Calorie restriction is a major aspect and intake ranges from 440-1,500 per day. Prepared foods such as nutrition bars, soups, shakes and super oats are also consumed. Furthermore, a consultant gives you one-on-one support to help you with your journey.
The Cambridge Diet dates back 30 years and is advertised as being flexible enough for any lifestyle. A "weight plan wheel" is provided to help you as a step-by-step guide and the healthy meal-replacement foods are certainly convenient, but read on…
High Price – "Yikes?"
The first concern we had is the steep cost of this plan. According to our Research Editor, "The Cambridge Diet will cost you $71.26 per week, which is $285.04 per month. This is simply not affordable for everyone."
"Way too costly for me," said one dieter.
Another customer stated, "Who can afford this?"
Scroll below for one of the best products we've seen over the last year.
Another Issue – "Calorie Restrictions"
We noticed that plenty of dieters having difficulty with the calorie restrictions involved with The Cambridge Diet. In fact, one said, "Only 500 calories today, and I'm STARVING!"
Another user offers, "I am on day 5 and this is the worst day of all. I was hoping it would feel easier. I am feeling very hungry and have stuck to the 3 shakes a day with just water so can't understand why? I thought by now I would be passed the hunger stage."
According to our research, if there is one facet of a program or fat-loss pill that is seriously problematic (a painful/difficult exercise routine, high price, too few food options) the probability of success for the long term is very low. In other words, if The Cambridge Diet is too restrictive, and this bothers a lot of dieters, this could be an issue.
The Science – "Clinical Support?"
Even though The Cambridge Diet has been around for decades and claims to encourage serious weight-loss, we were unable to find actual scientific proof of this. We at DietSpotlight need to see published clinical research that supports the program. If that's not available we wave a huge red flag.
The Bottom Line – Does The Cambridge Diet Work?
So, what are we shouting from the rooftops about this one? It's great to see that The Cambridge Diet has been around for many years and there are several plans available to suit different individuals. However, we have reservations about recommending this because there are no scientific studies to support the weight-loss claims. Also, we are concerned about the high cost and calorie restrictions that apply.
Those who really want to slim down and keep weight off, we encourage you to go with a diet program or pill that is supported by clinical studies and is available at a reasonable cost with no restrictions.
Among the best products we've seen in 2016 is one called Leptigen. It contains a proprietary formula that includes four ingredients, which have been proven in published scientific studies to help boost metabolism and speed up fat loss. We were unable to find comments concerning harmful side effects and the feedback we see on the web reveals users are seeing awesome results.
Plus, the producers of Leptigen are so very confident in their formula they're offering a Special Trial Offer, quite a nice touch.