GNC Mega Men Energy And Metabolism Review

- 14 Things You Need to Know
Why is it that so few diet products are backed by science? Let's find out if GNC Mega Men Energy and Metabolism is one of the good ones. There are people interested in this supplement, so we examined the ingredients, side effects, clinical research, and quality of customer support. Additionally, we picked apart hundreds of consumer reviews and comments. We then refined and summarized to give you the info you need.
GNC Mega Men Energy And Metabolism can be purchased through their Official Site.
Overview
What is GNC Mega Men Energy and Metabolism?
GNC Mega Men Energy and Metabolism is a vitamin supplement developed by General Nutrition Centers.
The company claims the supplement is a calorie-burning multivitamin.
The all-natural formula contains a blend of elements designed to enhance the body's immune system functioning and support eye and overall health.
Other than vitamins and minerals, the main ingredients in GNC Mega Men's Energy and Metabolism are caffeine, capsicum, black pepper extract, and green tea extract, intended to increase metabolism and promote fat burning, but do they work?
Sports – With all these ingredients in the mix, do you need such an extensive formula to increase energy expenditure? Research says no. According to at least one study, a multi-ingredient supplement was just as effective as straight caffeine supplementation on energy expenditure.
Journal of the Science of Food and Agriculture – Capsicum, which is an extract from the chili pepper, contains "phenolic compounds and antioxidants."
Comprehensive Reviews – What's interesting about black pepper, is the extract is included in most supplements as a means of improving the absorption of other ingredients. However, research shows that the body may have trouble absorbing the black pepper itself.
GNC provides no information on when their Mega Men's Energy and Metabolism was first introduced. General Nutrition Centers has been producing their line of health products since 1935 and maintains a chain of stores that sell health-promotion products.
As of this writing, GNC is the world's largest specialty retailer of nutritional products and holds an unfavorable rating with the Better Business Bureau. Current grade is D- and has a 1 star rating. As of June 2020, the company filed for Chapter 11 Bankruptcy.
Products Similar to GNC Mega Men Energy And Metabolism
Ingredients
GNC Mega Men's Energy and Metabolism Ingredients
The complete list of daily nutritional values for GNC Mega Men's Energy and Metabolism supplements are:
Alpha-Lipoic Acid 25 mg
Astaxanthin (from Haematococcus pluvialis) 50 mcg
Beta-Cryptoxanthin ten mcg
Biotin 300 mcg
Boron (as Sodium Borate) 2 mg
Calcium (as Calcium Carbonate and Calcium Ascorbate) 200 mg
Choline (as Choline Bitartrate) 10mg
Chromium (as Chromium Chloride 120 mcg
Copper (as Copper Sulfate) 2 mg
Energy and Metabolism Blend 150 mg
Folate 680 mcg
Folic Acid 400 mcg
Inositol 10 mg
Iodine (as Potassium Iodide) 150 mcg
Lutemax 2020 (as Lutein) 2 mg
Lycopene 950 mcg
Lycopene 1 mg
Magnesium 100 mg
Magnesium (as Magnesium Oxide) 100 mg
Manganese (as Manganese Sulfate) 2 mg
Molybdenum (as Sodium Molybdate) 75 mcg
Niacin (as Niacinamide & Niacin) 50 mg
Pantothenic Acid (as Calcium d-Pantothenate) 50 mg
Riboflavin (Vitamin B-2) 50 mg
Selenium (as L-Selenomethionine) 200 mcg
Silica (as Silicon Dioxide) 4 mg
Thiamin (Vitamin B-1 as Thiamin Mononitrate) 50 mg
Turmeric Root Extract (as Curcuma longa; standardized to Curcuminoids) 500 mcg
Vanadium (as Sodium Metavanadate) 10 mcg
Vitamin A 5000 IU with 50 percent as beta-Carotene and 50 percent Retinyl Acetate
Vitamin B-12 (as Cyanocobalamin) 50 mg
Vitamin B6 50 mg
Vitamin B-6 (as Pyridoxine Hydrochloride) 50 mg
Vitamin C (as Ascorbic Acid and Calcium Ascorbate) 300 mg
Vitamin D 1600 IU
Vitamin D (as Cholecalciferol D-3) 1600IU
Vitamin E 30 IU
Vitamin E (as Natural d-alpha Tocopheryl Acetate) 30IU
Vitamin K (as phytonadione) 80 mcg
Zeaxanthin 190 mcg
Zeaxanthin (as Zeaxanthin Isomers) 400 mcg
Zinc (as Zinc Oxide) 25 mg
Scroll below for one of the best products we've seen over the last year.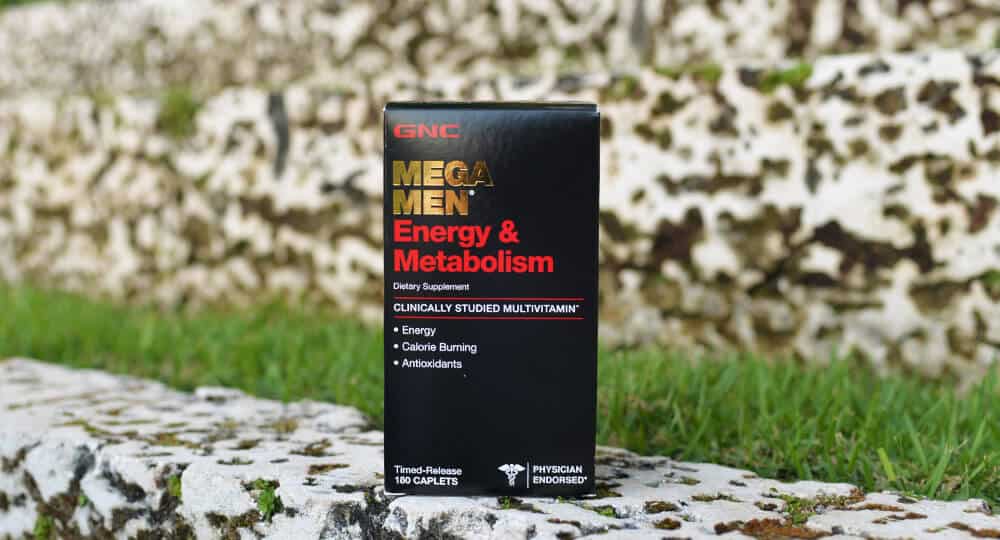 Does It Work
Does GNC Mega Men's Energy and Metabolism Work?
When trying to answer the question, "Does the product Work?" there isn't a clear-cut answer.
According to the GNC website, their vitamins have been "clinically studied."
However, while the GNC Mega Men's Energy and Metabolism formula does contain some compounds scientifically proven to help with weight reduction, there is no valid research to support the company's weight-loss claims.
The claims GNC makes on their website are not substantiated by any known scientific studies or clinical trials that have examined the effects of this product directly.
The company also claims the product to be "physician endorsed," however, GNC provides the same claim for all GNC products.
While GNC Mega Men's Energy and Metabolism has a physician's stamp of approval, the approval is provided by the General Nutrition Centers Medical Board, and not by doctors who aren't affiliated with the General Nutrition Centers.
Reviews from users of GNC Mega Men Energy and Metabolism are mixed. Many users state they have seen an increase in energy and stamina while engaging in sports and during workouts and felt better on the whole later in the day while taking the Mega Men's vitamins.
Some users also report significant weight reduction while taking supplements.
On the other hand, many users report they saw no positive effects whatsoever, even when taking the upper dosage limits.
However, neither positive nor negative antidotal consumer reports of a product's effectiveness should typically be taken as a substituent for peer-reviewed clinical research when answering; does the product work?
After a 2016 study of 28 long-term trials, researchers conclude that if a person makes appropriate lifestyle changes, a quality weight-loss preparation can help increase the likelihood of achieving a significant fat loss, according to Weight Management and the International Journal Behavioral Nutrition and Physical Activity.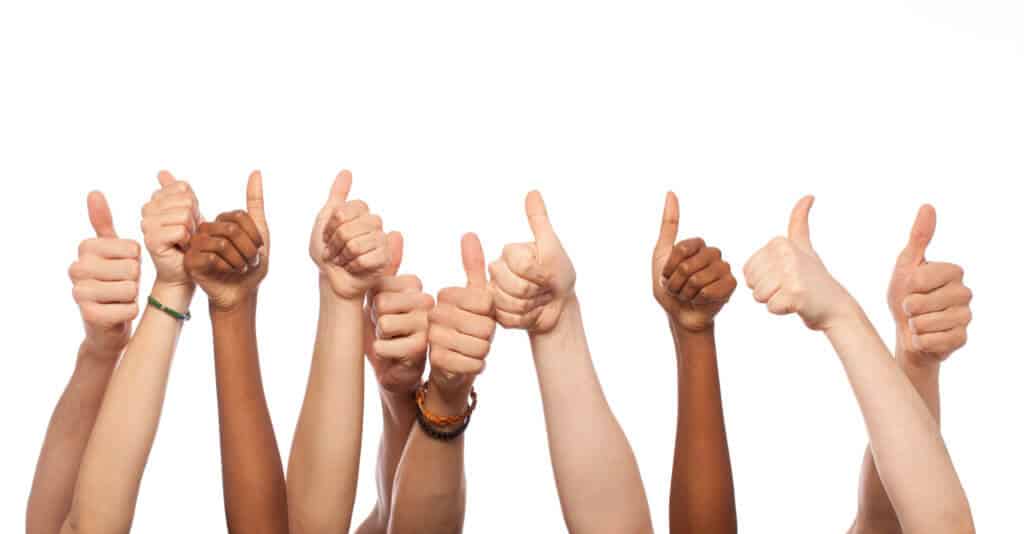 Benefits
GNC Mega Men's Energy and Metabolism Benefits and Results
According to General Nutrition Centers, several of the pros of taking GNC Mega Men Energy and Metabolism is their formula helps to support colon and prostate health and increases the levels of crucial B vitamins.
Another claimed benefit is this product contains a combination of thermogenic enhancing compounds that are designed to increase calorie burning, boost mental sharpness and help control damage to cells caused by free radicals that are produced during vigorous exercise. Additionally, it has been shown that vitamin B5 aids in the production of hemoglobin.
While there does not appear to be any published studies to support the supplement producing any of these benefits directly, some long-time users have given positive reports that the product does produce the result GNC claims.
Users providing anecdotal reports have stated that GNC Mega Men Energy and Metabolism has helped them to lose weight and feel more energized, both during workouts and throughout the day.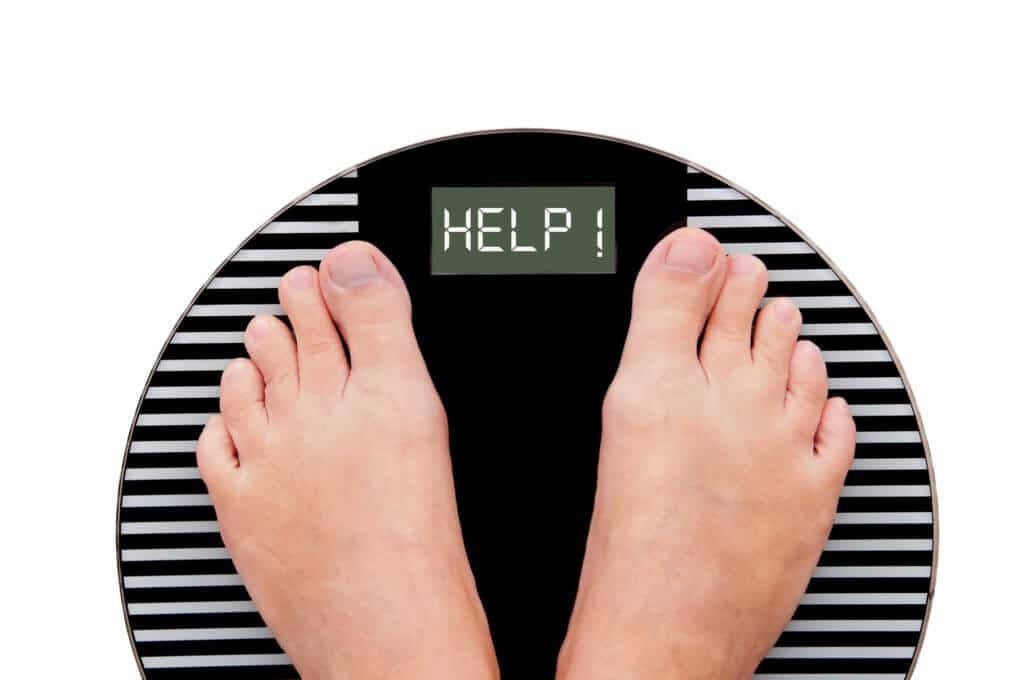 Weight Loss
Details on GNC Mega Men's Energy and Metabolism and Weight Loss
The compounds found in GNC Mega Men's Energy and Metabolism and Weight Loss specific to aiding with weight reduction include:
Caffeine Anhydrous
Caffeine anhydrous is a stimulant as well as a diuretic. It comes from several natural sources such as coffee beans, tea leaves, kola nuts, yerba mate plants, and guarana.
Clinical Research has shown that caffeine may help stimulate thermogenesis, the process of how the body generates heat and energy from the digestion of food.
As a dietary supplement in energy pills and weight-loss products, caffeine anhydrous is a dry powder.
Usually, caffeine anhydrous is intended to reduce appetite, boost metabolism and energy levels while improving mental focus and athletic performance.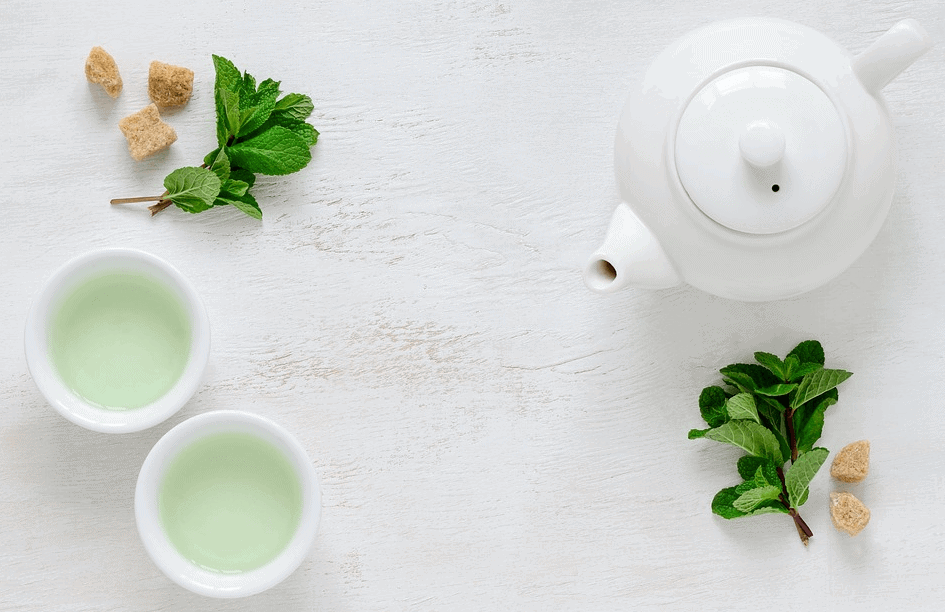 Green Tea
According to Current Pharmaceutical Designs, green tea is unfermented, unlike black and oolong tea varieties. Also known as Camellia sinensis, green tea contains caffeine and antioxidants and is added to numerous diet supplements for its metabolism and immune system boosting properties.
A 2013 review of several studies found green tea helped to prevent several health-related issues.
Eleuthero Root Powder
More often referred to as ginseng, University of Maryland Medical Center claims that eleuthero root has been used for centuries to treat colds and flu symptoms.
According to the research, ginseng may also help improve athletic performance and increase muscle strength and endurance.
Eleuthero root is typically added to dietary supplements to aid in weight reductions by helping to reduce stress and boost immune system functioning.
While some clinical eleuthero root trials have recorded positive results, other studies did not find ginseng to produce these same results.
Other compounds found in GNC Mega Men's Energy and Metabolism and Weight Loss with clinical studies that produced positive findings include: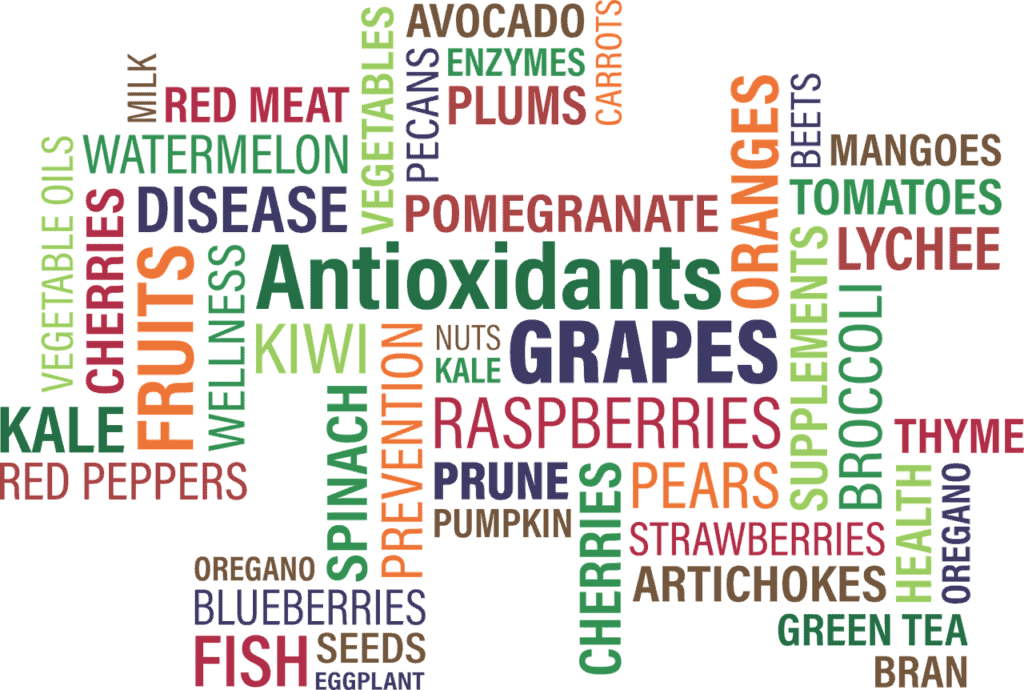 Antioxidants
Compounds that fight cellular damage from environmental factors.
Black pepper fruit extract
It is used to increase the absorption of drugs and supplements.
Boron
A mineral that aids in regulating levels of the hormone estrogen.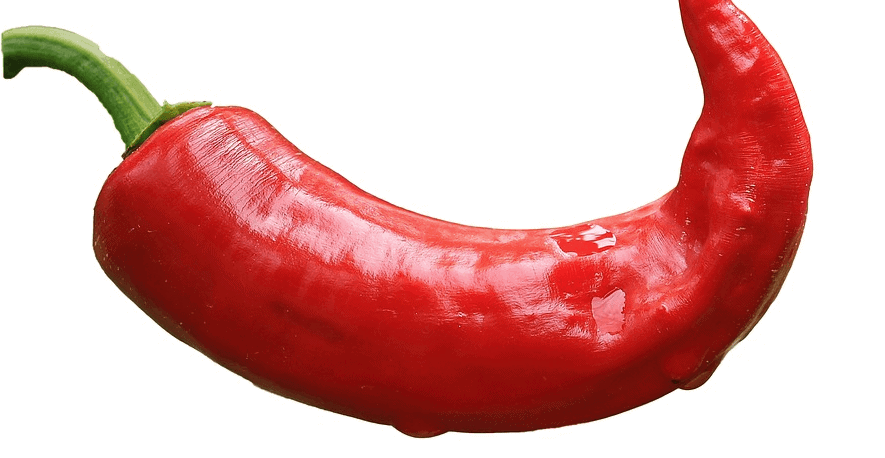 Capsicum
A form of red pepper seed extract that is known to provide several health benefits.
Choline
A chemical similar to the B vitamins that are important for proper nervous system function.
Inositol
Chemically similar to vitamins D and E and is believed to benefit brain function.

Directions
How to Use (Take) GNC Mega Men's Energy and Metabolism
The recommended serving size of GNC Mega Men's Energy and Metabolism formula is two caplets per day, taken with food.
The product comes in various size packages, including 45, 90, and 180 caplets and varies multipacks that will last for 30 to 90 days.
Warnings
GNC Mega Men's Energy and Metabolism Product Warnings
There are no direct warnings on the product label. However, there have been reports from users of various adverse effects, including accelerated heart rate, diarrhea, nausea, shortness of breath, and stomachache.
Is It Safe?
Is GNC Mega Men's Energy and Metabolism Safe?
While there appear to be no known significant dangers from taking GNC's Mega Men's Energy and Metabolism formula, the product does contain much time over the USDA daily dietary intake values for several nutrients.
For example, the formula contains over 16 times the recommended daily value of vitamin B1, over 15 times the recommended daily value of vitamin B2, 33 times the recommended amount of B5, over 25 times the recommended daily value of vitamin B6, and eight times the recommended amount of B12.
Because all cereals and bread are fortified with B vitamins, nutritional experts say there is no valid reason to take more than the daily allowance of B vitamins.
While there is no scientific evidence to prove that these levels of vitamin B are harmful, the higher levels probably won't produce any positive effect. Still, there are some caveats.
In excess amounts, some B vitamins, namely B3 and B6, can lead to toxicity, and too much folic acid can mask a vitamin B12 deficiency, according to Nutrients.
Side Effects
GNC Mega Men's Energy And Metabolism Side Effects
In reviews, some users of GNC Mega Men Energy and Metabolism formula report several issues, including headache, diarrhea, nausea, and stomachache.
One of the major cons reported is many users who had utterly cut caffeine out of their diets started experiencing an elevated heart rate and feeling lightheaded and jittery after they began taking the GNC formula.
A complete list of reported possible adverse effects include:
Accelerated heart rate
Diarrhea
Dizziness
Headaches
Jitters
Muscle fatigue
Nausea
Shortness of breath
Stomachache
The GNC Mega Men's formula contains the amino acid carnitine that aids in the metabolism of food.
However, excessive carnitine have been shown to cause diarrhea, and GNC does not list the amount of carnitine in Mega Men, claiming it is part of their proprietary blend.
Rashes and Itching
This is a potential side effect of any supplement, and epically those with high levels of vitamin B12 are known to cause itching and rashes. Mega Men's has over eight times the recommended daily value on B12.
Nausea and Upset Stomach
Taking GNC Mega Men may produce nausea. It is possibly linked to the high level of vitamin B5, also known as pantothenic acid present in this formula.
Headache and Dizziness
GNC Mega Men contains high levels of vitamin A, like beta-carotene, a nutrient that promotes healthy vision. However, even though this type of vitamin A is not dangerous, high doses can lead to dizziness and headaches.
Reduced Insulin Sensitivity
GNC Mega Men's has levels of vitamin C that are five times higher than the daily recommended value, along with the high dose of vitamin E, which may offset some of the effects of exercise and healthy eating.
Research done by the National Academy of Sciences has shown that in high doses, vitamins C and E inhibited the enhancement in insulin sensitivity typically promoted during exercise.
Increased insulin sensitivity can help build muscle and burn fat, and impaired insulin sensitivity is one of the precursors to obesity.
Lawsuits
GNC Mega Men's Energy and Metabolism Lawsuits
In May of 2019, GNC was sued for deceptive and misleading advertising practices, according to court documents from the U.S. District Court.
The lawsuit specifically named GNC Men's Prostate Formula, GNC Diabetic Support, GNC Preventative Nutrition Healthy Blood Pressure, and GNC Mega Men Healthy Testosterone, just to name a few.
Is It A Scam?
Is GNC Mega Men's Energy and Metabolism a Scam?
General Nutrition Centers has a long history of producing a wide range of health-related products. While there may be some legitimate cons and concerns with taking the formula, it should probably not be labeled anymore or less of a scam than any other supplement that claims to do things that have not been scientifically proven.
Where Can You Buy Mega Men's Energy and Metabolism?
You can find GNC Mega Men's Energy and Metabolism at GNC stores in most countries worldwide, at many large retailers, and online. Here are the main places where can you buy GNC Mega Men's Energy and Metabolism:
GNC Retail outlets.
Large retailers that carry health-related products, such as Walmart, Kmart, Target, and Costco.
Online retailers like Walmart, Amazon, and at GNC.com
The cost of GNC Mega Men's Energy and Metabolism will vary depending on the supplier and quantity purchased. Prices will range from as little as $4.99 for a 30 day supply to up to $50 for a 90 day supply of multi-packs. Typically, the amount will be less at larger retailers and online and cost more at smaller health stores.
On the official website, GNC Mega Men's Energy and Metabolism costs $37.99.
Alternatives
GNC Mega Men's Energy and Metabolism Alternatives
There are several alternatives to GNC's Mega Men's Energy and Metabolism formula. The main two choices, in alphabetical order, are:
Advocare Spark
Advocare Spark is an energy drink in powder form, mixed with water. Advocare claims to have no added sugar and is a holistic blend of 21 vitamins, minerals, and nutrients that work together provide a natural source of energy and increase mental alertness.
Focus Factor
Focus Factor contains vitamins C, D, E, and B and claims to help with memory and concentration. Some of its key elements have shown promise in studies, resulting in weight loss.
What Users Are Saying
What Users Are Saying
"Well the tablets are easy to swallow and they do there job. I was worried that I would have abnormal side effects but I dont, I dont get any jitters from the added caffeine extract. But I must say they do there job, I find I have alot of energy to when am at work, normally after a regular work day I would be exhausted from working on heavy duty machines, but I find my self able to take on at home and trust me they make a difference. As I said I was a bit worried about taking them I can say they work for me, I have no withdrawn feeling after stop taking them for a while and when I do start taking them back, I find they balance my lifestyle."
"Waste of money – These did not do anything for me. I felt absolutely nothing from these. Not sure what is with the positive or miracle reviews because these did not do anything for me."
"Am using this pills for the vitamins but if it can make you lose weight well that's extra. But one thing I don't like is that I just stared taking them but the give me a ((big buzz )) feels like am walking on ((X.O)) pill or ecstasy that's me idk about yall."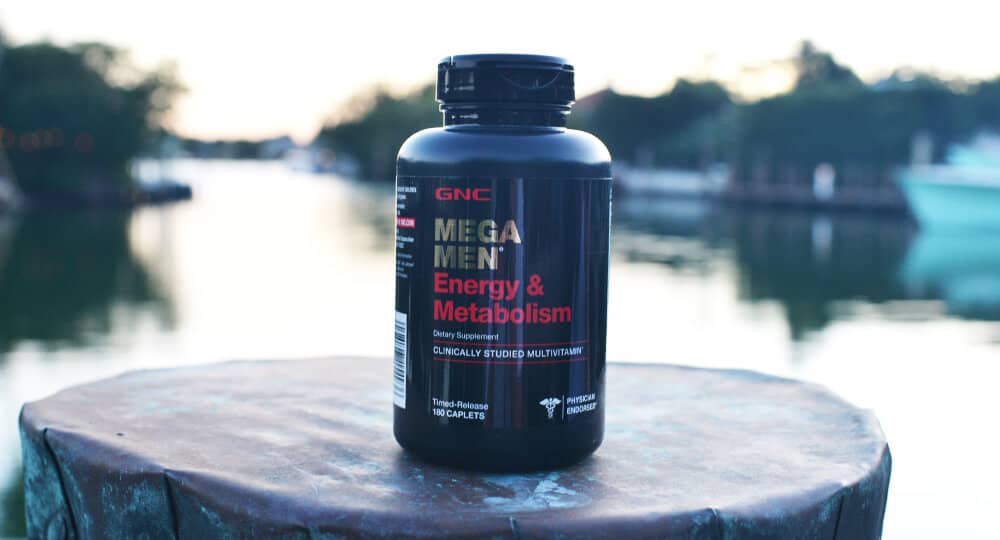 Bottom Line
The Bottom Line on GNC Mega Men Energy and Metabolism
Are you racing out to buy GNC Mega Man vitamins? Well, we like the low price and that we found a few positive comments, but we are skeptical about this one because the weight-loss claims are not supported by published clinical research. Plus, we're concerned about it not working and customer reports of negative side effects.
If now is the last time you want to start a weight-loss journey, we suggest a clinically-proven program that combines personal interaction with the latest technology so you lose weight and keep it off.
Among the best weight-loss apps we've seen is Noom. The app provides a unique combination of human coaching, customized meal plans, expert resources and more to ensure you learn how to lose weight and how to keep it off, for good.
Plus, Dietspotlight readers can access a free trial offer of Noom for a limited time.
Learn More About Noom »