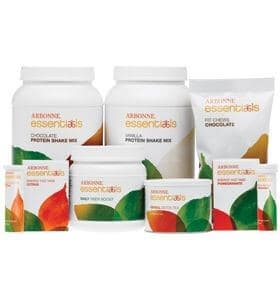 We're hearing a lot of buzz about Arbonne Weight Loss Program, so we conducted an in-depth review, examining the side effects, ingredients, clinical studies and overall customer care. Moreover, we examined hundreds of dieter reviews and user comments from around the web. At this point we summed up all the information to give you the facts you need.
EDITOR'S TIP:
Combine Arbonne Weight Loss Program with a proven fat burner such as
Leptigen
for better results.
What You Need To Know
Firstly, the Arbonne Weight Loss Program is intended to help with appetite suppression, reducing calorie intake, cleansing the body and losing more. Some of the notable ingredients used in these supplements are green tea, forslean, protein, guarana, chromium, burdock root, milk thistle, couch grass and sarsaparilla. This company offers several formulas, which include: Arbonne Essentials Nutrition Bars, Fit Chews, ThermoBooster, Herbal Detox Tea, Daily Fiber Boost, 7-Day Body Cleanse, Protein Shake Mix, Greens Balance and Digestion Plus.  Many of the products can easily be taken on the go.
The Arbonne Weight Loss Program has been around since 2010 and all of the line is available on the official website. Arbonne International has been in business since 1975. You will find some positive customer feedback for these supplements online, but read on…
Bad Taste – "Concerning?"
The first issue we addressed about Arbonne Weight Loss Program is taste. "If you are expected to drink a solution designed to help you lose more, it needs to be palatable," says our Research Editor. "It appears this time around that's something the company forgot to take into consideration."
"After taking a look at dozens of customer reviews posted online, it's clear that many dieters do not like the taste of Arbonne Weight Loss Program shakes, bars and supplements," says one user.
Another said, "The taste was bad. It took me all day to try and drink half the 32oz of water/cleanse mix. And day two I mixed it and didn't drink it. I even tried putting a little flavoring in it….nope made it worse. Definitely don't recommend if you can't take a nasty taste!"
"Did not like the taste whatsoever. It may work for someone else, but I made one shake out of it and cannot take the taste so I will not be using again. Waste of money for me," said a dieter.
There's no doubt the majority of Arbonne Weight Loss Program users are not excited about the flavor, but there are a few who like it. According to one, "This stuff tastes good."
Another said it just takes some time to get used to, "It tastes a little weird, but it's not a huge shake full or anything, and by the second day you hardly notice the flavor."
Scroll below for one of the best products we've seen over the last year.
Too Many Dieter Complaints – "An Issue"
Unfortunately we found plenty of customer complaints about the Arbonne Weight Loss Program side effects, including it not working as claimed. One user stated, "This was a huge disappointment. It did absolutely nothing for me. I never felt different, cleansed, or healthy."
Another said, "This product had the reverse effects on me. I ended up constipated. I would never recommend or spend that much money on this product again."
One dieter claims, "Didn't notice any difference taking this."
There were users who felt some good changes during and after the cleanse. One said, "I found I had more energy and felt healthier."
Another appreciated that it was not harsh, "Its gentle on the system."
Our research has revealed that if a particular facet of a program or diet formula is particularly troublesome (too many customer complaints or high cost) the likelihood of success for the long term is very low. If Arbonne Weight Loss Program ingredients do in fact taste bad and do not produce results for numerous people, this could be a major concern.
The Science – "Validated?"
The official website for Arbonne Weight Loss Program line does not provide any documented clinical support for the claims made about their line. For us at DietSpotlight, we must see published scientific research pertaining to the products and ingredients in order to stand behind the line. If none is provided, we only see a red flag.
The Bottom Line – Does Arbonne Weight Loss Program Work?
Ahhh, let us look closely at the facts we revealed with our in-depth review, shall we? We certainly appreciate that the Arbonne Weight Loss Program offers numerous supplements to assist dieters. However, we feel uncomfortable recommending the program because it's not backed by any real clinical research. Furthermore, there are many customer complaints regarding the taste of Arbonne Weight Loss shakes and fiber supplements. Not to mention, to purchase all of these products would cost a hefty sum.
If you need to drop excess body fat, we advise you to go with a weight-loss program or dietary supplement that is backed by scientific studies that doesn't taste bad. If it is available at an affordable price, that's even better.
Among the best products we've seen in 2016 is one called Leptigen. This supplement contains a unique proprietary blend of four key ingredients, which have been proven in published clinical studies to ignite metabolism and encourage fat loss. Also, we're unable to find any complaints concerning harmful side effects and dieter reviews posted online prove people are seeing great results.
Also, the company responsible for Leptigen are so confident in their formula that they're offering a Special Trial Offer, which is a nice touch.