Sweet Sweat Waist Trimmer Review

- 22 Things You Need to Know
The Sweet Sweat Waist Trimmer is a fitness belt that is placed around the waist and abdominal region in order to burn fat. The product claims that it "increases your core temperature during exercise improving thermogenic activity," which results in a reduction in abdominal fat. However, any inches lost around the waist are more likely to be the result of water loss, not fat loss through thermogenesis. As soon as you rehydrate, the inches will likely return.
Still, we like to be open-minded with our reviews. So, our research team analyzed the science behind this product to determine if it can actually help reduce fat in the abdominal region. We also examined potential hazards presented by the belt. Here, we offer an overview of what we discovered about the Sweet Sweat Waist Trimmer following our analysis.
Sweet Sweat Waist Trimmer can be purchased through their Official Site.
Overview
What is Sweet Sweat Waist Trimmer?
Sports Research makes the Sweet Sweat Waist Trimmer. It is a fitness belt that you wear around your tummy to help you sweat more.
The Sweet Sweat Waist Trimmer comes in Matte series, Pro series, Neon Sunset series, Toned series, Original series, Paige series, and Xtra Coverage series.
When we searched for some studies on waist trimmers, we came up nearly empty-handed. We found a single study from more than a decade ago.
The Medscape Journal – "Topical waist applications may actually work." That's the 2008 study consensus, but if Sweet Sweat is useful, why aren't there more reviews?
Journal of Strength and Conditioning Research – We did find a bit of research that showed localized training isn't a practical option. Though it may help with fat loss, the fat loss will not be in the area targeted, necessarily.
International Journal of Molecular Sciences – Jojoba Oil is an excellent skin moisturizer and is considered a natural emollient. Sweet Sweat uses jojoba oil.
So let's find out more about why Sweet Sweat is supposed to be more effective than what research says.
Sweet Sweat Waist Trimmer and the Better Business Bureau (BBB)
The parent company of Sweet Sweat Waist Trimmer is Sports Research Corp. Sports Research Corp has been accredited with the BBB since August 18th, 2015, and has an "A+" rating. They have earned a 3.25 out of 5 stars based on an average of 4 customer reviews. Sports Research Corp has closed 7 complaints in the last 3 years and closed 2 complaints in the last 12 months.
Sweet Sweat Waist Trimmer Contact Information
Address: 784 W Channel St #200 San Pedro, CA 90731
Phone: (310) 519-1484
Email: support@sportsresearch.com and info@sportsresearch.com
Return Policy
Sports Research offers an industry-best 90-day refund on their products (excluding clothing and performance line).
Sweet Sweat Waist Trimmer Competitors
How Did Sweet Sweat Waist Trimmer Start?
The Waist Trimmer from Sports Research went on the market in 2013, and from then, it has climbed to the top of the waist trimmer rankings. Among the customer ratings and reviews, this belt ranks 2nd place.
Scroll below for one of the best products we've seen over the last year.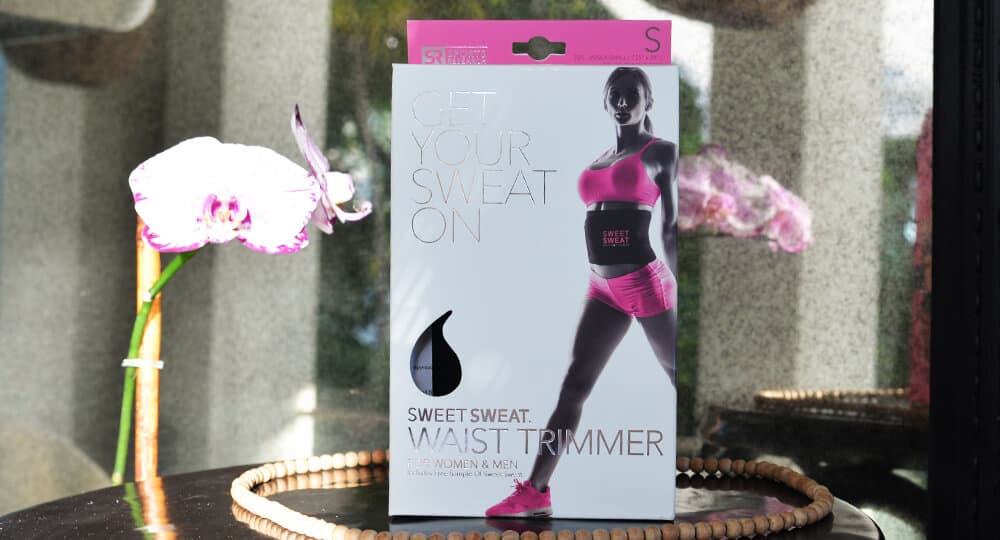 Product Line
Product Line
Neon Sunset Waist Trimmers: $30
Paige Hathaway Waist Trimmer: $65
Toned Waist Trimmers: $30
Pro Series Waist Trimmer: $40
Xtra Coverage Waist Trimmer: $30
Matte Series Waist Trimmer: $29
Waist Trimmer: $29
Arm Trimmers: $24 (Toned); $22 (Original)
Thigh Trimmers: $32 (Toned); $30 (Regular)
Pre Sweat: $34
Post Sweat: $32
Daily Probiotics: $25
Sweet Sweat Workout Enhancer Stick (Citrus Mint, Tropical, Coconut, Original): $33
Sweet Sweat Jar (Original, Unscented, Coconut, Citrus Mint, Tropical): $50
Sweet Sweat Travel Packets (20 per box): $30
Trimmer Cleaning Spray: $15
Sweet Sweat Therapy Gun: $155
Sweet Sweat Yoga Mat: $35
Sweet Sweat Hip Bands: $21
Sweet Sweat Towel: $10
Sweet Sweat Blender Bottle: $10
Sweet Sweat Phone Holder: $10
Claims
Sweet Sweat Waist Trimmer Claims
Per the Sports Research website, the waist trimmer belt helps you during your physical exercises by producing heat and increasing sweat.
It is made with premium neoprene, providing more comfort during exercise.
The company claims that the Sweet Sweat belt is good for those who intend to sweat a lot during workouts. By using it, it's possible to lose weight quickly.
Let's see if these claims are true based on the reviews, which we will look at in the following sections.
Colors of Sweet Sweat Waist Trimmer Belt
The original belt comes in black and yellow and black and pink colors. Belts in earth tones and neon colors are also available.
Ingredients
Sweet Sweat Ingredients
Sweet Sweat waist trimmer is a fitness belt, so there are no ingredients. It is made with premium grade latex-free neoprene. The enhancing gel, however is made up of several ingredients, such as, White Snow Petrolatum, Brazilian Carnauba Wax, Acai Pulp Oil, Organic Coconut Oil, Pomegranate Seed Oil, Organic Jojoba Oil, Virgin Camelina Oil, Olive Oil, Aloe Vera Extract, Vitamin E, and Fragrance.
There is also a Trimmer Cleaning Spray available from the company to help clean the material.
White Snow Petrolatum
This is useful in the treatment or prevention of dry, itchy, and rough skin, according to the International Journal of Cosmetic Science.
Organic Jojoba Oil
This is obtained from the seed of the Jojoba plant and had been used by Native Americans for many different applications.
Jojoba oil has numerous benefits, such as anti-acne, according to Forschende Kompplementarmedizin, however it should not be consumed orally.
Aloe Vera Extract
This is a strong antioxidant and this ingredient can inhibit the growth of certain bacteria on the skin. It is known as an anti-aging agent in different types of gels.
Acai Pulp Oil
This is obtained from the Acai palm, a tree that grows in Amazonia.
This oil seems to have positive effects on weight loss and anti-aging, according to the National Institutes of Health.
Brazilian Carnauba Wax
This is a wax obtained from palm leaves and it is used in many cosmetics formulas and skincare preparations.
Vitamin E
This is recognized as one of the best vitamins for skin protection since it helps moisturize the skin. Vitamin E has an antioxidant role and it is an immune-enhancing ingredient.
Does It Work?
Does the Sweet Sweat Waist Trimmer Work?
So does the Sweet Sweat Waist Trimmer live up to its name?
Sweating doesn't mean that you lose weight, because sweat is only residue generated by your body's cooling system, states research in The Scientific World Journal.
When you sweat, you may lose weight, but it is only water weight which your body gains back as soon as you rehydrate. In other words, it is a temporary weight loss.
Size Chart
Sweet Sweat Waist Trimmer Sizes
Sweet Sweat comes in small, medium, large, XL and XXL sizes.
Sweet Sweat Waist Trimmer Before And After
Results vary from person to person. Some notice immediate effects. Some complain about seeing no difference after using it for months.
Benefits
Sweet Sweat Waist Trimmer Benefits and Results
Despite scarcity of resources that prove wearing waist trimmers causes weight loss, we did find some user reviews claiming that the Sweet Sweat belt helped them to sweat more during workout resulting in trimmer waist.
Sweet Sweat Waist Trimmer Reviews
While looking over the reviews, we found mixed reactions to the Sweet Sweat belt. Some see a difference, some claim the belt works, while others say it doesn't. Some complain about skin irritation after using the belt, or the belt not fitting well.
Weight Loss
Sweet Sweat Waist Trimmer and Weight Loss
Sweet Sweat will not make you lose weight. Instead, it will help you sweat more and increase water loss during your workout. Sweating helps you regulate your body temperature as a reaction to, say a hot day or an intense exercise session. When you sweat, you only lose water, you don't burn fat. And as such, waist trimmers are not much help in losing weight especially in the midsection.
Science
Sweet Sweat Waist Trimmer Belt and Science
Scientific research regarding the relationship between weight loss and sweat has been ongoing for many years. A good example is the research developed by Brebner and Kerslake (1969).
As obesity rates increase worldwide, people tend to set unrealistic weight loss goals.
Note that you will lose weight (and keep it off) with Sweet Sweat IF you use it in conjunction with a healthy diet and regular exercise.
Pros and Cons
Here are the pros and cons according to users' experience.
Pros:
Comfortable
Available in different sizes
Good quality
Affordable
Cons:
May cause skin irritations
Lack of science supporting weight loss
How to Use
How to Use Sweet Sweat Waist Trimmer?
As per the official website: "For the best post-workout drip, combine your Waist Trimmer with Sweet Sweat workout enhancing gel. Apply a thin even layer to the targeted area prior to workout out. Sweat Sweat is activated by your elevated heart rate. For best results, apply to "slow-to-respond" areas and get moving!"
The use of any other body lotion or cream may reduce the gel's effectiveness. Wear the belt a maximum of 2 hours per day. Clean the belt regularly. You may use warm water and soap to clean the belt. After that, dry it with a clean towel. You may also use the Trimmer Cleaning Spray available on their website.
Cost
Cost
Prices vary depending on retailers.
Waist Trimmer (Yellow)
Official Site: $29
Walmart: $26
Amazon: $24
Sweet Sweat Jar
Official Site: $33
Walmart: $28.50
Amazon: $30
Side Effects
Potential Sweet Sweat Waist Trimmer Side Effects
According to customer reviews, side effects may include skin redness, stomach rashes, itchiness, and irritated skin.
Product Warnings
Sweet Sweat Product Warnings
Other than wearing it for a maximum of 2 hours each day, there are no product warnings regarding the belt. If you are using the enhancer with the belt, be careful with the ingredients that are in the gel. If you are sensitive to one of the ingredients, you should consult your physician to avoid any side effects.
Any Sweet Sweat Waist Trimmer Lawsuits?
When searching for any lawsuits against Sweet Sweat Waist Trimmer, we didn't find anything.
Alternatives
Sweet Sweat Waist Trimmer Alternatives
There's no shortage of waist trimmers to choose from these days. Some of the alternatives are:
Slendertone Abdominal Workout Belt
Vive Waist Trimmer
TNT Pro Series Waist Trimmer Belt
What Users Are Saying
What Users Are Saying
"This product isn't life changing it's not going to instantly trim your waistline or make you lose weight or fat. It does help you lose a little water you might be storing around your midsection by making you sweat. I do like to use it when I'm doing cardio."
"Honestly this is the first time that I use a waist trimmer, but other than just keep my sweat from being absorbed by the fabric, I don't see or feel any difference. I usually sweat as much or as little as I do without it. It will not burn actual fat besides getting your body used to a body shaper (which will eventually distribute your fat to other places). I even used it with the Sweet Sweat balm, and I admit is cool to use, but other than that, doesn't impress me."
Bottom Line
The Bottom Line on Sweet Sweat Waist Trimmer
So, what are our final thoughts on Sweet Sweat Waist Trimmer? Well, we like that it's available in different sizes and seems affordable. But, the lack of research connecting it to weight-loss concerns us. Also, we're skeptical about this one due to user reviews about side effects and lack of results.
If you're looking to make a transformation, we suggest going with a program that's clinically proven and that stands out from other products on the market.
Among the best products we've seen this year is one called Noom. The system was designed by doctors and works to help you lose weight AND, unlike far too many other apps, it sticks with you beyond weight loss into weight maintenance.
Also, the makers of Noom are so confident in their weight-loss app, that they're offering a free trial offer to Dietspotlight readers.
Learn More About Noom »