Plexus ProBio5 Review

- 14 Things You Need to Know
Plexus ProBio5 is a daily probiotic supplement. It claims to promote optimal gut health and an optimal digestive environment. However, the clinical doses are less than recommended by research.
When an ingredient isn't at a clinically-effective dose, there's a chance results will vary. So, our research team set out to find the benefits of the ingredients and potential side effects. Then, we compiled our research into the bottom line.
Plexus ProBio5 can be purchased through their Official Site.
Plexus ProBio5 Readers:
Noom
is offering our readers a
free trial
, for a limited time.
Click here
for this special offer!
Overview
What is Plexus ProBio5?
Plexus ProBio5 is a supplement that aids in digestion. It is a box full of useful probiotics. The ingredients present in it include 2 billion CFU colonies.
The central colony-forming units are collected from 5 distinct probiotic strains (Bacillus coagulans, Bifidobacterium longum, Lactobacillus acidophilus, Lactobacillus Plantarum, and Saccharomyces boulardii), a specific enzymatic formula, B-complex vitamins, alongside other natural ingredients (for instance, grape seed extract).
Are you a person who feels dull and energy deprived all the time? Do you think that you are not getting enough sugars from your foodstuff?
Are you a victim of constipation and diarrhea now and then? Consider opting for a solution which is not only convenient but handy as well.
Plexus ProBio5 may be that solution. It has all the ingredients that are derived from natural sources.
Along with that, the only element other than these organic components is water.
So, these features make ProBio5 a healthy and well-being oriented supplement from the consumer's point of view.
No additives and fillers are added to it to help stabilize the probiotic components of the supplements. You don't have to refrigerate it as well.
Nevertheless, there are some aspects which lack quality regarding ProBio5.
For example, the packaging recommends taking between 1 and four capsules each day with a meal or before going to sleep, with the latter administration option being both somewhat excessive and definitely out of an accessible price range.
Plexus ProBio5 Competitors
How Did Plexus ProBio5 Start?
Probiotic elements have been a part of the research for many years. Their effectiveness and efficacy have increased with the passage of time as more and more developments are done in the field.
Plexus Worldwide is well known for its numerous nutritional supplements available in the market. They are also well known for being a multi-level marketing company.
However, it has also tried to release its fair share of probiotic supplements in the form of Plexus ProBio5. It has been a favorite go-to supplement due to its gluten-free nature along with its money back guarantee.
The effectiveness is not guaranteed, but there are no harmful effects on healthy individuals. The trend to fulfill nutritional needs is a good one.
But care should be taken that no contamination or falseness can be found in any product that is suited for human use.
Make sure that you take the recommended dose upon the prescription form a registered pharmacist or physician.
Scroll below for one of the best products we've seen over the last year.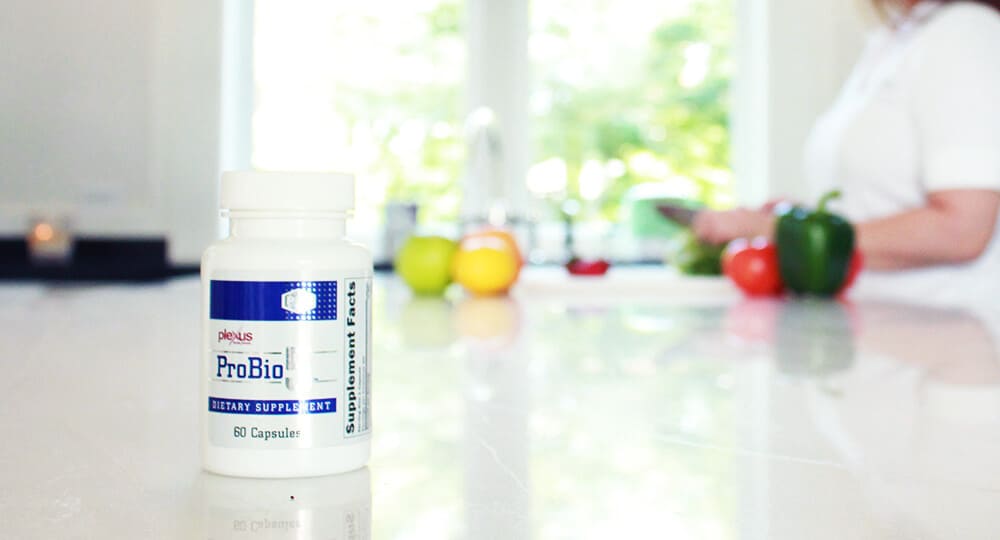 Claims
Plexus ProBio5 Claims
Plexus ProBio5 is a supplement that is widely acclaimed as a product that enhances and manages the intestinal flora. It aids in digestion which is its primary aim.
Weight loss is another term that is associated with it. Although weight loss is not its primary function, it has been seen to cause a reduction in weight due to the metabolism of lipids.
Plexus ProBio5 claims to have the Probiotic effects in the intestinal flora. Plexus offers a 60 days money back policy which is for user compliance.
In case a user is not satisfied with the product, he can change it or return it as well and get their money back. It means that you can get your money back by replacing the unused capsules. They must be in their original packaging.
A limit of 15-60 days is given to get your investment back in full. Plexus ProBio5 has gained a lot of customer trust, care and satisfaction due to their money-back guarantee.
Plexus ProBio5 has always put forward their claims for this supplement. These claims suggest that this supplement supports healthy intestinal tract.
Well, there is no valid evidence as such. There does not appear to be any clinical trials conducted on the supplement as well.
Intestinal flora is a healthy flora which is loaded with microbes, so probiotics affect the flora. Although, it is also suggested that this product can lose weight in people who have been using it for a more extended period, but the proof is not there yet.
No ingredient is present in the supplement that can aid weight loss. No enzyme is directly involved in losing weight.
So this claim by Plexus ProBio5 is not valid at all. No clinical pieces of evidence suggest that it is merely a supplement for aiding digestion.
Besides this, it is essential to keep an eye on the label to ensure that the product has all the vital ingredients and no hidden element is present in it. Users should only use the product if the FDA approves it.
Ingredients
Plexus ProBio5 Ingredients
The main ingredients present in the Plexus ProBio5 are the proprietary enzyme and probiotic blends, as well as grape seed extract.
These components include the digestive enzymes and yeasts which are added to maintain the intestinal flora for efficient digestion and healthy GI tract.
A healthy GI tract has very positive impacts on your body including your skin, heart, and mental health as well. Here is a detailed insight into the main ingredients which constitute up the Plexus ProBio5:
Bacillus Coagulans
Bacillus coagulans is a spore-forming bacterium. It is said to have numerous beneficial effects on the digestive and immune functions of the body.
Among its most common uses in the medical field as a treatment, shortening the duration of diarrhea is the most common one, according to the U.S. National Library of Medicine.
It also neutralizes the intestinal flora which gets upset during diarrhea.
It can help prevent infections associated with Helicobacter pylori such as Enteritis and Gastritis. It also helps in dealing with Clostridium difficile and colitis infections.
Bifidobacterium Longum
Bifidobacterium longum is a member of the Bifidobacterium family. It acts as a probiotic which can boost food decomposition and digestion rhythms.
It also enhances nutrient absorption from the gut. Weight loss management is another good prospect offered by Bifidobacterium longum.
Additionally, according to Biotechnology, Biotechnological Equipment, it has antimicrobial activity.
It has a considerable post-antibiotic effect so it can remain in the intestinal flora even if its dose is discontinued.
Lactobacillus Acidophilus
Lactobacillus acidophilus is a bacterium that is quite well known for its transformation of milk sugars into lactic acid which happens during food decomposition processes.
It is, therefore, used to improve lactose tolerance in people who have lactose intolerance issues. It also reduces the episodes of abdominal pain, gas or bloating. Lactobacillus acidophilus also helps in the screening of harmful pathogens in the intestinal flora.
Lactobacillus Plantarum
Lactobacillus Plantarum is the ideal probiotic which is used to suppress Escherichia coli infections, according to BMC Microbiology. It takes an active part in speeding up the body's natural food decomposition patterns. It is also useful for lactose intolerant and sensitive individuals.
It has antioxidant and antimicrobial properties.
It improves intestinal permeability, increases the absorption nutrient from the gut, and decreases the growth of microbes for healthy intestinal flora.
Saccharomyces Boulardii
Saccharomyces boulardii is a widely used probiotic enhancer. All this is due to its digestive and immunity enhancing abilities.
Saccharomyces boulardii works on the colonies of the microbes and tries normalizing bowel motility.
Enzymatic Blend (proteases, chitosanase, cellulase, serrapeptase)
Enzymes are the proteins that are naturally occurring in the body. They catalyze numerous reactions and substances during digestion as well.
These responses then cause the food particles to be broken down and absorbed into the blood as antioxidants, nutrients, vitamins, etc.
For example, the enzyme proteases are used for the protein decomposition. Similarly, chitosanase is used to transform glycosidic bonds into oligosaccharides.
On the other hand, it is shown that serrapeptase to reduce the formation of blood clots which is useful for CVS patients.
It also has anti-inflammatory responses. It aids in stomach digestion and healing with the passage of time.
Vitamin C
It is also known as ascorbic acid. Vitamin C is known to increase and boost metabolism. It also helps in increasing the absorption of the nutrient.
It is a wonderful antioxidant for the body's cellular setup. This vitamin can be taken in by eating various vegetables and fruits mostly the citrus ones.
This supplementation can easily help in reducing common cold, can affect cardiovascular health, and is beneficial for reducing the symptoms of cataract.
Vitamin B6
Vitamin B6 is an essential part of the B-vitamin complex. It plays a role in the enzymatic metabolism of many lipids, amino acids, and glucose-based components.
It helps in dealing with nausea reactions during the early stages of pregnancy.
Vitamin B6 also helps in dealing with PMS symptoms as well.
Grape Seed Extract
Grape seed extract has countless health benefits.
The antioxidant effect of grape seed gives better health levels which leads to the reduction of PMS symptoms.
It blocks the enzymes that damage other essential enzymes like elastase and collagenase.
Grape seed extract is also utilized in normalizing bowel movements and immunity screening as well.
Does Plexus ProBio5 Work?
Plexus ProBio5 is a supplement that aids digestion and has its effects on the intestinal flora. It has a blend of probiotics that actively participate in neutralizing the pH of the intestine.
These supplements efficiently balance the acidity of the stomach.
Although no such medical proofs have been found out yet about the effectiveness of this supplement, reviews suggest that it works to some extent.
There are no clinical trials that could guarantee success. Besides that, the numerous lawsuits about false claims are also a drawback for the company.
But some positive reviews are a guiding light for the customers who are planning to achieve some results by using it. Taking it at night is also a question that is not answered by the experts.
It has no effect as such on the weight loss.
No ingredients present in it activity reduces weight by any means. No potential side effects have been seen, so it is relatively safe to use in healthy people. However, there are some concerns about using them for patients who have any chronic disease.
Benefits and Results
Plexus ProBio5 Benefits and Results
The main benefits that Plexus ProBio5 offers are listed below. Most of the benefits are related to the digestive effects that Plexus ProBio5 has on the intestinal flora. Although there are speculations of its impact on weight loss, there are no substantial proofs about it from any clinical trials.
It aids in keeping the intestinal yeast in balance to neutralize the intestinal flora
It acts as help in maintaining and supporting a healthy intestinal tract
It also assists in increasing the process of digestion and make it fast and effective
It helps in countering the acidity of the stomach and improve natural response to such issues
It also promotes growth and presence of healthy bacteria counts in the stomach
It aids in maintaining pH levels in the gut
This supplement is rich in antioxidants
Each capsule contains 2 million live cells at the time of manufacture
Composed of active probiotics which act as protectants of your intestines
Comprised of a healthy and beneficial enzymes blend that is employed in improving digestion
Comes with a money-back guarantee of 60 days
The aid in digestion is the perfect aim for this supplement as it aids the intestinal flora and is reported to be beneficial in treating acidity and other stomach issues as well.
Details on Plexus ProBio5 and Weight Loss
Plexus ProBio5 has been considered and widely acclaimed as a weight loss supplement which is entirely a false claim and has no clinical evidence as well.
No ingredient present in the making aids the weight loss. The enzymes do the breakdown of the lipids, but there is no direct effect in the loss of weight.
Some patients have reported a reduction in weight, but other factors such as diet modifications, hunger suppression, and better digestion are the reason behind it.
As no direct link has been found out, however, it is not recommended by any medical practitioner as a weight loss aid.
Some people still try to use for the long term to achieve the desired result, but care should be taken as severe adverse effects can occur.
Directions
How to Use Plexus ProBio5
Plexus ProBio5 is a supplement that comes in a bottle that comes in 60 capsules. The packaging of the Plexus ProBio5 recommends that the dose must be taken between 1 and four pills each day.
The Plexus ProBio5 could be taken with a meal. You can take it before going to sleep as well. Although the dose taking is recommended at bedtime, there are reservations over taking such a hefty dose at night.
After your results are achieved, you can take one capsule at night to maintain your results.
Complications can occur in the patients and CVS patients very often, so it is better to consult a doctor before trying to use it for achieving any results.
The use is strictly prohibited in children and pregnant women. Severe consequences can result if taken for recreational or medicinal purposes in children. Make sure that you keep it out of reach of children.
Side Effects
Potential Plexus ProBio5 Side Effects
Some potentially damaging and significant side effects of the Plexus ProBio5 are listed below:
Plexus ProBio5 has shown no significant side effects in healthy people. No significant side effects have been reported by any clinical trial as well
Serrapeptase does not cause clotting of blood so it might have blood thinner effect
Interaction with blood thinner medications
Don't take any probiotic supplements if you are already taking any antibiotics
Contraindicated in pregnant women and lactating women
Contraindicated in the people who have immunity issues
Allergic reactions are common due to the presence of probiotic, enzymatic, and vitamin ingredients, the present supplement also contains brown rice powder, yeast, and gelatin
Visceral pain is quite common
Bloating, gas and even nausea are also the common side effects
Product Warnings
Plexus ProBio5 Product Warnings
Do not take the supplement if you are a child or a teenager under 18 years of age
Do not take it without the doctor's prescription
Contraindicated in pregnant women and lactating mother as well
You should not exceed the recommended dose on the label, which is 2-4 capsules per day
Do not use it if you see any allergic spot on any part of the body
Do not use if you are going to operate any heavy machinery
Do not use the supplement if it comes without any label
Check the expiry date as well before using it as well
Do not use the product if wrong ingredients are listed or if any component is missing
Do not use it if the sealing of the product or the container tampers in any way
Do not use it if the aluminum seal of the supplement bottle is broken
Do not use it if the FDA does not approve it due to any false claim
Do not use it if you haven't consulted with your physician
Make sure that you check all these features before you buy any supplement.
Lawsuits
Plexus ProBio5 Lawsuits
There have been some lawsuits against the Plexus International and its products. The contamination and pollution of the product is the foremost thing to consider.
Other than that, false claims are the second thing that has landed the company in hot waters. As quoted from the FDA,
"Your Fast Relief, ProBio5, and BioCleanse are not recognized as safe and effective for the above-referenced uses and, therefore, the products are "new drugs" under section 201(p) of the Act [21 U.S.C. § 321(p)].
"The FDA approves a new drug by scientific data submitted by a drug sponsor to demonstrate that the drug is safe and effective.
"Furthermore, your Fast Relief, ProBio5 and BioCleanse are offered for conditions that are not amenable to self-diagnosis and treatment by individuals who are not medical practitioners."
Plexus ProBio5 Alternatives
Although Plexus ProBio5 is a supplement that is used quite widely without any need of the prescription, its adverse effects are something that cannot be overlooked.
Acute and severe results have been seen on people who have been taking these supplements for a long time. There is a need to find an alternative.
You can look up to a lot of eCommerce websites that will provide you some other options in comparison to Plexus ProBio5.
The main options include:
Vitamin Bounty's Pro 50 Probiotic with 13 Probiotic Strains, 50 Billion Organisms per serving
Hyperbiotics Organic Prebiotic Powder which promotes the growth of good bacteria
PRO-Bifido Probiotics is targeted support for Ages 50+ (Bifidobacterium) 15x
Douglas Laboratories – Multi-Probiotic 40 Billion that provides probiotics and prebiotics
Make sure that whatever product you opt to use, it has all the features, and it does not tamper the ingredients in any way. It must be within the expiry limit as well.
What Users Are Saying
"I feel much better since I've been taking ProBio 5. I'm so glad my doctor told me about it."
"Nothing magical that a $10 bottle could not do just the same."
"Has made me gain weight and very bloated… taking it with the cleanse… also have no energy."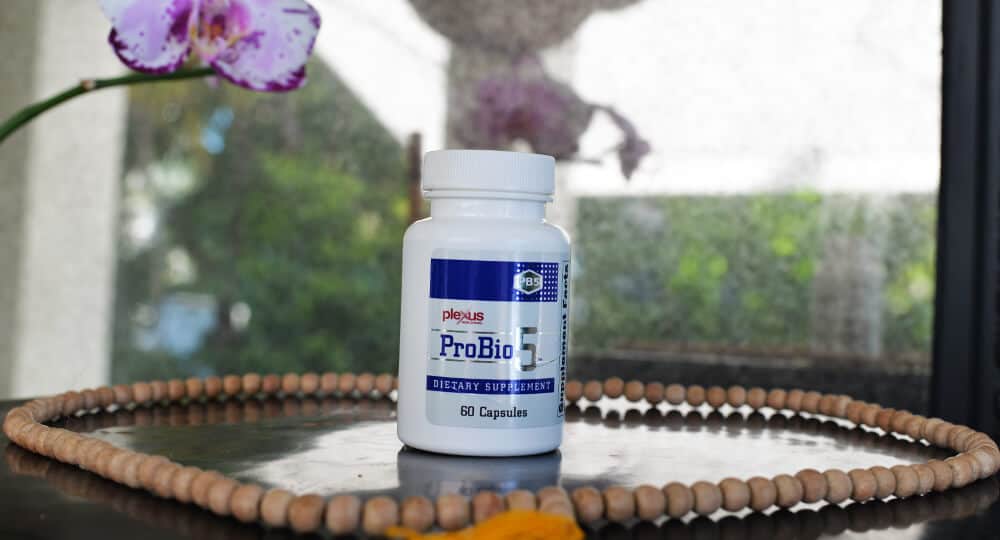 Bottom Line
The Bottom Line on ProBio5
So, will ProBio5 help you lose weight? Well, we like it contains a few natural ingredients and that we found some favorable customer comments, but we're hesitant about this one because there's no connection between the formula and weight-loss. We're also concerned about the high price tag and negative side effects reported by customers.
For dieters ready to shed those extra pounds, we suggest going with a weight-loss app that's setting the standard in user support.
Among the best weight-loss apps we've seen is Noom. This app doesn't offer cookie-cutter suggestions – you get real human coaching, customized meal plans, food tracking, exercise tracking and much more. All this and it's clinically proven to help you lose weight and keep it off, for good.
Dietspotlight readers can access a free trial of Noom for a limited time.
Learn More About Noom »