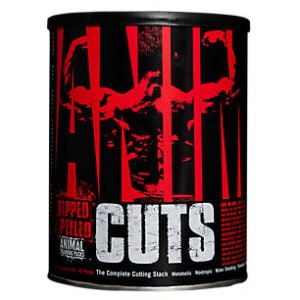 Why are people talking about Animal Cuts? We did one of our in-depth reviews, focusing closely on the ingredients, side effects, scientific research and level of customer service. Moreover, we examined plenty of user responses posted all over the web. Finally, we summed up all the info we found to give you the bottom line.
EDITOR'S TIP:
Click here
to substitute Animal Cuts with a proven testosterone booster such as Pronabolin for better results.
What You Need To Know
To start, Animal Cuts is touted as a "complete cutting stack" and it's geared toward men. This supplement is made by Universal Nutrition. The ingredients are caffeine anhydrous, guarana, kota nut, raspberry ketones, evodiamine, green tea extract, coleus forskohlii, L-tyrosine, dandelion root, coffee bean, uva ursi leaf, juniper berry, DMAE, huperzine A, magnolia bark, ashwagandha, hoodia gordonii, synephrine, naringin, ginger root, cayenne, buchu leaf and cha de bugre. It claims to shred body fat, support healthy appetite, boost thermogenesis and reduce excess water weight.  For maximum results, you need to take two packs per day.
Animal Cuts was released back around 2006 and it's available online for $49.95. This product does not contain any ephedra and there is plenty of customer feedback posted on distributor websites like Amazon, but read on…
Fad Diet Ingredients – "Watch Out?"
The first thing we looked at were the Animal Cuts ingredients. According to our Research Editor, "It's clear that Animal Cuts relies on some fads, which include hoodia gordonii and raspberry ketones. These have not been proven to aid with fat loss, improve energy levels or increase strength."
One customer said, "It didn't work much for me, no faster weight-loss than hard work cardio and weight lifting."
Another user stated, "I didn't notice any change in my body fat at all."
Scroll below for one of the best products we've seen over the last year.
Adverse Effects – "Be Careful"
Judging from the user feedback we found online, there are numerous complaints regarding Animal Cuts side effects. One customer commented, "It literally made me sick to my stomach! I took the product and 20 minutes later I was doubled over in pain."
"I had to discontinue using this product after speaking with my doctor about the heartburn it was giving me after every use," said another person.
After doing plenty of research, we have concluded that if there is a certain facet of a supplement that is quite troublesome (fad diet ingredients, too many adverse reactions, no real science) the odds of prolonged success are not good. In other words, if Animal Cuts does cause side effects in a lot of customers, this could be a major problem.
The Science – "Clinical Evidence?"
From what we could gather from the official website, there have not been clinical studies conducted with Animal Cuts. Therefore no solid proof is provided to support this fitness supplement. Since we at DietSpotlight need to see actual science that proves the formula works as claimed and if that's not available we have trouble getting behind it.
The Bottom Line – Does Animal Cuts Work?
If you just wait one more minute, I'm sure you'll be interested in what we found. There are numerous ingredients used in Animal Cuts packs, but we did not find any solid proof that this supplement helps cut fat, improve endurance, or helps you achieve a leaner physique. In fact, there are some fads to worry about. Not to mention, users have complained of no real results.
If you really want to ignite energy levels, improve stamina and enhance your physique, we suggest a supplement that uses clinically proven ingredients, comes with great customer service and is backed by plenty of positive user reviews.
Among the best products we've seen in 2016 is one called Pronabolin. This supplement provides nine ingredients that are clinically proven to help you reclaim vitality, improve strength and naturally boost testosterone levels. Also, there is no discussion of unpleasant side effects and customer comments found online express people are seeing excellent results.
The makers of Pronabolin are so confident in their product they're offering every customer a 120-day money-back guarantee and multiple-bottle discounts.