Updated: 08/25/2015 - Sponsored by Leptigen
Omnitrition Review – Do These Weight Loss Supplements Work?
Are Omnitrition's side effects and price deal breakers?
PUBLISHED: 07/23/2015 | BY: TORY GRAY, SENIOR REVIEWER
Editor
's Review:
4.5
/ 5.0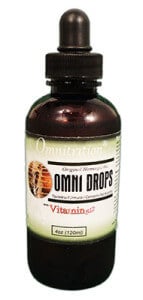 Omnitrition offers multiple weight loss products that claim to increase metabolism and boost weight loss. We completed a detailed analysis of ingredients, side effects, customer comments, customer service and pricing so you know exactly what you are buying. We took all of that information and summarized it to let you in on the info you need.
EDITOR'S TIP:
Combine Omnitrition with a proven fat burner such as
Leptigen
for better results.
What You Need to Know
To begin, Omnitrition is a company selling weight-loss supplements. Ingredients in the formulas include synephrine HCL, caffeine, green tea and coffee powder. You don't have any idea how to take Omnitrition supplements so you could be buying enough product for a week, two weeks, a month – who knows? One good thing is that you can take them on the go, which is convenient.
Omnitrition has been around since 1989, which is a good sign. Products are offered on the official website, but you need a reseller to get to any information. The BBB rating for the company is good, though not the best and the customer service department answers quickly.
Price – "Whoa Buddy!"
One big concern with Omnitrition is price. "Omnitrition takes proven ingredients, breaks them up, and sells them as individual supplements. If Omnitrition combined the ingredients into one weight loss supplement the program could be affordable," says our Research Editor. "But as is stands, you will spend in excess of $200 for a single month on the Omnitrition plan."
"The cost if you look at all the other supplements on the market…you pay a hefty price," says an Omnitrition buyer.
You can scroll below for one of the best products we've seen in 2015.
Side Effects – A Serious Concern
We found quite a few customer comments about negative side effects. Some of the side effects may be attributed to synephrine. Synephrine can cause speedy heart rate and high blood pressure.
"I've has to see multiple doctors as a result of my side effects and every one talked about how unsafe this diet is and the terrible side effects they've seen," one former distributor warns.
Though few dieters complain of negative side effects, researchers warn of possible dangers. "Doubts have been voiced about the safety of food supplements containing both synephrine and caffeine. Based on the risk assessments they have carried out, Denmark and Sweden have declared food supplements containing synephrine and caffeine in a combination to be unsafe to health and they may therefore not be marketed," according to the Finnish Food Safety Authority.
Based on our experience and research, if there is a single negative in a weight loss program, like negative side effects or high price, the program may not work over the long-term. If Omnitrition is pricey and is responsible for negative side effects, this could be a problem.
If you're convinced you just have to try out Omnitrition supplements, watch out for potential side effects. The Human Performance Research Center warns, "Combinations of stimulants – like synephrine and caffeine…can cause hypertension and increased heart rate in otherwise healthy adults."
The Science
No clinical studies are mentioned on the Omnitrition website. The company headquarters is located in a strip mall. Surrounding businesses include a childbirth center and a funeral business. There's also the problem with customer service. Our call was connected quickly, but the representative did not want to answer a single question about the ingredients in Omnitrition products. To us, that's a red flag.
The Bottom Line
We were initially intrigued by Omnitrition. The company's time in the business is impressive and there are some positive reviews. But we have major concerns with the high price, lack of information on ingredients and potential for negative side effects. As a result, we can't recommend Omnitrition.
If you want to drop those pounds, we think it's better to go with a product featuring both no harmful side effects and multiple ingredients supported by published scientific studies.
Among the best products we've seen in 2015 is one called Leptigen. Its formula is a proprietary blend of four ingredients, which have been shown in published clinical research to help accelerate fat loss and boost metabolism. We can't find any talk of harmful side effects and comments around the web indicate people are seeing great results.
Also, the makers of Leptigen are so confident in their product they're offering a special trial offer, which is a good sign.
(Feel free to scroll below for our previously published full-length reviews of Omnitrition)
Previous Omnitrition Review (Updated March 18, 2014):
What You Should Know
Click Here To See Our Highest Rated Review
Omnitrition is a brand of "nutritional products" that are claimed to assist men and women with overall health and longevity. This company offers supplements that are stated to be manufactured with the "highest quality ingredients and most innovative research." The featured product on the official Omnitrition website is Omni 4, which is a liquid concentrate that contains Glucosamine. This company was founded over 21 years ago by a husband and wife. There are customer testimonials and before/after photos posted on the official website. One of the primary goals of Omnitrition supplements is to aid men, women and children with weight reduction.
There are seven different main categories for Omnitrition products, which are Advanced Formulas, Weight Management, Specialty Products, Women's Care, Product Packages, Strength and Conditioning, as well as Energy and Vitality. Some of the products that fall under the Weight Management category are Thermo Herbal Tea ($49.95), Thermo Java ($44.95), Thermo Green/Whites ($54.95), Extra Enhancer ($26.95), Nite Lite ($41.70) and PhasoTrim ($39.95). The premiere Omnitrition supplement, Omni 4 ($69.95), is claimed to boost energy levels, assist the immune system and improve overall heath. This product comes in a powder form and is added to juice or water. A 100% money-back/satisfaction guarantee doesn't appear to be offered on the official website. Unfortunately there are no free trial samples of Omnitrition supplements available at this time.
List of Ingredients
For Omni 4: Apaya Puree, White Grape Concentrate, Aloe Vera, Guarana Seed, Kola Nut, Gota Kola, Green Tea, Grape Seed Extract, Eleutherococcus Senticosus, Licorice, Spirulina Algae, Wheat Grass Juice, Suma, Parsley Leaf and Echinacea Angustifolia.
Product Features
Omnitrition is a company that manufactures nutritional products for men, women and children. These supplements aim to assist users with weight loss and overall health. Their primary supplement, Omni 4, is stated to increase energy levels, improve the user's immune system and improve overall health. Key active ingredients found in this product are Coenzyme Q10 and numerous vitamins and minerals. All Omnitrition supplements are available via the official website. However, there doesn't appear to be any clinical research posted on the website to support Omnitrition products. Omni 4 sells for $69.95 for 30 packets.
Advantages
There are customer testimonials posted on the official website for Omnitrition products.
All Omnitrition products can be conveniently acquired via the official website.
Omnitrition supplements are suitable for women, men and children.
Disadvantages
There is no 100% money-back guarantee presented on the official website.
Some ingredients found in Omnitrition supplements may not be suitable for some individuals.
There are no free trial samples of Omnitrition products available through the website at this time.
A particular fitness regimen and diet plan are not recommended with Omnitrition supplements.
There isn't any actual clinical data offered on the official website to help support the claimed effectiveness of Omnitrition products.
Conclusion
Overall, Omnitrition appears to be a rather typical brand of "nutritional supplements." Unfortunately the premiere product known as Omni 4 doesn't offer any fat burning or appetite suppressant ingredients according to the manufacturer's own description. Furthermore, it would be helpful and reassuring to see some clinical research posted on the official website, along with a money-back guarantee and some free trial samples of Omnitrition supplements. That kind of support from a manufacturer shows that they really believe in their own products.
GD Star Rating
loading...